This post has already been read 1349 times!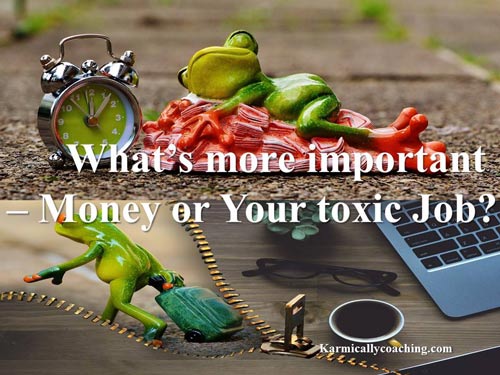 That's a question that any career professional stuck in a dead end job must answer when they feel resistance building up for taking the right self-preservation step.
I use the word self-preservation because I've seen too many people stick it out. They felt there was no other option and later down the road, they've experienced burnout, health issues and in some cases dismissal for under-performance or worse, becoming a victim to vicious, toxic office politics.
I still recall one of the Partners in a Big Four firm where I worked tell the Team Managers at a monthly meeting where the agenda was underperforming staff, that 80% of the employees stuck it out because they were the best paymasters in town (which was true at the time) and the need to counsel them and if necessary assist in their graceful exit to a different job.
The same holds true when a professional doesn't want to quit despite the toxic work environment where coming into work each day and giving their best has become a stressful challenge.
When it comes to toxic work environments, I will always tell you to quit the job and find another one or make it a time for self-reflection and think about what you really want and what you don't want and then, after figuring out the non-negotiable items, move on to new pastures.
Money of course is a more sensitive topic.
I prefer to approach every problem in a systematic manner to check and double check if I have accounted for all the variables that impact my unique customized issue.
Step 1 Is it a job or career change that you need?
Sometimes, money isn't really the issue but the lack of interest in a present employment, roadblock to career progression or even the fact that your own personal and professional development has created a situation where what worked before doesn't make you happy.
So put the money and toxic issue aside for a moment, and ask yourself, are you happy in your present employment? Are you getting the recognition that you deserve? Is your workplace creating stress for you?
I suggest you try this Career Quiz and find out the underlying reason first and then proceed to tackle it with the tips that accompany the quiz.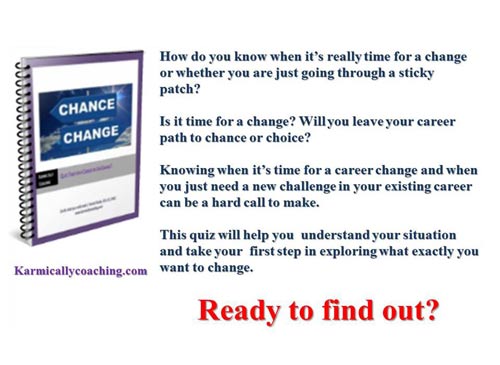 Now that we have that sorted out, the next step is to address the money issue.
Step 2 You feel you can't afford the job or career change
Many times, we stick to a job without considering outside opportunities or even a career change because we've become accustomed to a certain lifestyle or standard of living and don't wish to compromise it.  We feel we can't afford it.
If you've assessed that it's a simple job change, then frankly, all you need to do is be on the lookout for other opportunities that either offer you a similar pay packet or let the Executive Search professional whom you approach know the specifics of your desired compensation package.
Also remember to factor in further growth opportunities. Sometimes the lower compensation package may come with other non-monetary fringe benefits like holiday entitlement or family medical insurance that your previous employer isn't providing.
A career change is a different kettle of fish and you need to demonstrate transferable skills to the prospective employer in the new industry vertical and negotiate your move by positioning yourself properly.
You CAN afford a career or job change but it requires some practical steps, which include an audit of your financial situation, knowing when to make the move and practicing stress resilience building techniques until you've made the move.
When it comes to money, we often don't know our real financial situation. If you aren't already tracking your income and expenses, then I suggest you commit to keeping an accurate record of all your income inflows and outflows for the next 30 days to see where money comes in and goes out.
Money inflow includes your take home pay as well as income earned from passive sources like subsidies, bank interest, dividend, royalties, rent income (if you have rented out a property).
Money outflow includes all your expenses – even the ones on the credit card and direct debits for subscriptions, mortgage and loan payments. It also includes small expenses like bargain offers, coffee, newspapers, fast food and other small ticket items.
At the end of the 30 days you'll have an idea of your net income savings or deficit.
Now review how much of that spend is absolutely essential. You'll be surprised to see how many items can be cut out if you really need to.
Start by examining each category of expense and work out the bare minimum is that you could afford to live on.
You will probably find that, for a time at least, you could survive on much less than you think.
When you look at your income inflows, you might realize that there are sources that you haven't accounted for before and that your income does not need to come from one source. If there are other earning members in the family, ask them to do a similar exercise with you during the 30 days to work out the exact family budget.
This exercise works best when it's done over 2-3 months. At the same time, make a list of any annual one-off payment that you have to make like car insurance, home insurance and other liabilities to put aside a buffer to cover it.
Armed with this knowledge you are in a better position to hunt for a new job or career because the money issue loses its teeth and you can prepare a game plan to make up for any income deficit.
You can learn more about money and finance management in my round up blog post (click the link below or the image below to read the post)
Cool solutions for pressing money issues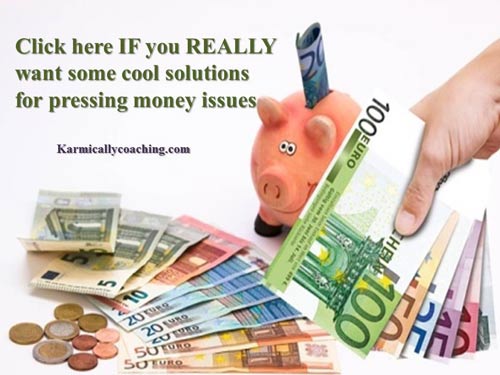 Step 3 What's your attitude towards money?
If steps 1 and 2 haven't resolved the money challenge for you, then step 3 is required to introspect and reflect on your attitude about money.
Our childhood experiences around money can affect our attitude towards it. If money was short, the child in you remembers the pain of not having enough perhaps forgetting that parents did the best they could and there were treats on special occasions.
Or your parents, teachers and elders told you that money didn't grow on trees and you figured out that you had to save what you could but didn't figure out the corpus that you needed. So money becomes a commodity to be hoarded rather than a conduit to help you get what you want and need.
If this sounds familiar, then take some time out to reflect on the following questions:
If money weren't an issue, what would you love to do?
How much is your self-image tied up with financial success?
How much money would make you feel secure?
Do you see money as a means or has it become a goal in itself?
Are there any money messages that you learned in your childhood from your parents and teachers that affects your attitude to money?
Would you like to let go of these habits and unleash the energy of money in your life?
Do you want to make friends with enemy rather than treat it like a bogey monster?
If you feel you want to make money your friend and use its power to your advantage rather than against you, then Unleash the Energy of Money in 2016 is a good teaching teleclass for you.
In this teleclass, I've shared 5 simple strategies that will help you give money the kind of attention it craves to do positive work for you and  1 major money mindset tool to help you consciously change the way you look at money and get more control over it.
I've used these strategies myself at different times in my life and know that they are powerful.  You can learn more here or by clicking the below image.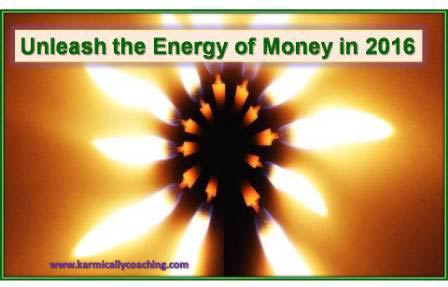 So, to return to my original question, what's more important for you – money or a toxic job? How will you prevent money from becoming the key factor for staying in a dead end job that is ruining your health, relationships and work life balance?
Follow Me
Share with others!