I believe the world would be a better place if high achieving professionals accepted setbacks and challenges to their careers as Wake Up Calls to embark on a Journey where their empowered course correcting actions create a New World Order that encompasses achieving their career aspirations & potential with authentic life balance.
I work with driven, passionate, talented and ambitious professionals who've hit a speed breaker in their business or career create their desired breakthrough reclaiming control of their situation with customized strategies and tactics that deliver results.
When my clients first reach out to me, they are not in a very happy place, needing clarity about themselves, their desires,  chosen vocation what will give them peace of mind. They are drawn to me for the very reasons that I highlight in Who is Karmic Ally Coaching.
Their professional problems are playing havoc with other areas of their life. They know they need to take radical steps to change the status quo but they also know they need support and accountability to get them their desired result.
I really get it, because I've experienced that dark night of the Soul. I know firsthand the outcome of getting lost in work rationalizing decisions that were detrimental to other aspects of my life.
I've struggled with and won battles of stress management, corporate politics, life balance and career decisions to emerge in a place where I can confidently say that I live my desired life according to my personal Manifesto and a business that provides me with a platform for my desired lifestyle and self-expression. I want that for you too!
And I know my method will work for you too as I detail in What do you get from hiring me as your Coach?
The story of my transformation into the Karmic Ally Coach
I'm often asked why an ambitious go-getter Chartered Accountant would take a Leap of Faith and launch a completely different business to one that she was in as a highly respected professional for a quarter of a decade.
Unlike most About Me Pages, this one is different because if you want to work with me and are wondering if I can help, then you need to why Vatsala Shukla, Chief Encouragement Officer of Karmic Ally Coaching, Mentor and Coach really understands where you are right now and my Heroine Journey story is relevant.
As a child, I had 2 ambitions for what I would do when I grew up:
To make a difference in the world (I didn't know how but trusted that I could and would)
Become a super Chartered Accountant
The sweet taste of success & knowing you have achieved it all
Qualifying as a Chartered Accountant with ICAEW (The Institute of Chartered Accountants in England & Wales) is the best decision I ever made. It opened doors and opportunities for me to experience professional growth and satisfaction while working in different countries gaining exposure to different cultures and making friends for life. I worked for all of the Big Four Accountancy Firms and also held senior positions in globally respected companies.
One can say I had it all – despite being made redundant 3 times in my corporate career! I discovered 2 major frauds as an independent consultant and it didn't matter to me that I could never return to the 2 countries where I had worked for fear of my life because I was passionate about my work.
The audit and finance profession gave me a lot of job satisfaction and many of my high points are linked to my chosen career choice. Find out 5 fun facts about my career and meet my Muse, Miss Coco in this short video!
Ever experienced a Wakeup Call?
Sometimes life events shake us out of our reverie showing us there is more to life. We often get so caught up with 1 aspect of life that we ignore other areas that make us whole individuals. The warning signs are ignored until we receive a solid Wakeup call and are compelled to take decisive action. (I've written about Wakeup calls in my Kindle book Wakeup Calls)
In my case, it took 2 before I accepted my Call to Adventure. The first was when I ignored a minor scratch to my leg while climbing on a tram in Warsaw that turned into septicemia
I chose to go against doctor's orders, got discharged from the hospital to catch a flight to Paris and presented the country budget because I wanted to be a super Professional who could handle the 80+ hour week with panache.
Of course my health broke down and I took measures to recuperate and then got back into the  corporate game. 10 years  after my first encounter with mortality I got my 2nd wake up call when I suffered a suspected angina attack while driving home at 11 pm at night from work.
I'll never forget the flash of lightening I saw in front of my eyes, the breathlessness and the stabbing pain on the left side of my body as I gave the indicator light and stopped my car on the side of the road. I realized I needed help. Luckily a friend who lived nearby took me to the hospital for an immediate check-up and then home to a very anxious mother.
I hit rock bottom – Time for a Reality Check
During the 1 week mandated rest by my cardiologist, I realized yoga, meditation and other stress management tools in my toolkit that I now share with clients and in blog posts were the only reason why I had resilience up till that point.
But a bigger reality check was in store for me. Not only had my stage and responsibilities in Life changed but more importantly I myself had changed. I no longer experienced the Adrenalin rush of deadlines, doing  all-nighters for a listed company submission and then partying to celebrate goals that didn't really add to my own.
Despite being successful to the outside world, for the first time in my life, I realized something was off mark. To my shock, I found my motivational needs, according to the Maslow Hierarchy of Needs was Self-Actualization but I was still working to fulfill lower needs! I had lost my Ikigai.
Radical change was looming on the horizon. I had to step up to the plate and do what was required to get off the hamster's wheel. But I could not bring myself to give up my job, career and think beyond the present challenge. My true identity was buried in my job.
The turning point came in the form of a heart to heart but frank chat with my Wise Guide, my mother, who literally held up the mirror to show me what I had become. She reminded me of my childhood dream to make a difference in the world and the chance to achieve that dream. Her words reached a part of me that had been long forgotten.
I wanted to achieve my Self-Actualization Goal using my experience, qualifications, credentials, knowledge and time to contribute to a higher cause and leave a legacy of changing lives.
Accepting the Call to Adventure – Karmic Ally Coaching Style 
I acknowledged I'd climbed every mountain and peak in my till then profession and it was time for change. I was going to start living again on my terms focusing on my passion to mentor using my work life experience and coaching skills and make a difference to the lives that I touched while pursuing my passion for the social causes that are important to me.
I created a personal manifesto to help me keep my values in front of me at all times and to ensure I was held accountable to my decision, I declared my intention to my family and friends who were supportive and off I went to get the required training and credentials and launched The Karmic Ally Coaching Experience.
The Phoenix rises from the ashes
Now I empower professionals to manage their career path challenge by facilitating informed choices and options relevant to their stage in life enabling them to have it all without compromising their work life balance from a place of clarity and focus.
I play the role of the Wise Mentor on their Hero's Journey when they have unconditionally accepted their own Wakeup Call. You can learn more about what you get by hiring me as your Coach here.
In addition to my professional accounting credentials, I am also an Accredited International LIFE Coach with the Certified Coaches Alliance (CCA), Canada and a certified Master SPIRIT LIFE Coach.
My mission has also found expression in my online teaching school, becoming an award winning blogger, recognized Goodreads author with 6 Kindle books and International Bestselling Author in the Personal and Professional Development genre.
My over quarter of a century worth of life time in the corporate world has given me enough exposure and personal experience to understand the issues that my clients face. Nothing fazes me.
My secret sauce for achieving results is to fuse logic, compassion and metaphysical techniques with the various tools in my 'magic box' and my clients get results from the very first session.
I bring to the co-creative coaching relationship, my years of life and work experience & ability to create an environment of confidentiality, trust & understanding for professionals to create viable solutions to their immediate problem, make strides in their career or set up their business on firm foundations while ensuring that they don't lose direction of what makes their lives more meaningful.
The transformation they experience is holistic and one that enables them to live their lives on their own terms rather than living up to the expectations of others.
I adhere to the Certified Coaches Alliance (CCA) Code of Ethics and Standards.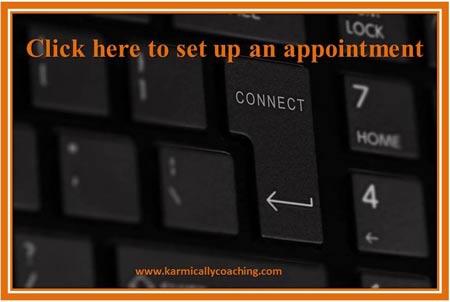 PS. Want to get to know me better before contacting me? Let's hang out on neutral territory! 🙂
Connect with me by clicking on your favorite icon below.