I believe the world would be a better place if high achieving professionals accepted setbacks and challenges to their careers as Wake Up Calls to embark on a Journey where their empowered course correcting actions create a New World Order that encompasses achieving their career aspirations & potential with authentic life balance.
Using a combination of intuition and analytical skills, I help my clients identify their real issues with exercises to still their mind and allow their inner feelings to emerge in a place of confidentiality and trust.
I work with driven, passionate, talented and ambitious professionals who've hit a speed breaker in their business or career create their desired breakthrough reclaiming control of their situation with customized strategies and tactics that deliver results.
I'm  particularly adept at transforming confusion about their current situation and lack of progress in their work with  related impact on their personal lives into clarity about what they really want, supporting them to often make radical customized changes to their success strategy. Together, we achieve their desired goal through a better understanding and effective application of their unique strengths, abilities, passions and values based on my 25 years of corporate experience.
Working with me means a shift from a sense of helplessness about your  situation to one where you take inspired action from an empowered perspective to get out of your  rut, achieve your  specific cherished goal and create a life which is more meaningful for your personally without having to justify your  decisions.
When my clients first come to me, they are not in a very happy place and need clarity about themselves and their chosen vocation. Their professional problems are playing havoc with other areas of their life. They know they need to take radical steps to change the status quo but they also know that they need support and accountability to get them their desired result.
I really get it, because at one point, I also experienced getting lost in my work rationalizing decisions that were detrimental to the other aspects of my life. I've struggled with and won battles of stress management, life balance and career decisions to emerge in a place where I can confidently say that I live my desired life according to my personal Manifesto and have created a business that provides me with a platform for my desired lifestyle and self-expression for myself. I want that for you too!
If you are an ambitious professional who strives to be at the top of your chosen profession or has chosen to go into business for yourself but knows that somewhere along the way, you have lost sight of what really makes your heart sing or find yourself overwhelmed and questioning yourself about your choices, then my journey to becoming the Karmic Ally Coach will sound familiar.  
My journey has been an interesting one with no regrets and my Unapologetic Manifesto will provide you with a quick insight into the real me who coaches. Click on the link below the image or even on the image to be taken to my Manifesto that will open in a new tab (while you are there, why not follow me?)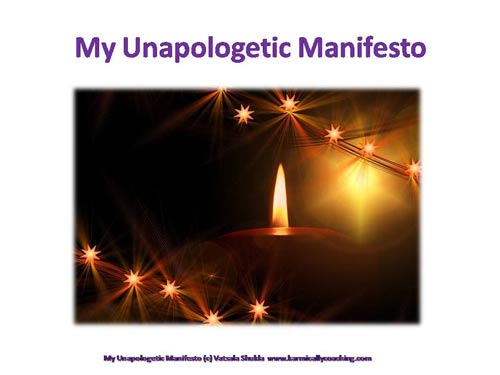 The story of my transformation into the Karmic Ally Coach
Unlike most About Me Pages, this one is different because to really know me, Vatsala Shukla, the Karmic Ally Coach and Mentor, and why I really understand where you are right now and can help, the story of how an ambitious go-getter Chartered Accountant takes the Leap of Faith and launches a completely different business to one that she was in as a professional for a quarter of a decade is relevant.  So here goes!
As a child, I had 2 ambitions for what I would do when I grew up:
To make a difference in the world (I didn't know how but trusted that I could and would)
Become a super Chartered Accountant
The second ambition had its roots in the fact that my parents had friends in the profession and I was impressed by them. I loved the thought that I too could someday be my own boss.
I had the inherent skill that could be used for both ambitions – a knack for getting to the bottom of issues and intuitively reading between the lines,  a gift  I took for granted as being normal putting it down as being logical – like Mr. Spock or as my friends from over the years tell me, analytical.
The years went by and the making a difference dream was limited to supporting wildlife, abandoned dogs and checking that the CSR initiatives of my employers were aligned with my core value. My energies were focused on achieving the coveted goal of becoming a Chartered Accountant.
The sweet taste of success & knowing you have achieved it all
Qualifying as a Chartered Accountant with ICAEW (The Institute of Chartered Accountants in England & Wales) is the best decision I ever made. It opened doors and opportunities for me to experience professional growth and satisfaction.
I travelled and lived in different countries while working, gained exposure to different cultures and made friends for life. I worked for all of the Big Four Accountancy Firms and also held senior positions in globally respected companies.   I had it all – despite being made redundant 3 times in my corporate career! I discovered 2 major frauds as an independent consultant and it didn't matter to me that I could never return to the 2 countries where I had worked for fear of my life because I was passionate about my work.
Find out 5 fun facts about my career and meet my Muse, Miss Coco in this short video!
The audit and finance profession gave me a lot of job satisfaction and many of my high points are linked to my chosen career choice but events can shake us out of our reverie to show us that there is more to life.
We can get so caught up with 1 aspect of life that we start to ignore the other areas that make us whole individuals and often ignore the signs until we receive a solid wakeup call again and again until we have to take action. (I've written about it in my Kindle book on Wake Up Calls )
Ever experienced a Wake Up Call?
I have. Not once but twice.
The first was when I ignored a minor scratch to my leg while climbing on a tram in Warsaw but didn't take a tetanus shot because I was doing the expected 80 hour week routine. The injury turned into septicemia. I had enough time lying in a hospital bed to think about my life and get the right balance.
Instead of doing some solid soul searching, I got on a flight to Paris to present the country budget despite the doctors telling me to take it easy within a week of being hospitalized because my company's needs were important. I was too busy being the Ace Professional to notice that I was slowly starting to live to work, not work to live.
It would be a good 10 years later after my first encounter with my mortality to knock some sense into me.
That happened when I suffered a suspected angina attack while driving home at 11 pm at night from work.
I'll never forget the flash of lightening I saw in front of my eyes and the stabbing pain on the left side of my body as I gave the indicator light and stopped my car on the side of the road and realized I needed help.
Luckily a friend lived nearby and I slowly drove to his house after which he made sure I went to the hospital for an immediate check-up and his driver took me home to a very anxious mother. The next few days were spent undergoing a battery of tests.
I hit rock bottom – Time for a Reality Check
During the 1 week mandated rest by my cardiologist, I had a chance to think and realized that I was missing out on a lot of things.
In the course of a decade, my Life had changed. I had become a responsible caregiver to a parent and my decisions had to factor in my new responsibility.
I myself had changed. I no longer experienced the Adrenalin rush of deadlines, doing  all-nighters for a listed company submission and then partying to celebrate goals that didn't really add to my own.
I wanted time to meet up with friends or pursue my hobbies but I was working all the time caught up in the corporate culture of working 80 hour weeks including weekends whether I really had any work or not because that was what the employer expected and that was the road map to corporate success.
Work that once made my heart sing became synonymous with long hours – not effectively or efficiently doing the job. I knew I was neglecting other areas of my life and felt like a spectator to something that was once my 'living life unapologetically on my own terms, with no regrets'.
By now I had already lost quite a few friends in the profession to heart-related ailments and what the doctor said came as a shock.
I had survived as long as I did because I had healthy habits and awesome stress management tools in my toolkit but somewhere along the way, I had neglected areas of my life and I needed to find balance.  A number of the stress management techniques that I now share with clients and in blog posts are based on years of self-management.
Despite being successful to the outside world, for the first time in my life, I realized that I was not happy in a number of areas. I was still the Ace Professional and the money was great but somewhere along the way, I had lost my Ikigai.
Radical change was looming on the horizon and I had to step up to the plate and do what was required to get off the hamster's wheel.
I had stopped meeting with friends, my candle making hobby had fallen to the side and I did not do many of the things that I used to love when I was younger. I knew something had to change but could not bring myself to give up my job, career and think beyond the present challenge.
The turning point came in the form of my mother and my eyes still well up in tears when I recall her coming to me with her pension book and cheque books and telling me that whatever she had was mine and if giving up a six figure income was the issue, then I could have it all because I was all she had and she couldn't afford to lose me.
She reminded me of how strong I was and literally held up the mirror to show me what I had become. She reminded me of my childhood dream to make a difference in the world and the chance to achieve that dream.
Her words reached a part of me that had been long forgotten and I realized I wanted a real life, a life that was on my terms and where I did not have to apologize to anybody for being me.
I wanted out of having my career be at the mercy of economic events despite having qualifications and credentials that made me a valuable resource. I finally heard The Wakeup Call and I accepted my Call to Adventure.
Accepting the Call to Adventure – Karmic Ally Coaching Style 
I finally accepted that I had climbed every mountain and peak in my till then profession and it was time for change. I was going to start living again on my terms focusing on my passion to mentor using my work life experience and coaching skills and make a difference to the lives that I touched.
I found my ideal second innings career choice and accepted my Call to Adventure.
I declared my intention to my family and friends who were supportive and off I went to get the required training and credentials and launched The Karmic Ally Coaching Experience.
The Phoenix rises from the ashes
Now I empower professionals to manage their career path challenge by facilitating informed choices and options relevant to their stage in life enabling them to have it all without compromising their work life balance. I play the role of the Wise Mentor on their Hero's Journey when they have unconditionally accepted their own Wakeup Call.
In addition to my professional accounting credentials, I am also an Accredited International LIFE Coach with the Certified Coaches Alliance (CCA), Canada and a certified Master SPIRIT LIFE Coach.
My over quarter of a century worth of life time in the corporate world has given me enough exposure and personal experience to understand the issues that my clients face. Nothing fazes me.
My secret sauce for achieving results is to fuse logic, compassion and metaphysical techniques with the various tools in my 'magic box' and my clients get results from the very first session.
I bring to the co-creative coaching relationship, my years of life experience & ability to create an environment of confidentiality, trust & understanding for professionals to create viable solutions to their immediate problem, make strides in their career or set up their business on firm foundations while ensuring that they don't lose direction of what makes their lives more meaningful.
The transformation they experience is holistic and one that enables them to live their lives on their own terms rather than living up to the expectations of others.
My full profile and recommendations are available on https://in.linkedin.com/in/vatsalashukla
I write regularly on my blog http://karmicallycoaching.com/blog on areas of Career Coaching, Self Management & Stress Management. In June 2012, my blog Vatsala's Tips for a Stress Free Life was nominated for Best Blogs 2012 by a Personal Development Publishing website.  In August 2012, this blog was awarded First Place in Best Coaching Blogs 2012 by the School of Coaching Mastery.
I am also a Goodreads Author and have 5 Kindle books published on Amazon Kindle in the Professional and Personal Development genre.
I adhere to the Certified Coaches Alliance (CCA) Code of Ethics and Standards.
PS. Want more information but not yet ready to pick up the phone or send me an email? Do visit the Page What Do You Get From Hiring Me As Your Coach
PPS. Want to get to know me better before contacting me? Let's hang out on neutral territory! 🙂
Connect with me by clicking on your favorite icon below.