Quiz: Fearing Change or Confident to Win Challenges?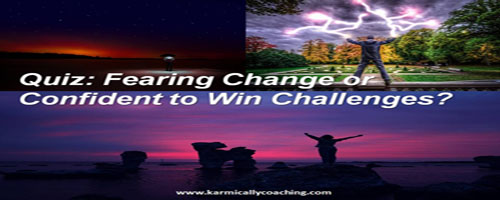 How do you feel about changes in your life, career or business? More importantly, how do you handle change?
Are you good at detecting the signs of change?
When you sense or get to know of impending change do you jump into action or do you go into a state of denial and resist change through fear?
Do you initially resist change but learn to adapt to a new situation if you are convinced that it is for the better?
You can learn more about your approach to change as well how to cope with my simple quiz Fearing Change or Confident to Win Challenges? based on the modern fable Who Moved My Cheese by Stuart Johnson MD.
All you need to do is complete the form below and then follow through a few steps so that I know that I have your permission to forward the quiz and results to you. I request that you confirm your email when you receive my confirmation request and also white list my email vatsala(at)karmicallycoaching(dot)com.
PS. You will also receive a fortnightly newsletter with useful tips and guidance for self-management. Be assured that I do not spam or share emails with others and you can always unsubscribe if my methods and techniques do not resonate with you (though I hope you will stay!)
Follow Me
Share with others!

I adhere to the Certified Coaches Alliance Code of Ethics and Standards. A copy is available on request.