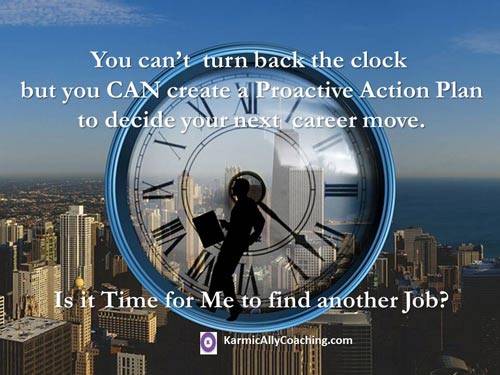 Are you experiencing signs that it's time for a change of job? Or is it a complete career change?
There is a big difference in the circumstances and your next step.
Some time ago, a Career Coaching client of mine tabled an interesting issue for our session agenda. We've had success in raising her executive presence which resulted in her not only being given the facilitator role for a major pan-Europe project but also the company finally sponsored her for an expensive course to improve her skills and credentials.
Things were going great until a particular Monday morning when the department was told of a major reorganization and the status quo was thrown into disarray. Her superiors were demoted except for her direct reporting line manager.
The true impact on her situation was that she was reduced to doing tasks well below her competency level as her superiors were now doing her role. She had stopped looking forward to Monday and boredom.
Her question was, is it time for me to find another job?
The question might appear odd to the reader, but there was a good reason why my client was diffident. For one thing, she did not have the classic situation where most people move onto new jobs and give the diplomatic 'work life balance' reason for leaving.
She had a great job; her rapport with her line manager and superiors is awesome and she loves her department. There have been lots of projects for her which provided job satisfaction until the re-organization happened. But of late, some colleagues had moved on to other jobs.
The issue for her was, what am I doing here right now?
A little probing showed that her line manager had been raising this subject over the last few months in the context of her career progression which she had been working on based on a completely different set of factors – not a reorganization of her department and the sudden job dissatisfaction.
Fortunately in this case, the line manager was a quasi-mentor who helped her explore new options within their department or a lateral secondment until such time as things settled down again. The worst case scenario of leaving the organization didn't happen.
Not everyone is that lucky.
Sometimes, the signs are very obvious and yet we ignore them either because it means updating our CVs and doing job rounds or we are so entrenched in the system that we don't want to get out of our comfort zones and look for something better. Our boss and colleagues may have bullied us enough to lower our sense of self-worth and we get trapped in a cycle until we break and cannot perform.
Have you been thinking, "Is it time for you to find another job?"
Here are 7 circumstances where I would recommend taking an honest look at your situation and considering whether you should look for new pastures.
You don't feel like going into work on Monday mornings and often call in sick

You don't enjoy the work you are doing – it could be under or over-challenging

Your relationship with your boss is far from satisfactory with no open lines for communication

You have lost interest in your professional development to get ahead on your career track

You are not motivated to perform well in your job and only come in to work because you need to log in your attendance

The ambiance in the work place is 'toxic' (unhealthy levels of gossip, backbiting, politics and negativity)

The stress level in your job is adversely affecting your health and/or personal relationships
If you answered yes to point 7, it might also be pointing towards a potential burn-out.
Some of these circumstances can be worked upon with the help of your human resources department or even you direct reporting boss if he is also your mentor but in other cases, perhaps it is time to take out that CV, brush it up and start looking elsewhere.
The plus point of such situations is its ability to make us finally confront how we really feel about our job and the work that we do in general.
What we often fail to see is perhaps we ourselves have grown along with our career and perhaps it's time to try something new. It's time to change our game plan.
That's what happened with me and I've shared my story in my Meet Your Coach Page. In fact, I've seen it happen with a lot of high-flying professionals who wake up one day and realize that their job and career track till date no longer makes them tick. They need more.
I've also seen professionals take up a completely different path – like a dear colleague and friend who established the broadband service subsidiary at one of my global major employers, went on to make documentaries until he finally settled into using his lifelong side studies and skills to teach yoga and alternative therapy.
Could that possibly be you?
One clear indicator is you continue to be a top performer but your heart isn't in it.
You start reading up on areas that interest you but are completely unrelated to your present vocation in life.
Your circle of friends begins to change and you don't want to talk about work in your leisure time.
You become more open to recruiters who are approaching you with offers in different industries because they believe your skill sets are transferable.
Proactive Action Plan to decide your next career move
Whether it is a job or career change, here is a proactive plan for you to decide your next move.
Think about the 7 circumstances I pointed out above and check if any applies to you.
If you recognized yourself in circumstance 7, take the Burn-out Self-Test to check if you need to course correct your job and life and get instant self-help guidance. It's an easy assessment based on your reflections of the last 12 months and can provide valuable insights into whether you are heading for burn out or not with suggestions to manage the situation.   Please click here to access the self-test.
Consider whether it's a career change you want. If you aren't sure, try this quiz to nail down if it's a job or career change (click here or on the image below to learn the details).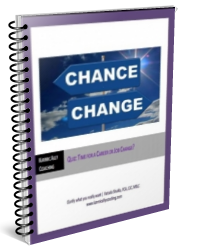 Update your CV in any case; it is a good habit for enhancing your sense of accomplishment and who knows, if you get an unexpected call from a headhunter about a dream job, you can act fast. Update your LinkedIn Profile too!
If after your soul-searching and analysis, you feel change is in order, make sure you don't burn any bridges. Leaving an employer on a good note ensures good recommendations and possibly an offer to return at a later date.
How would you handle the situation where an employment change is inevitable?  Would you hunt for a new job or give yourself the chance to reinvent yourself?
Been there, done that? Share your experience with me!
This post was originally published in November 2013 and has been updated for relevance.
Written by: Vatsala Shukla
Follow Me
Share with others!