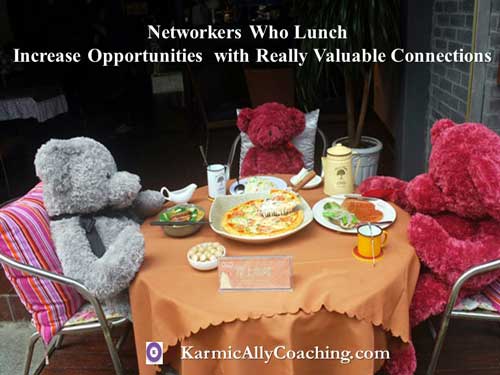 Many years ago, while working for an insurance company as their Finance Director, I worked with a Country Manager who was rarely in the office at lunch time. Not only that, his lunch was always an hour compared to the company policy of 30 minutes.
As Finance Director, I knew the numbers better than anyone else and saw the revenue figures rising. It appeared that the more the Country Manager was out of the office for lunch, the higher the numbers! The proportional correlation confounded me until I learned the technique.
At one of our weekly management meetings, the main agenda item related to the company's failure to meet the monthly sales targets for health & accident insurance.  This particular insurance product is a numbers game since the premiums are low and volumes need to be high. Moreover, since this product was not re-insured, it was pure revenue for the company.
We were asked to look at our networks to find leads. While I was never involved in the marketing side, I thought of one of the ladies in my Ladies Who Lunch network (yes, ladies too network!) whose husband was the head of a major multinational where there was a chance.
With the Country Manager's approval, I arranged a lunch meeting and quietly observed the conversation between boss and friend's husband. Pleasantries were exchanged from the time we ordered soup till the main course was served.
By the time dessert was ordered, there were talks of my company making a proposal for business. The happy ending of this story is that we got a major client, sales for the product made up for 2 months targets and I was encouraged to go out and have lunch at company expense with people other than the auditors!
From a networking point of view, for the contact to be effective, it is important to learn more about the person that we are interacting with.
Simply attending networking events and handing out cards left, right and center is not of much use unless a connection has been made which provides a platform for a follow up call or meeting.
The ability to make a personal connection with a client or colleague is an important way to ensure customer and employee retention, as well as increased sales opportunities.
Networking with colleagues specially those in different departments of your organization can provide crucial contacts if the success of your project requires intra-company interaction. One doesn't even have to step out to fancy restaurant – just meet up at the company canteen and have lunch together while discussing your project.
6 Tips to Network over lunch like a True Professional 

However meeting up with a colleague for lunch or taking someone out to lunch will not be effective unless you have a plan for the final outcome. Even then, some finesse is required.
Based on what I learned from my boss, the 6 tips I offer are
Be an attentive listener and learn more about the other person.
Try to identify common interests and converse on the same to build rapport with the other person.
Don't hijack the conversation. Show interest in the person & ask questions to learn more.
Be sincere and avoid invading their privacy.
 Once rapport is established then proceed to discuss business or projects
Make sure there is a win-win situation. If the benefits are more in your favor, consider net-weaving to offer something back. Your credibility goes up and you have a contact for life.
Do you have any tips to enhance the power of your network outside the office?
Please do share in the comments box below!
PS. One of the readers had referred to an awesome book by Keith Ferrazzi Never Eat Alone. This is a must read book which has been updated to take networking in the digital era into account. Have a look at this global bestseller by clicking on the image.
Start your Hero Journey with Karmic Ally Coaching's Executive Presence Checklist. Click on the image below and complete the form for access. It's on the house!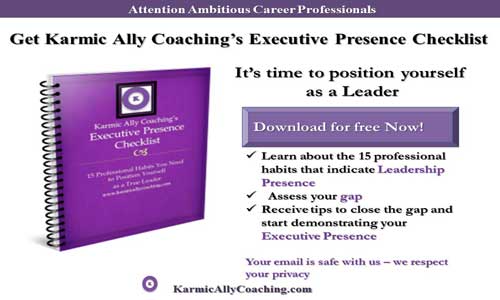 Written by: Vatsala Shukla
Follow Me
Share with others!