This post has already been read 3362 times!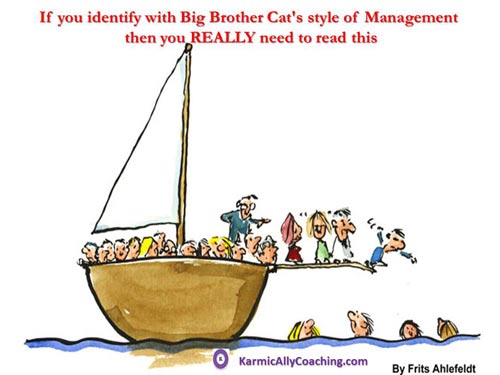 Dagley and Gaskin identified the ability to deliver key outcomes consistently as one of 10 Executive Presence Characteristics. This is also a key characteristic of a good leader.
In fact, a good leader should be able to abstain from using coercive power or his position to get the work done.
Yet, many a manager fails to demonstrate true leadership style or executive presence. Even though they get the job done, they miss out on their goal to climb to the pinnacles of their organizations corporate ladder.
When it comes to leadership, a key quality is commanding the respect of our team. Looking back in time, I remember the story of Big Brother Cat and how as a manager his use of authority led to his ultimate downfall.
A decade ago, I was the Technical Manager on a major assignment involving an AIM listing on the London Stock Exchange where the financial statements had to be converted using International Financial Reporting Standards.
The successful close of this assignment would put the firm in a different league compared to other audit and consulting firms because back then, the only other time these reporting standards were being used in India was for European Group Reporting assignments on an annual basis for clients with Indian subsidiaries. It was a simple template filling exercise with adjustment calculations and not reconverting 3 years of financial statements.
I was the specialist on board this assignment with a team of 12 professionals who knew nothing about these reporting standards but were eager to learn and good team members (a major plus).
Our team also had a manager of my seniority whose role was to help facilitate client interactions while I played the hands-on manager with big time on the job training.
I noticed a pattern in the productivity cycle which had direct correlation with the presence of the other Manager, whom I shall call Big Brother Cat.
Big Brother Cat was a good person but tended to micro-manage and bring out the whip even when it was not required.
To the outsider it would appear to be a game of Cat and Mice. For me, it felt as if we had been transported to a slave ship with Mice at the oars and the Cat at the helm beating his hammer. From a Senior Manager, I felt I had suddenly become a Head Mouse who was being challenged to keep her team morale going against all odds.
Since we were working on a tight schedule and putting in 12 hours a day without weekends off to rest, having a chance to laugh was a premium stress management tool.
Big Brother Cat equated laughter with goofing. He started with the premise that subordinates could not be trusted and kept telling them exactly what he expected.
Big Brother Cat forgot that we were humans working towards an impossible deadline with a learning curve that had to defy the laws of gravity.
Timely intervention by the Partner ensured that the project had a successful close. We the Mice (yes, yours truly included!) lived to work on other projects.
By chance, the entire team on that project has left the organization to pursue new pastures and 10 years later, despite our hectic lives, with the exception of Big Brother Cat, we are still in touch and enjoy a good laugh.
Our Micro Manager too left the company because his Big Brother tendencies became a barrier to his cherished dream of partnership. Getting along with people is a must for a good leader.
As potential leaders, we all learned lessons.
If you are inclined to micro manage your team, then there are pitfalls you want to avoid in your quest to climb the next rung on the corporate ladder.
Leaders who inspire have competitive edge over Micro Managers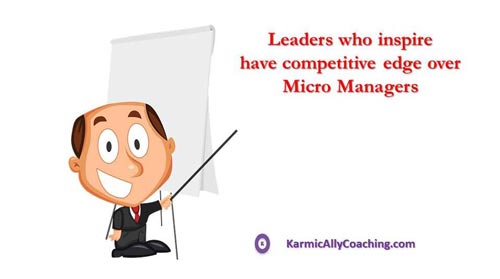 I observed that the professionals were working together satisfactorily, sharing information, and helping each other with the workload. They were hardworking mice, if only Big Brother Cat would have stepped back and taken a realistic look.
Some socializing is always a good thing. It means that the individuals are working together as a team rather than a motley group of professionals.
I believe that there has to be some socializing for effective team work. Relationships are built when people get to know each other, like each other and trust each other.
It is one thing to run a tight ship but a too tight noose around the employee's neck can have far reaching repercussions – drop in efficiency, barriers to task-focus, low morale and if it gets too much, perhaps an employee leaving for a less stressful work environment.
A good leader knows how to achieve success in projects while facilitating individual goal achievement.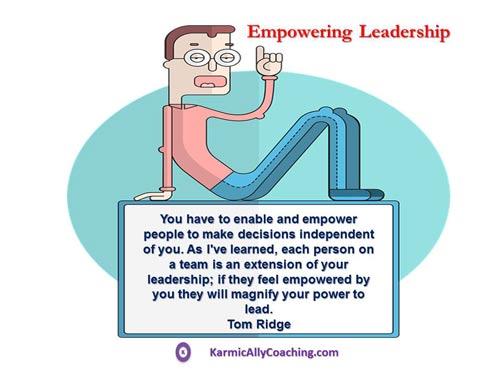 Micro-management by a manager sends out the message that you don't trust the employee or their competencies. If your team does not respect you, be sure they will not give their one hundred per cent to you which ultimately impacts your own career prospects.
Fear as a motivator loses out each time to respect and appreciation. It gets the job done but the buck stops there. Fear kills creativity and thinking outside the box.
Fear means that the Mice will do only as much as is required, but not more.
The Big Brother Cat needs to rethink its role as a Manager and change its style of managing Mice and become a real Manager a respected boss not the ones I describe in my post, 5 Boss Personality Types every Professional needs to manage for peace of Mind .
Change has to come from within. Take a long and hard view at where you might be going wrong. Ask your peers, colleagues and if you have the stomach, even your subordinates.
If you hear something uncomplimentary, take note of it but don't let it become personal. You are asking for feedback to change, not launch a witch-hunt.
If you feel the urge to interfere or micro-manage, count to ten or do some breathing exercises. The time lag between the urge to interfere and act will give your brain a chance to think again about what you are trying to change about yourself.  Bad habits take time to break but they are habits and habits can be changed.
Take it a step further and from time to time become one of the Mice. Join them in a joke, join them for lunch and get to know your team members. It will make you a better manager and your subordinates will benefit from knowing that their Manager is human and not a robot.
While you are working at turning around your management style, here's one tip to build instant trust with previously frightened subordinates. Try to appreciate them. If they do something right, acknowledge it and give them well-deserved praise. It they get something wrong, use a constructive feedback process and help them do better next time.
One of the best touchstones or frames of reference that I recommend using in times of doubt is a quote from Chris Hadfield,
"Ultimately, leadership is not about glorious crowning acts. It's about keeping your team focused on a goal and motivated to do their best to achieve it, especially when the stakes are high and the consequences really matter. It is about laying the groundwork for others' success, and then standing back and letting them shine."
I'm curious, do you know about any reformed Big Brother Cat Managers? Write in and tell us about it!
PS. Want to really raise your Executive Presence? Enroll for my free 5 day email course on Executive Presence: The Secret Weapon for Professional Success by clicking the image below and completing the enrollment form. Be assured your email is safe with me.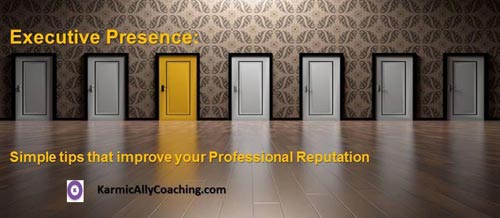 PPS. Wondering if you are a good leader? Click here to read a guest post from Kerrie Mullins-Gunst for guidance.
This post was originally written in January 2013 and has been updated for relevance and more information.
Leaving The Ship by Frits Ahlefeldt
Follow Me
Share with others!