This post has already been read 1675 times!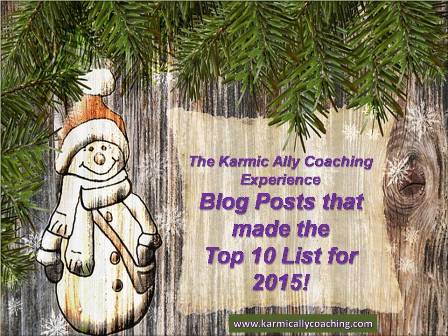 This is the time of year when I feel sentimental about Christmas Past with no qualms in admitting that as a child, I bought into every mythological influential character that was ever used to make sure that children stayed on the 'Nice' side of the Naughty or Nice Spectrum.
So there I was brushing my teeth to make sure I had a quality tooth for the Tooth Fairy, going to bed at the right time in case Daku Mansingh (a bandit by the name of Mansingh whose purpose is the same as the Bogey Man) was looking out for naughty children, being ultra nice because that was what Santa Claus mandated for gifts and a lot of other things.
Looking back in time, I realize that my parents played along though I could never understand why my younger sister also found money under her pillow for the pearly white teeth that I was gifting to the Tooth Fairy. Oh well, the joys of being an older sister.
My earliest real memory of Christmas, other than 3 Japanese Ladies in Kimonos giving my mother a small bouquet of white flowers in Karachi, is that of a Christmas Kiddies Party in  New York, when I finally met Mr Santa Claus in person and actually sat on his lap. We have that historic Kodak Moment captured in slides (which was the latest technology of the time).
When the time came to ask for a gift, I bashfully mentioned that I wanted a Suzy Homemaker Bake Oven which was the early 70s second only to the Barbie Doll. My sister asked for a guitar.
I got the oven for Christmas and my sister got her guitar and thus was born the belief that Santa existed until years later when the bubble burst and I realized that Daddy was the influential guy ably support by Mummy in keeping the dream alive.
I still have that oven in one of the cartons in the store room and most probably I'll update this post when I can locate an image of this famous toy by Topper Toys but here is a link to read more about the brand and an oven that every little girl worth her salt wanted to possess and bake cakes.
Nostalgia about Christmas during my childhood isn't the only thing on my mind.
I'm already looking at the year gone by, recording my wins and the speed breakers that I courted and preparing to make 2016 a super year. In numerology, that is a 9 year and one of completion so bring it on!
But not before a check-in on the blog posts that rocked 2015!
My list in 2014 was the first that I did since 2012 and I'm pleasantly surprised to see some of those posts carry their popularity through 2015 and 1 post retain its top position for a second year. Is that what they call an evergreen blog post?
I noticed a beautiful trend towards metaphysical tools for self-improvement (5 of the posts are in that category) in addition to focus on career prospecting.
This time, I'm doing a backward count to the top like Kasey Kasem of America's Top 40 from my University days.
So here is my list for 2015 and if you missed any of these posts, just click the link and enjoy reading!
Oh, and if you like what you read, please leave a comment in the comments box for the post and do share with others. You never know who could benefit and it may just make a difference!
#10 Psychic powers a fringe benefit of meditation?
Did you know that apart from being an excellent tool, meditation also helps to improve your intuition and can actually bring out your latent psychic skills?
#9 Do you really believe in your affirmations? Pinch yourself
Are your affirmations getting embedded in your sub-conscious mind? A simple technique to  test your efforts for effectiveness. Here's the link:
http://karmicallycoaching.com/do-you-really-believe-in-your-affirmations-pinch-yourself/
#8 Want to Attract Abundance in Your Life? Raise Your Money Set Point
This post was at #8 last year and the first of many posts that have stayed on the list. Try it if you are trying to raise your vibrations to attract more money in 2016.
Attract abundance by raising your money set point
#7 When Meditation Goes Wrong
Can over meditating or using a meditation technique get you spiritually fried? Yes it can and here is what you need to do to remedy it.
Meditation side effects and remedy
#6 Chakra Balancing Exercises
Believe it or not, this is a really old post of mine which still finds readers doing a Google search!
Update May 2017: You can download the exercises with more tips as well as a Chakra Chart now. Click the link for more information.
Stress management 101- Chakra Balancing Style!
The following posts continued in their popularity and a must read for careerists who are considering a job change.
#5 Putting Unpaid and Volunteer Work in Your Resume
This is another post that has held its own since 2014 which only goes to show that job seekers need guidance when writing that awesome resume that will get them the job interview invitation.
http://karmicallycoaching.com/putting-unpaid-and-volunteer-work-in-your-resume/
#4 10 Tips to remember if you are Cold Emailing Your CV
http://karmicallycoaching.com/10-tips-to-remember-if-you-are-cold-emailing-your-cv/
If you are submitting online job applications, this resource is also useful – Online Job Application Tips
#3 3 Practical Applications of the awesome Smiley Stress Ball
I admit that I was surprised with this entry in the Top 10 because it was written at a time when my Muse Miss Coco was suffering from Hind Leg Paralysis and my entire energy was being devoted to help her walk again after the vet gave her a 30% chance of success.
The good news is that Miss Coco is up and running and loves to chase birds and her baby pram has been put aside for use in her old age since early May 2015. Here's Miss Coco in her baby pram which I purchased intuitively to help build her motivation to walk again.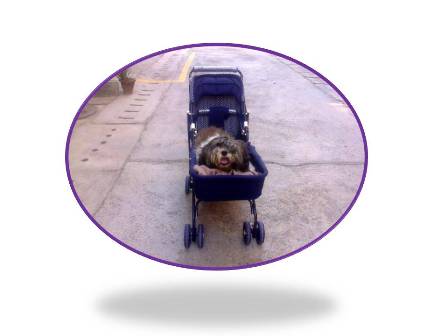 #2 Successful Birds Set Goals Differently
Love quizzes and self-assessments? So do I!
http://karmicallycoaching.com/successful-birds-set-goals-differently/
#1 Do You Dare to Take the 7 Day Positivity Challenge?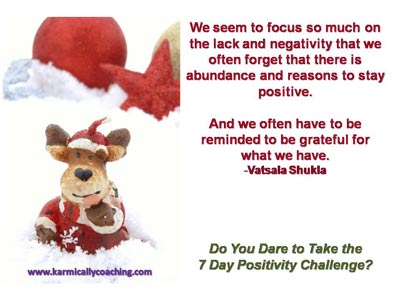 Yups, you guessed correctly – this one is still at Numero Uno!
http://karmicallycoaching.com/do-you-dare-to-take-the-7-day-positivity-challenge/
It is my sincere wish that 2015 has worked out well for you in areas of your life and if there are bits and pieces that did not work out the way you wanted them to, remember that you still have 2016 to get them right. So start planning and working out how you will make the coming year the best ever for you.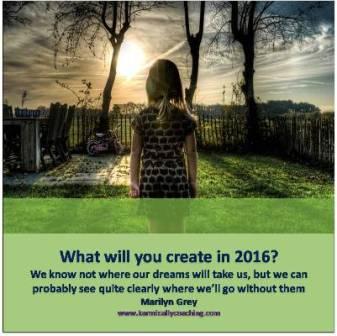 Season's Greetings!
Follow Me
Share with others!