This post has already been read 1885 times!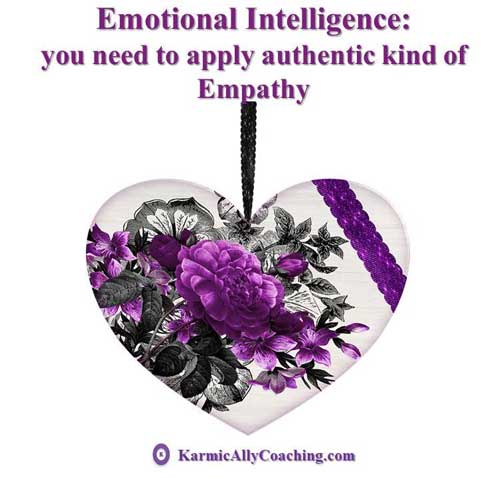 The ability to walk in another person's shoes is a skill that sets you apart from the crowd when it comes to building relationships and your reputation.
Did you know it's also a key skill displayed by emotionally intelligent people?
Being open to other people's perspectives is a powerful way to demonstrate you possess Emotional Intelligence.
Emotional Intelligence (abbreviated to EI) is also referred to as Emotional Quotient (EQ).
The term 'emotional intelligence was originally coined by psychologists Salovey and Mayer in 1990 but it wasn't until 1995 that the concept gained popularity when Daniel Goleman published his bestselling book Emotional Intelligence: Why It can Matter More than IQ.
Goleman defined Emotional Intelligence as:
"Understanding one's own feelings, empathy for the feelings of others and the regulation of emotion in a way that enhances living"
I love this concept because unlike Intelligence Quotient (IQ), EQ or EI can be improved.
In his second book Working with Emotional Intelligence, he explored how our performance at work related to how we dealt with others and conducted ourselves.
Goleman mentions 5 domains in his second book that have been used in different business models
Knowing your emotions
Managing your own emotions
Motivating yourself
Recognizing and understanding other people's emotions
Managing relationships
These 5 domains are divided into 4 quadrants.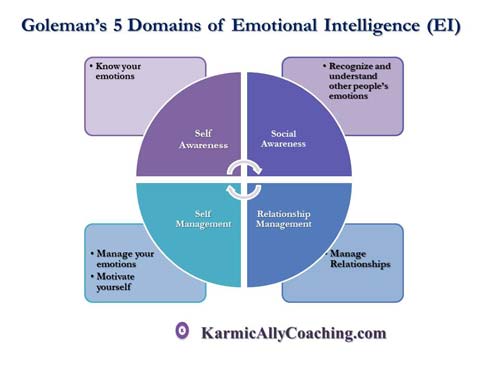 I go into greater detail on how to improve your EI score in my mini-course Emotional Intelligence – the Basics.
There's 1 skill required in 2 domains and the quadrants of Social Awareness and Relationship Management which merits a closer look – Empathy.
There's a big difference between feeling and demonstrating empathy in your personal and professional life. In fact, this skill has to be managed properly otherwise you might get inflicted with Stockholm syndrome!
Empathy is the ability to understand some else's feelings and re-experience them. Professionals with this competence:
Actively listen to what others say (both their words and the non-verbal signals being sent out)
They show they understand and appreciate others' views and issue
Focus on achieving goals or tasks without conflict
Understand where emotional boundaries start and end
A person with weak empathy skills has a tight grip on their own version of reality which makes it impossible for them to see things from another person's perspective.
This leads to communication breakdowns and conflict where both sides suffer as does the task at hand.
The manager in my Big Brother Cat post was good at his job and in service delivery but found it difficult to demonstrate social awareness or listening to others' points of view unless it was the big boss. More often than not, intervention was required and had the team not had a high level of service orientation towards the paying client, I doubt we would have met the deadlines.
Emotional Intelligence skill of Empathy is useful outside the workplace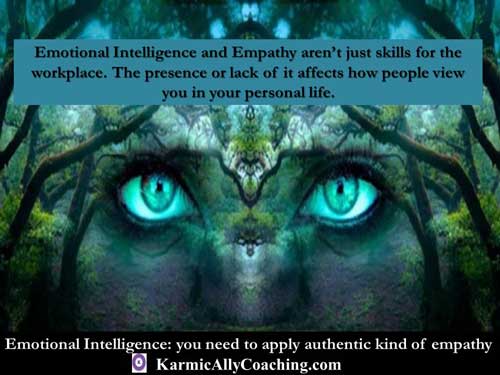 Emotional Intelligence and Empathy aren't just skills for the workplace. The presence or lack of it can also affect how people view you in your personal life.
For instance, my downstairs neighbor's mother recently displayed complete lack of empathy or any social skill for that matter.
Their family is aware of the fact that my little dog is scared of drilling noises and thunder. By chance both my upstairs and downstairs neighbors are scared of dogs but they respect the fact that Miss Coco is our pet and if there is going to be any drilling or noise, we need to be informed so we can handle the situation. We've never stopped anyone from getting work done in their residence and all is peaceful.
Last week, there was sudden drilling noise and on inquiry we were told it was coming from the downstairs neighbor's house. I was contemplating whether to take Miss Coco for a walk as she was getting upset when the phone rang and the mother of the downstairs' neighbor was on the line screaming and shouting like a banshee about our having complained.
She said something about it being a 5 minute job and how my dog was a nuisance.
I put the phone down as I knew what I might say and it would not help matters.
The work continued for 3 hours during which I had to amuse a frightened pet and then finally had to ask the Security to remind them that drilling was not allowed after office hours and they had already exceeded the time limit by 1 hour.
In a way I understood the lady's position – it's boiling hot in Delhi right now and the drilling related to a new air conditioner which should not have taken more than 30 minutes. What I do not understand is the outburst and the lack of courtesy.
Of course the next day the lady saw me walking my pet and tried to apologize but her image in my view is not what it once was.
Now imagine what would happen if this had been an office situation. You'd have a hard time redeeming your credibility as a professional.
My Muse, Miss Coco and I shared a technique to develop empathetic perception in my blog post How much empathetic perception are you using when you say I feel your pain.
There is another method to develop this skill that involves reframing an event productively. In simple words, taking a different viewpoint on the situation and generating a healthier productive response.
It's the Neuro-Linguistic Programming (NLP) technique of Perceptual Positions or 'Different Perspectives' or Multiple Perspectives.
Multiple perspectives is a model originally formulated in 1987 by John Grinder and Judith DeLozier to systematically shift from one perceptual position to another to enable you to use information about the situation that might have been out of your conscious awareness.
There are 3 main perceptual positions:
First:  seeing things from our own perspective
Second: from another person in the situation and
Third: from a detached viewpoint which can also be called an observer
When trying to improve our understanding of the situation, we can use the second and third positions to try out different stances.
How perceptual positions helped maintain peace and calm
Now let's see how perceptual positions played out in the incident with my neighbor.
1st Perspective (me): See the situation through your own eyes, undiluted from objectivity and the other person's perspective. See, hear and feel the world through your own filters paying attention to your own thoughts and feelings. Consider your own needs.
I had an upset pet running haywire through my house looking for shelter from the noise. I stopped working on my tasks and had to focus on calming her down. I was in the process of finding out where the noise was coming from so I could contact the resident about the duration of work and then take a call if I wanted to take Miss Coco downstairs for a long walk.
My priority was to calm the pet and the fact that my own work had been disrupted was a non-issue in the moment.
Before I could do that I got the abusive phone call and was upset and angry. I had half a mind to call the police for noise pollution or go downstairs and have a completely out of personality hissy fight with the woman. Instead I counted to 10 and drank Chamomile Tea while pacifying the pet and then taking her downstairs.
2nd Perspective (the other person): Imagine what it is like to be the other person. Put yourself in their shoes – as if you are looking back at yourself, seeing, hearing, and feeling as the other person. How is 'that you over there' coming across to you. Is he/she taking your views into account?
This was the first time that the woman had behaved in such a weird manner and I had to second guess what was happening. I considered her household arrangements and the fact that it has been boiling hot in the city and the air conditioning unit might have broken down and had to be replaced.
I remembered that unlike our window air conditioners, the neighbors have installed a split AC which meant not only would the unit be replaced but also the cabling to the different rooms.
This might have been frustrating as her son and daughter-on-law go out to work and she would have been handling the workers on her own not realizing that the 5 minute job was only installing the new unit. It would take longer to rework the cabling and other parts of the new installation.
She might have forgotten to call us because normally the guards inform us or her son makes sure that we are told in advance. She might have taken her frustration out on me without meaning to and was embarrassed that she had not shown the common courtesy because we never object to work being done, simply that there will be noise.
3rd Perspective (Observer Position): Here you assume the objective observer position and take a holistic point of view. It's useful for stepping back and getting insights into situations that one cannot from close quarters.
Imagine you are looking at yourself and the other person 'over there' as if on a cinema screen or like a fly on the wall.
This position is useful if when you want to shift from emotionally charged experiences to get an objective view.
Take a breath and pay attention to how your body feels at this moment. Where are you feeling the emotion in your body (head, neck, heart, upper chest or other area of your body? What are you hearing? What are the images? What are you now creating and how will they impact the people around you?
In this perspective, I saw that both sides had their own needs and wants and while the matter had not been handled delicately, there was no need to call the police. Instead, I took care of Miss Coco till she calmed down and called the guards to remind the neighbor of the drilling rules and time.
I wasn't angry now; just a little irritated and made a mental note to talk to her son next time of leaving an older lady to handle a major work like installing the air conditioning unit on her own. I'll also keep my distance since I now know that she doesn't care about animals (sorry, there are things that perceptual positions and empathy can't change.)
CAVEAT: Don't overdo the second position when it comes to relationships. You are not required to change your behavior based on the second position otherwise you risk forming co-dependent relationships.
Once you have worked out the second persons perceptual position, disassociate from the 2nd perspective and return to the first perspective.
Then assume the 3rd position completely disassociating from the first and second and consider what would be the best action in the situation.
After that, return to the 1st perspective. Evaluate the idea and take action.
Not re-inventing the wheel, here's a video from John Grinder with insights into perceptual positions.
Give perceptual positions a go the next time you are in a conflict situation and see the quality of resolutions that emerge.
Do you use empathy in your interactions? Do they add to your image of being Emotionally Intelligent or do people think you are mercurial?
Additional Resources on Emotional Perception
Daniel Goleman, Emotional Intelligence: Why It Can Matter More Than IQ
Daniel Goleman, Working with Emotional Intelligence
Karmic Ally Coaching's Emotional Intelligence Traits Checklist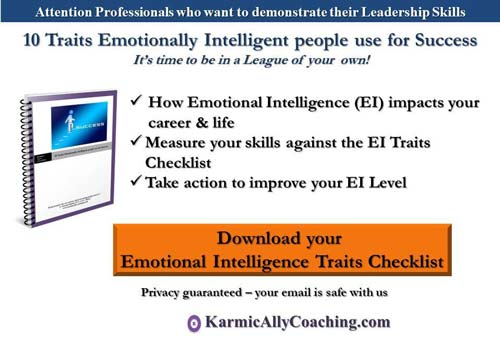 Follow Me
Share with others!