This post has already been read 968 times!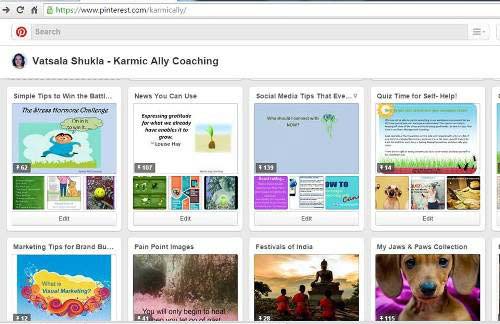 Selection of Karmic Ally Coaching Boards on PinterestLast night I sent Pinterest 2 copyright infringement notices on behalf of my mother, an awarded artist. Her painting had been pinned on Pinterest and then repinned by someone else without permission of the artist and from a site that does not allow pinning or sharing. Copyright infringement is a serious offence and I was relieved to see that the pins were in less than 2 hours of notification.
If you are active on Pinterest and have not seen the guidelines and policies yet, I suggest that you read up on them before pinning with gay abandon. If the objecting person asks for you to be given a strike, then you might land yourself in trouble because 5 strikes mean you are thrown out of Pinterest.
Here are the links for ready reference:
Pinterest Acceptable Use Policy

Do Pinners know the finer points of using Pinterest?
When it comes to social media platforms, Pinterest is a completely different kind of animal.  People usually log onto Facebook and Twitter to socialize and check up on the activities of their friends and brands that they follow and while the primary purpose of having a Pinterest account is to park and share useful information that you find on the internet with other pinners, there is more to Pinterest.
It isn't just a place where one pins and repins interesting items onto a board, it is a platform where one can connect and widen one's network. There are rules of engagement and etiquette – Pintiquette.
In the last couple of weeks I've shared essential etiquette tips for Facebook and Twitter. Like with any other social media platform, there are guidelines to follow when you're pinning, repinning, commenting, and "liking" on this engaging site.
Essentials of Pintiquette
Here is my compilation of basic etiquette while engaging on Pinterest.
Check the Pin Source before Pinning
Pinterest takes its guidelines seriously and I saw this in action not only yesterday, but also a few months back when I received an email telling me that one of the pins that I had innocently repined was a copyright infringement by the original pinner. I wasn't penalized or anything but my confidence in a site that walks its talk amplified.
Now if I like a pin, I click the link to check for authenticity, broken links, spam link and potential copyright infringement before pinning or repinning
By acting on a pin, I am endorsing the content of the pin and reputation management is premium to me. The last thing I want is to be perceived as unprofessional and unfollowed.
Give Credit Where It is Due
It is one thing to add text to a pin that you are repinning to share your perspective or to encourage your followers to check out the pin. It is, however, a big no-no to delete another person's source and add your own or to give the impression that the pin is your own.
In other words, give credit where it is due and link to sources or give credit to them.
In this context, please do not download images from the website and then repin them as your own. Apart from being bad manners, it can land you in a lot of hot water vis a vis the owner of the image and result in legal action. Remember the pins  that were removed for copyright infringement?
Pin to Relevant Content
This is something that I have see time and again. There is a beautiful pin and I want to read the linked post only to find that I am taken to a blog or website home page and not the actual post from where I can read the content. If that is the case, then I don't repin or share further.
Making your followers or audience go hunting for the content is not a good idea. Our attention spans are short on social media and we may just walk away – forever.
Here is an example. I posted on Slideshare and shared the attributing link directly there even though I could have linked to my website AND I provided some information on the pin. Here's the presentation if you are interested – The Karmic Ally Coaching's 7 Days of Inspirational Quotes
Optimize Your Pin
This point follows from the one before it. Here is what I suggest:
Add a proper description to the image that you are pinning. It helps save a prospective repinner the hassle and time of having to provide a description. Otherwise, they might decide not to repin no matter how beautiful the pin.
Check if your pin is showing up properly. In other words, is it of a proper resolution? If not, then consider redoing it or creating a separate optimized pin and linking it to your content. I even suggest creating a different size image especially for Pinterest to match the long vertical style that is popular with pinners.
Don't hog the home feed
Consider the fact that about 80% of the pins on Pinterest are repins and nobody likes a pinner who goes crazy pinning away each and everything. It gives the impression of spam and can lead to unfollows. Put in plain English, avoid over-pinning.
Remember that Pinterest is about discovery and sharing things of value. If in doubt, use the Litmus Test – will a viewer find this useful?
A better technique is to pin fewer times and spread it over the course of the day. This improves the chances of more people seeing your pins. I've tried both to test this premise and found more repins when I pinned or repinned in a spread out manner.
Share to Show You Care
If you have a website, don't just post pins from it. Instead find a balance with your own pins and curated pins.
You'll increase your followers and the chances of repins for your pins. The Litmus Test I described in the previous point is a good guide.
You can always set up a special board for your website pins the way I have below.
Be Social not Self-Serving
Even if you are using Pinterest as a scrap book or third party storage system for articles and posts that you like, remember, this is a social network and the rules of social etiquette or Pintiquette still apply.
Here are a few tips to make sure you show up in a positive manner:
Don't just Like or Repin. Consider leaving an encouraging comment to the original pinner. You might find more in common than just a pin.
By the same token, if a pinner has left a comment on one of your pins, do reply! Engage with the other person. You do it on Twitter; you can do it on Pinterest.
This may sound cumbersome, especially if you have a pin that has been repinned many times but why not thank the repinner for pinning your image and engage?
The simple solution is to look at the Pinterest analytics, find your top repinners and say Thank You. It will result in more repins and even the start of a new online friendship.
There is a lot more to Pinterest than just a bunch of pretty images and infographs. There is a golden opportunity to build your professional brand, even if you are not a business person and make connections with a viable network. Keep your daily life updates limited to your Wall on Facebook and use Pinterest to articulate yourself as a person curating value adding content.
Are you active on Pinterest? How do you maintain essential Pintiquette? Or did the above points raise your eyebrows? Tell me about it in the comments box below.
PS. Here are the links to the other 2 posts mentioned in this post
How to make a great first impression on Twittersphere
10 ways to get unfriended on Facebook in a minute
Written by: Vatsala Shukla
Follow Me
Share with others!