This post has already been read 3110 times!
Do you use efficient Time Targets?
I ask because during a recent conversation with a friend on Twitter, we discovered that we both use Time Targets although differently. The Twitter friend uses a Monthly planner whereas I use a Weekly one. The beauty is that we both achieve what we set out to do and are on top of our game when it comes to time management. We use Time Targets.
Other common examples of Time Targets include:
Forward looking Time Targets in the presentations prepared by listed companies for their investors
Business plans whether by start-up companies or those seeking funding for expansion
If you are being interviewed for a job, sooner or later you will be asked the question "Where do you see yourself in 5 years?"
Setting up Professional Development Plans at work – Performance Time Targets for the coming year
The list goes on.
Effective time managers know the value of time. They use time efficiently and effectively to achieve goals. They know that simply setting up SMART goals is not enough. Success lies in the fine print.
Here are 5 suggested tips for managing your own Time Targets.
Know your final objective and timeline
In other words, do you know what you really want to achieve and by when?
 When a business approaches the bank or other investment angels for funding, they know where they are going. They have their ultimate aim chalked out with as many details possible in writing. The business plan shows that they have thought and planned further into the future. They have their projections for the next 5-10 years prepared. They use Time Targets.
Tip #1: When setting up your goals, think ahead about what you really want to achieve. Break it into smaller time bytes and min-bytes with milestones to monitor your success.
Eliminate your time-wasting activities
The best managers I have met are territorial about their time. They know their time management quadrants on the back of their hand and focus on those activities that are either important but not urgent or ones where they alone can do a task. All other activities are delegated to those who can perform the task competently to achieve results.
Tip# 2: Record your activities during the day for 1 week and analyse, which activities were productive and which ones could have been avoided or were simply time fillers. Eliminate those activities from your routine which waste time or can be reduced. A good example is the phone calls from people who call and talk on hours for end with complete disregard for the fact that you might be busy. Politely tell the caller that you are in the middle of something and will call back later. Of course, do make it a point to return the call!
Know your time vampires- strategise to get rid of them
Others call them time encroachers; I call them time vampires as they leave me drained of energy!  These vampires think only of themselves and will thoughtlessly take up your time if you allow them to.
This could be in the form of telephone calls or emails. I had one vampire attack a few weeks back where I received 13 emails within the hour and 7 more the next day from someone who was trying to create a business alliance. No second guessing that the vampire was told politely that there were no mutual benefits in the proposed alliance and the potential business deal which if given the gift of time to understand, went down the drain.
Tip# 3: An effective Time Target manager learns to use the gifts of instinct and observation powers to size up the people they come into contact with and help them to get to the key point quickly. Be alert when communicating with others, particularly by email otherwise you will get stuck in unnecessary correspondence without achieving much for either party.
Do unto others as you would want done unto you
Sound familiar? It is great to complain about time wasting people but how about your own actions? Do you encroach on others time? Do you ramble on and first discuss the state of the nation and other matters before coming to the reason for calling? Are you acting like a time vampire? When you call, do you make it a point to ask the other person if it is a good time to talk? Unless you have Superman vision, you would not know what the other person is doing when you call. If the person is in front of you, observe body language as a cue for timing.
Tip# 4: When dealing with others, respect their time. Don't "drop in" and encroach on the time of a busy person. If the other person finds value in what you are proposing, they will make time to understand the opportunity and discuss it further either right there and then or plan for a more constructive meeting at an opportune time. Win-Win is the name of the game.
Be fluid and flexible with your Time Targets
Even the best plans can go wrong or off track. This often happens because new factors come into the picture which was not there when you were earlier setting up your Time Targets.
Companies know that which is why they assess their business plans and targets on a regular basis and tweak their plans to incorporate these new factors. It does not mean that the Time Targets have failed, just that with the passage of time, the targets have shifted and require a revisit..Instead of rigidly sticking to the original plan, they modify it to achieve the ultimate goal – Success.
Tip# 5: Understand that you can only impact things that you can control. When factors that you don't have control over crop up, then the best way to deal with them is to make action plans that play around these factors. Keep your focus on the ultimate goal at all times. Be fluid and flexible willing to change in the light of circumstances.
These are just 5 tips. There are lots of others than we learn from experience. Do you have any of your own? Please do share in the comments box below!
www.karmicallycoaching.com
Have you checked my Kindle book on Goal Achievement Simplified? It will help you to get your goals done in a timely manner – the way Messi does! Click the link below or on the image to learn more. The book includes some extra goal getting tools too.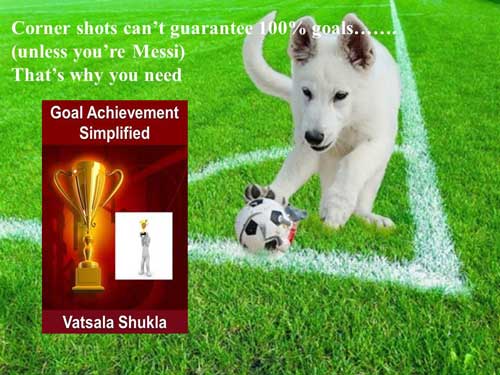 Goal Achievement Simplified: When Your Actions Give Results
Written by: Vatsala Shukla
Follow Me
Share with others!