Build Your Brand on LinkedIn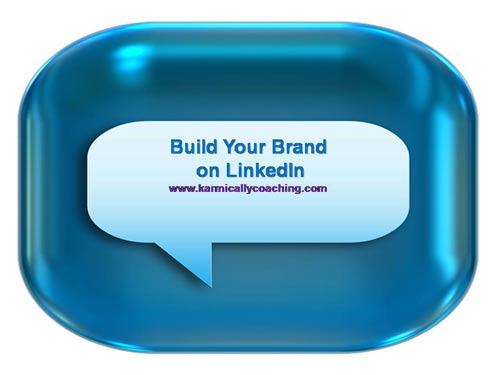 Take charge of your Brand on LinkedIn
If you are reading this Page, then I am willing to bet that you already have a LinkedIn Profile and are either not very happy with it or want to optimize it to meet a professional goal.
LinkedIn is the leading social network that focuses on business professionals and if you want to build your credibility as a professional, then you have to maintain a presence on LinkedIn.
In fact, your LinkedIn profile is indexed by Google and if you don't believe me, open a new browser and type your name in it. The top 3 search results will include Facebook,  LinkedIn and your website/blog if you have one.
People do Google you to learn more about you and you owe it to yourself to maintain an optimized profile to attract the right professionals into your network.
However, to get the most out of it, you not only need to know how to present yourself but also what you need to do to keep up the momentum required for goal achievement.
With a proper professional profile and savvy 15 minute actions on a daily basis, you can leverage LinkedIn to increase your visibility and credibility, which as you know are hallmarks of a credentialed professional.
You can learn how to do this by reading blog posts (including mine), attend webinars on the subject and download free reports. This costs you time and learning through trial and error when there is a simpler way to create an optimized profile so that you can get into the effective networking stage.
Why I created this Service
Over the years, I've received invitations to connect or mails from connections telling me how impressed they were with what I was doing and they wanted to know how I managed everything. They were surprised when I told them that I don't spend more than 15 minutes a day on LinkedIn!
These inquiries were from professionals from all industries and even I realized that this is a much bigger problem than I thought.  I started to research the issue and made notes of my consultations and discussions with my peers and uncovered a few recurring pain points.
They knew they needed  a robust LinkedIn Profile but did not know where to start

They had downloaded free reports & articles but were nowhere near to optimizing their LinkedIn Profiles

Invitations to connect had declined

They accepted invitations but were not able to build the relationship for networking purposes

They wanted to raise their profile and have others invite to connect but didn't  know how to do it

They were looking for a job but their applications on LinkedIn didn't work

Their profile was not appearing on LinkedIn searches and no one was looking at their profile

They wanted to find leads for business but were not getting anywhere
Now you don't really need a high end Coaching Program to solve the problem of optimizing your profile or learning how to effectively use LinkedIn.
But you do need the guidance and fresh pair of eyes review by a fellow professional who knows what it takes to solve this problem with a minimum investment of your time. You need a customized service where the areas that you need to focus on are highlighted with guidance and YOU get to decide what you will implement immediately and what you will take time to consider and implement later.
From my experience both during my days in the corporate world and then as a Coach, I noticed that people love freebies but don't truly value them or don't take the required action and steps to transform themselves. (This is also something that my mentors had pointed out to me a long time back.)
How many times have you downloaded an ebook or video series and actually read or viewed it?
Now when you sign up for this service and make a payment for it, I know and you know that you will act upon it.
In fact, if you apply what I will recommend and show you, you'll start seeing results within 10 days!
Who should take up this offer?
This program is ideal for any professional who has a LinkedIn Profile and wants to optimize their LinkedIn presence to take full advantage of the experience that LinkedIn provides, achieve their goals whether it is to connect with colleagues in their industry, find a new job or showcase their talent and attract the right network.
In fact, any professional worth their salt should have a presence on LinkedIn. It's more than just a connection collecting social media platform – it can help build your brand.
Don't just take my word on it. Check out these numbers that put the importance and scale of LinkedIn in some perspective:
400 million unique users
100 million unique monthly visitors to LinkedIn
2 new LinkedIn Members per second
4 million LinkedIn business pages
Over 2 million LinkedIn groups
(Source: By the Numbers: 90 Amazing LinkedIn Statistics)
If what I am saying resonates with you,  take action right now and  sign up.
Here's what you get 
Provided you take action, this service will help you progress long after the engagement is over and includes:
Detailed review of your LinkedIn Profile from an experienced professional who has used LinkedIn both as an employee, a financial consultant and as a coach to generate business and leads and has helped professionals improve their own connections on LinkedIn

Full feedback report which will point out the things that you are doing right, wrong or need improvement in order to attain your objective of using LinkedIn including actions that you need to take to raise your Social Selling Index. This report will be based on a questionnaire that you will receive upon payment and your Curriculum Vitae

A customized checklist to keep you on track with your update and a plan to get the most out of your time on LinkedIn broken into daily, monthly and annual tasks

30 minute consultation call over phone or Skype to discuss your profile
Please note that this service hinges upon having an up to date and strong resume.
Your investment in You: USD $150
 Don't allow your LinkedIn profile or activity stand in your way of getting a coveted job or connecting with professionals who can help you if they only knew how competent you were.
So take me up on my offer now!
You will be directed to Paypal and the entire transaction will be done over a secure line. Be assured that we don't store credit card information – everything is handled by Paypal.
Professionals based in India: Please contact me via http://karmicallycoaching.com/connect/  for payment details.
After you place your order & confirm payment you will be redirected to a "thank you" page where I will request you to enter your details and follow the procedure to be taken to the "download page" for the questionnaire and to receive your 5 bonus email support.
Once you have completed the questionnaire, please email it back to me with a copy of your latest Curriculum Vitae and any other information that you believe is relevant to the success of this service.
If for some reason you're not redirected, please send me an email at vatsala(at)karmicallycoaching(dot)com  with details of your purchase and I'll get a link to you asap.
This service provides you with an optimized profile 5 – 10 business days AFTER you send me your completed questionnaire and resume.
Testimonials from former clients
"Vatsala Shukla is an original, sincere and hard working coach who makes a great and successful effort in understanding and assisting the client in every step in the process. I can give her my best recommendation." Top qualities: On Time, High Integrity, Creative
-Birte Lundgreen Hired Vatsala as a Career Coach in 2011
I had delayed starting a blog for two years until Vatsala read my writing and enthusiastically coached me with her encouragement. She was the impetus I needed—and I announced my blog, "Purely Prema," in March 2012.

She has a fresh, supportive blog, where I became a member—expanding my learning. Her "Tips" drive straight to the heart—with practical steps for effectively managing various areas of life. Her personal stories add warmth—sharing how she applies her coaching skills to her own life, as well. I give Vatsala my A+ endorsement as a Certified Life Coach. Love-fueled gratitude, Vatsala, for your presence in nurturing and supportive coaching.
–Prema Jasmine Camp, Certified Life Coach, Author, Spiritual Volunteer, Meherabad, Arangaon, India" May 19, 2012 Prema worked directly with Vatsala at Karmic Ally Coaching
PS. Check out my full LinkedIn Profile too!
Follow Me
Share with others!