Overcome you unique barriers for Career Success now!
Dear Visitor
You're visiting The Karmic Ally Coaching Experience website isn't a coincidence. You were meant to come here!
The reason I'm saying this with confidence is because I can guess who you are as a person and where you are at this stage of your career and life and can totally relate because I've been there and done that many times at different stages of my own life and career.
9 Secrets I know about your true wishes
You're competent, ambitious, talented, driven and known to be good at your job but there is a big BUT when it comes to rewards
Your career is important to you and you've worked hard to get where you are today
In the quest for excellence at work, you've often put the rest of your life on the backburner which has had its own consequences like family problems, health issues and even complete alienation from your job thanks to burnout or worse not getting that promotion that you were after
You've hit a roadblock in your career and think changing jobs is the solution but have found that the problem of recognition has followed you
You're spiritual in nature and have tried affirmations and law of attraction but it didn't work – or at least not the way it should have
You devour self-help books, invest in courses to 'perfect' yourself and will download content if you feel it will help you
You are fed up of the status quo
Your self-confidence has taken a knock and you need support
You know you need to change and are ready to invest your time, energy and money in the right solution.
If that's you or approximately you, then you're in the right place.
The truth is, dear visitor, you are at that stage of your Hero's Journey where you've been shaken out of your normal routine. It doesn't matter what has happened but you are now at a point where you are either preparing to begin a new adventure towards your transformation solution or have started the journey and have now come across a potential Wise Guide – that's Me!
I share more details about this and the philosophy of Karmic Ally Coaching in my Who is Karmic Ally Coaching Page but for now let's talk about you a little more.
The days of having a job for life are more or less over and professionals seek more than just a regular paycheck and a retirement plan or golden watch.
We are in an Age where self-realization and actualization aren't words you read in philosophical or spiritual books but a reality. We want more and deserve more.
At the same time, the workplace has become more competitive and its not only important to do ones job well, you have to be visible to the people who matter. You need to demonstrate Leadership and Executive Presence.
There are challenges to be addressed which the previous generations didn't and that is why any transformation or result that you want in your career path requires more than a resume update and job interviews – it requires a shift in your mindset and confidence to go after what you want.
You need to find innovative ways to achieve your goals which take you out of your comfort zone. You need to be able to meet any internal resistance that you are coming up with and recognize the difference between your intuition and that Inner Gremlin that brings up your limiting fears.
You don't have to sell your Soul to achieve career success
Based on my work with clients and consults, I've developed my own model of 8 steps to create change that fall within 3 phases – Discover Plan and Action.
These 3 phases cycle during the coaching engagement using the 8 Step Change Model providing results at each step and during each phase so the client experiences continuing results and quick action to overcome blocks and resistance to success. You can learn more by clicking here or on the image below.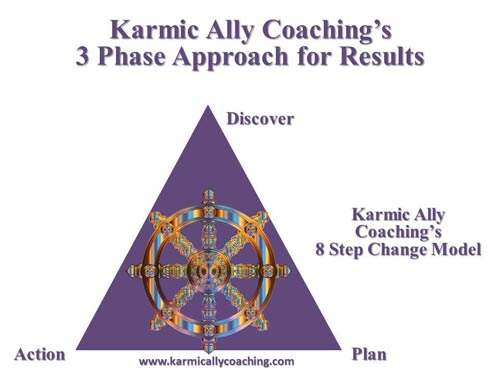 It's a combination of aligning your needs, desires and values with your career and removing the obstacles. Jumping from Phase 1 to 3 and ignoring Phase 2 is the reason why many professionals fail.
It doesn't have to be that way for you but you have to be ready to create change and do what it takes to make your success real.
Are you ready to take action?
Let's connect and find your unique solution. Send me your inquiry using this Page and we'll take it from there.
I invite you to also check out Karmic Ally Coaching's Resources Page for lots of free but very valuable professional resources.
Whatever your budget, whatever your stage of career progression' there's something that's right for you.
Vatsala Shukla
Your Karmic Ally Coach
PS. Does changing the status quo mean a career or job change for you? Find out with this quick quiz – it's on the house!