Career Breakthrough & Executive Presence Coaching
Do you lie awake at night worrying whether it's time to change your job or career?
If I asked you to honestly rank your job or career satisfaction on a scale with 1 being awful and 10 being blissful, would you select an 8 or above?
Let's go deeper into your present situation. Here are some more questions to consider:
Are you presently in a job that used to be fulfilling but for whatever reason no longer appeals to you as a career choice?  
Are you sticking to a dead end job because you need the income to pay the bills but you feel a bit of you is dying every day?
Have you hit a roadblock on your otherwise upward career path and can't fathom  what has gone wrong or how to get out of the mess before it's too late?
Despite meeting your entire target Key Performance Indices for the year, were you bypassed for that coveted promotion?  Did your boss or HR give you some waffle explanation that didn't sound quite right?
Do you regularly have a stomach ache on Sunday evening just thinking of returning to work on Monday?
Do you want to finally move forward and launch your own venture using your unique skills but not sure if the timing is right or are too scared to take that leap of faith in your own abilities?
If you answered affirmatively to 1 or more of the above questions, then you've come to the right place to change the status quo.
Sometimes, it's more a case of your feeling something is out of sync.
Maybe you are comfortable in your workplace but feel that things could be better.
Maybe you don't even know what your career needs are. Perhaps your feelings change from day to day.
Some hard truths about working in the corporate world
The majority of my Coaching  & Consultation clients face the issue of being caught in a career rut. They are intelligent, competent professionals who work hard and yet find that their career progression or career path is not what they desire.
Your employer pays you to work and doesn't owe you anything. If you want to get ahead, you have to step up to the plate and show that you are the right choice for any promotion.
Consistently demonstrating your potential, executive presence, unbeatable brand and gravitas, makes the world your oyster.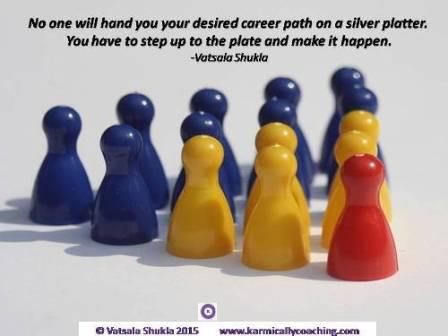 Before anyone, whether it is your organization, boss, mentor or coach can help you find solutions, you need to be clear about what you really want.
To have the career you really want, you need to know yourself and be as committed to developing your career path as your organization is.
You have to take responsibility for your career goals.
Most professionals do take action to relieve themselves of the uncertainty in their organizations. But are these the right actions?
For example, how effective is it to update your CV, send out bulk emails to every connection you've acquired via LinkedIn (but never interacted with) and then hope you'll find someone who can get you a new job?
Competency and certifications count up to a point but to break the barrier to your ultimate career or life success, you need to have Executive Presence and demonstrate Gravitas to show decision makers you have what it takes for the next level of leadership.
What if you could find a way to transform you job back into a rewarding career?
That's what this coaching program is all about.
Enhance Your Executive Presence and Fast Track Your Next Career Move – Guaranteed within 90 Days with Karmic Ally Coaching's Career Breakthrough & Executive Presence Program
When you join Karmic Ally Coaching's 90 Day Signature Career Breakthrough Coaching and Mentoring program, you'll have a solid ally help you get clarity on whether you need a job change, improve the job you have or whether it is really time to plan your career change or even start your own venture.
This 3 month Signature Program goes deep into discovering what is really holding you back and guides you to take the inspired actions that you need to take to get that missing career momentum.
It is a unique coaching and mentoring program which is customized to your specific career issue.
In addition to achieving your desired break through
You'll clear frustrating blockages in your career and consequent personal life implications;
You'll experience less frustration about your situation, lower stress levels and understand your value and what you bring to the table enabling you to present yourself with authentic confidence and from a position of strength; 
You'll start receiving more recognition for the contribution you're making to your employer, higher visibility, more impact in the decision making process, finding champions for your career progression and get better opportunities than those presently available; and  
You'll become less vulnerability to office politics which can also be played in a positive manner; be able to influence decisions with a mature perspective and not miss out on promotions.
This Coaching Program is supported with assessment sheets and templates designed to enable you to construct your own Professional Development Plan, improve your Executive Presence and Brand, time management skills and work life balance strategies. As a bonus we'll also cover your Resume and LinkedIn Profile to reflect your authentic value.
Coaching is delivered over phone and Skype so you don't have to factor in travel time to meet the Coach. It doesn't get easier!
Together, we'll create your desired transformation using Karmic Ally Coaching's 8 Step Change Model.
Ready to play your A Game to take your Career forward?
If you are serious about changing your situation or need more clarification or questions that need to be answered, then contact me through the Connect Form  or via my Calendar to arrange a no-obligation chat to discuss how we can get your career back on track.
Want to take a test drive with The Karmic Ally Coaching Experience before engaging me as your Career Coach? 
I have 2 special offers on Executive Presence Coaching – one with a workbook that you do on your own and the other includes Power Coaching.
Both options are payable in USD and INR.
Click the image below (a new window will open where you can learn more about these offers)