Welcome to Executive Presence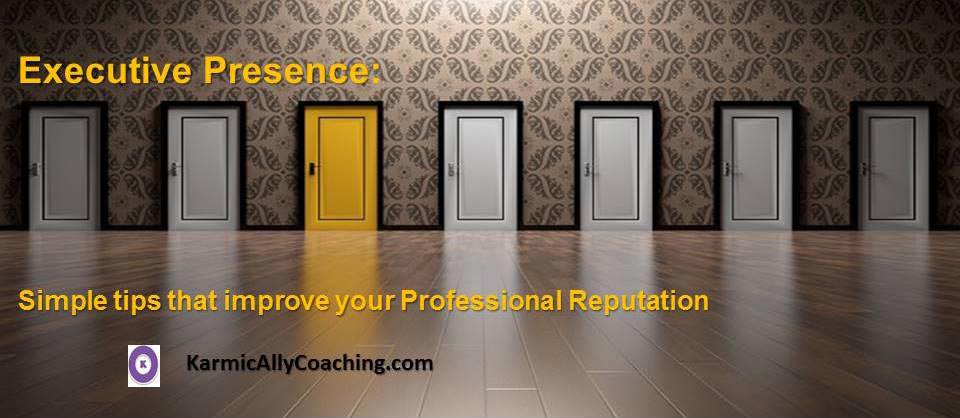 Welcome to Executive Presence:
The Secret Weapon for Professional Success Online Course
I'm delighted that you are here and I can't wait to share the next 5 days together as we get started on improving your professional reputation and enhancing your executive presence.
Executive Presence is a detailed topic and while we can't cover everything that I teach my clients in 5 days, I promise to get you started in the right direction and if you practice and action my tips, you WILL notice a difference in the way your colleagues, peers and even the boss notices you. The shift will begin – guaranteed!
Before we get into the first lesson, I'd like to formally introduce myself to you on the chance that this is the first time we are interacting.
In short, I'm Vatsala Shukla, founder and owner of Karmic Ally Coaching.
I focus on helping spiritually-minded professionals who've hit a speed breaker in their career or businesses requiring radical & innovative intervention create breakthroughs with customized solutions that tap into their hidden talents and skills using a signature system guides clients to fit the pieces of their unique puzzle achieving desired results with holistic transformation.
Credential-wise, I'm an FCA from ICAEW, a Certified LIFE Coach, Master SPIRIT LIFE Coach, Kindle Author and recognized Goodreads Author.
My career and business coaching programs incorporate 25+ years of international experience working for global majors as well as metaphysical techniques and exercises to facilitate holistic transformation in my clients.
Our Learning Agenda
In the coming days, I will
Share 2 different case studies to demonstrate how deficiencies in Executive Presence affected 2 competent professionals,
Cover 3 mistakes professionals make that detracts from their executive presence and how to avoid them
Tell you about 1 mistake that you can stop making right now and
Provide tips and suggestions that will enable you to improve your presence starting with this course.
Day 2 and 3 will be intensive and links will be provided in those emails to the relevant pages on my website. These pages are password protected and the email will provide the password.
To get the most out of this course, I recommend you make a commitment to show up fully and complete each of the action steps. There will be one per day for the next 5 days. You are welcome to write to me for more information on the actions that I advise at any time.
This training was created exclusively for you. Please don't share with others. If you feel happy with the training that you'd like to share with a colleague or friend, please send them to http://karmicallycoaching.com/executive-presence-simple-tips-that-improve-your-professional-reputation/
where they can enroll in the course separately.
Please also read the important note below. It is valid for all 5 days of this course. By enrolling in the course, you are agreeing to honor my content and copyright (my lawyer advised me to bring this to your attention).
To your success!
Vatsala
Important Note
Because this is a professional course, please read and understand the Disclaimer and Limit of Liability Statement below.
Disclaimer
© 2017 Vatsala Shukla and Karmic Ally Coaching All rights reserved
No part of this ecourse may be reproduced, stored in a retrieval system, or transmitted in any form, or by any means, electronic, mechanical, photocopying, recorded, scanning, or otherwise without the prior written permission of the Publisher or author. Requests to the author should be addressed to Vatsala Shukla at  vatsala(at)karmicallycoaching(dot)com.
Please note that the copyright of the entire guide and material provided in this ecourse, whether in part or full rests with me, Vatsala Shukla.
Every precaution has been taken to ensure that the contents of Executive Presence: Simple tips that improve your professional reputation is complete and accurate. However, all information is presented on an "AS IS" basis, and there is no warranty as to the results that may be achieved by using the material in this publication.
The author and the publisher will not be responsible for any loss of profit or personal/commercial damages (including, without limitation, indirect, consequential, special or punitive damages) suffered or incurred by any person arising out of such person's use of or reliance on the ecourse Executive Presence: Simple tips that improve your professional reputation.
Limit of Liability/Disclaimer of Warranty
While the publisher and author have used their best efforts in preparing this ecourse, they make no representations or warranties with respect to the accuracy or completeness of the contents of this book and specifically disclaim any implied warranties of merchantability or fitness for a particular purpose. No warranty may be created or extended by sales representatives or written sales materials.
The advice and strategies described in the course may not be suitable for your situation. You should always consult with a professional where appropriate.
Every effort has been made to accurately represent this product and its potential.  Examples in these materials are not to be interpreted as a promise or guarantee of success. Success potential is entirely dependent on the person using our product, ideas and techniques.
Any claims made of actual results or examples of actual results can be verified upon request. Your level of success in attaining the results claimed in our materials depends on the time you devote to the program, ideas and techniques mentioned your finances, knowledge and various skills. Since these factors differ according to individuals, we cannot guarantee your success or income level. Nor are we responsible for any of your actions.
Any and all forward looking statements here or on any of our sales material are intended to express our opinion of success potential. Many factors will be important in determining your actual results and no guarantees are made that you will achieve results similar to ours or anybody else's, in fact no guarantees are made that you will achieve any results from our ideas and techniques in our material.

I adhere to the Certified Coaches Alliance Code of Ethics and Standards. A copy is available on request.