Unleash the Energy of Money in 2016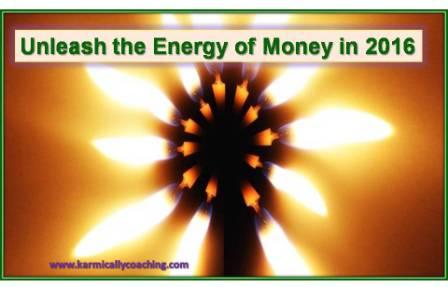 Has Money been a big issue for you in 2015?
If 2015 has been a year of ups and downs for you, then take heart that the coming year in numerology is a 9 year, which is considered to be the end of a cycle and it is time to leave old habits that no longer serve us behind and embrace new directions and beginnings in all areas of our life.
And that is what this call is all about! New beginnings with Money!
You are invited to listen to the replay of the teleclass– Unleash the Energy of Money in 2016.
In this short session we will look at how we can make money our friend and use its power in 2016 for our benefit.
During this short teaching teleclass, I will share with you 5 simple strategies that will help you give money the kind of attention it craves to do positive work for you. I will also give you 1 major money mindset tool to help you consciously change the way you look at money and get more control over it.
I've used these strategies myself at different times in my life and know that they are powerful.
This is what we'll cover
How to change your relationship with money
Make your money affirmations really work
Find money that is lying right under your nose (if you would only look at it!)
Raise your money vibration with a simple action once a day
Make your money meet your needs –even if it is just a dollar
2 money magnets that also raise your money vibrations
The 1 money mindset tool that always works but no one talks about
A step to get a grip on your finances
This replay is still available for free at my Teaching School. Click here to enroll in my school and sign up for it.  
Better still, there is another class replay on 3 important actions you need to manage your money. This one was part of our celebrations for Financial Literacy month in April 2016 and here's the replay.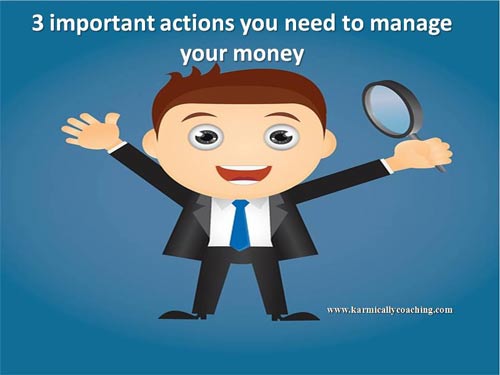 I'll share the 3 things you need to be doing first before you even think of preparing a budget or hiring a finance manager to manage your money.
The class is part of The Karmic Ally Coaching Experience education initiative and this is the replay (it's free!).
So sign up, listen to class and let's get your money mindset on the right track!
The content that I am going to be sharing is usually accessible only by my clients.
In order for me to make sure that I got your email address right and also that I have your permission to send you details of the teleclass, I request that you confirm your email when you receive my confirmation request and also whitelist my email vatsala(at)karmicallycoaching(dot)com.
You will also receive a fortnightly newsletter with useful tips and guidance for self-management. Be assured that I do not spam or share emails with others and you can always unsubscribe if my methods and techniques do not resonate with you (though I hope you will stay!)
Follow Me
Share with others!

I adhere to the Certified Coaches Alliance Code of Ethics and Standards. A copy is available on request.