Guide: Monitor Your Brand with LinkedIn Social Selling Index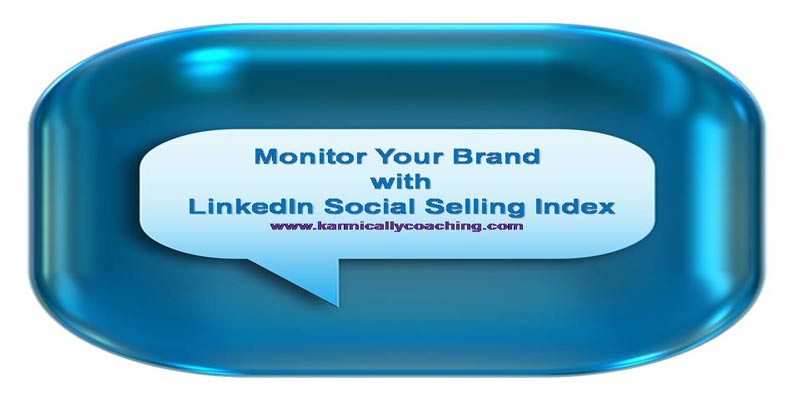 Can your social media profile and activity actually impede your search and prospects for a job which otherwise matches your skills and experience? Yes, it can. The same holds for small business owners who are prospecting online for leads and sales.
The danger with social media for professional goals is that one can end up filling our days surfing the different social media platforms, tweeting, liking, posting, sharing, commenting and then hoping that we get our desired results.
You can check if spaghetti is cooked by throwing a piece against the kitchen wall but that doesn't work when it comes to your professional goals.
From an efficiency and effective perspective, it is better to focus your efforts in the areas that complement and enhance your efforts in actually talking to prospective leads whether they are for a job or your business.
Do you want to be credible, hired, employed, liked and recognized by the right people?
LinkedIn is the numero uno social media platform for this purpose, and this guide Monitor Your Brand with LinkedIn's Social Selling Index  has been created from my popular teleclass that covered brand building and using LinkedIn's Social Selling Index to gauge your success in leveraging the power of LinkedIn for your professional and  business goals.
The recording is available only to my clients but you can access this guide and learn the exact method I use that keep my LinkedIn Social Selling above 80%.
You too can raise your LinkedIn Social Selling by 10% in 30 days with this guide.
If you are in job search mode, looking for a new career pasture or trying to establish a new business then this guide is is for you. Here's what you get!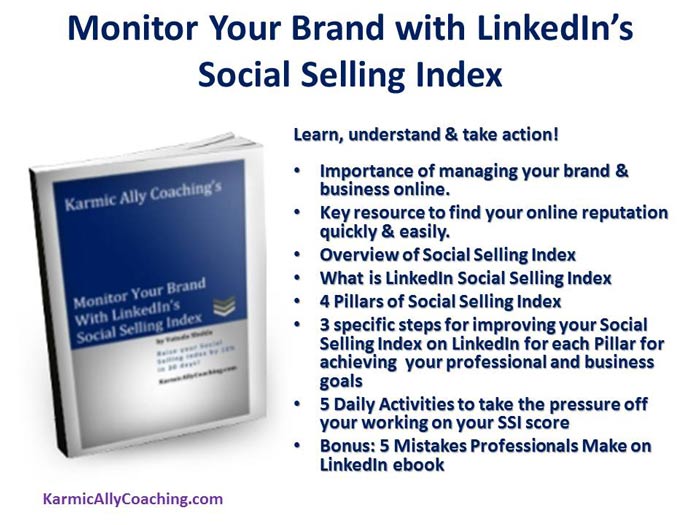 Get your LinkedIn SSI Guide for USD $ 19!
I want to encourage you to take action and help you get the most out of LinkedIn but you need to take the first step here!

Visiting from India? Now you can purchase in Indian Rupees for INR 1300!
Click the below button and download your ebook instantly.
You will be directed to Paypal and the entire transaction will be done over a secure line. Be assured that we don't store credit card information – everything is handled by Paypal.
After you place your order and confirm payment you will be redirected to a "thank you" page where you can immediately download the ebook/guide/workbook.
If for some reason you're not redirected, please send me an email at vatsala(at)karmicallycoaching(dot)com with details of your purchase and I'll get a link to you asap.
Since Karmic Ally Coaching is offering non-tangible irrevocable goods, we do not issue refunds once the order is accomplished and access is granted to the product. As a customer, you are responsible for understanding this upon purchasing any item from this website.
Please note all digital products are non-refundable once payment is processed. This digital product is yours forever. If you have any questions or concerns, please ask in advance of purchase at vatsala(at)karmicallycoaching(dot)com.
Follow Me
Share with others!

I adhere to the Certified Coaches Alliance Code of Ethics and Standards. A copy is available on request.