Crack the Code to Your Professional Brand & Create an Awesome Online Presence
How to avoid Professional Branding confusion – guaranteed!
If you find it difficult to articulate your professional value in job interviews… if you're challenged to make impactful self-introductions while networking (whether its offline or on social media platforms)… if you need to find your unique qualities that will be useful in your Resume, Job Interviews and tell the world who you really are… then this message is just for You. Here's why…
Do you have a robust Professional Brand?
Let's find out with a short quiz.
If you got
– Between 4 and 6 points, please read this offer seriously and get my program as soon as you can
– Between 2 and 4, sounds good! Do continue reading for more information
– Between 0 and 1, Wow! Do a good deed today and refer a colleague or friend who needs this program
If you scored 2 and above in the quiz, you need to realize, there is a cost to not dealing with this because…
If You Ignore It, It Just Gets Worse
What most people do when facing a lackluster personal and professional brand is to go online and download content that shows them what is required but not how to develop their unique selling proposition.
But for most people, none of that works because
Imitating words from someone elses' LinkedIn Headline is not their authentic branding statement
Downloading generic templates don't really capture you true value and worth
You sound like a commodity instead of a valued professional worth networking with
And what happens if you just keep doing what you've been doing?
You'll have a general brand and online image that won't help you stand out from the crowd and you'll miss career and business opportunities to others who are less talented or bring less value to the table than you would because you sound mundane and boring.
How I cracked the Code to creating a robust Professional Brand & awesome Online Presence
I've got an answer that works.
I created Crack the Code to Your Professional Brand & Create an Awesome Online Presence -First stop for Professionals who want to build their brand and online credentials based on my observations and coaching conversations with clients, real people like you and me.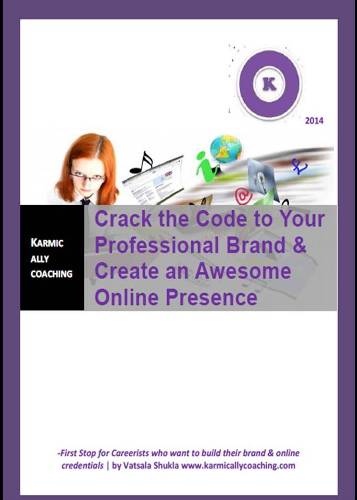 There are certain common feelings in many of my clients and I keep hearing statements like
I'm unable to articulate my brand and value in job interviews
I feel uncomfortable talking about the value that I bring to the table
I need to find out qualities about myself that will be useful in my Resume, Job Interviews and highlight my Unique Selling Proposition
What is my Mission Statement and Elevator Speech?
How do I create a Brand Statement?
How do I make online connections that work?
Here is what I can tell you in complete integrity and with authenticity
You already have a Professional AND Personal Brand !!!
But is it the Brand you want to be known for? Is there a gap?
My Solution – Crack the Code to Your Professional Brand & Create an Awesome Online Presence
In this program that I've packaged into a workbook with videos and checklists, we are focusing on identifying your personal brand as a professional and take the first proactive steps in the right direction to reflect your true brand and value.
You will
This 6 Module workbook is based on tools that I use in my Career Coaching Signature Program but meant for self-help seeking professional who want independence in achieving their desired result – creating an awesome brand that reflects their true value and not get branded by others.
You'll learn and use all the tactics and steps that I have shared with clients as part of their coaching assignments to assist in setting up their brand and maintaining it and I am proud to say that my clients have achieved promotions, changed jobs and are on their way to creating their destiny. It's your turn now!
It worked for these people and will work for you!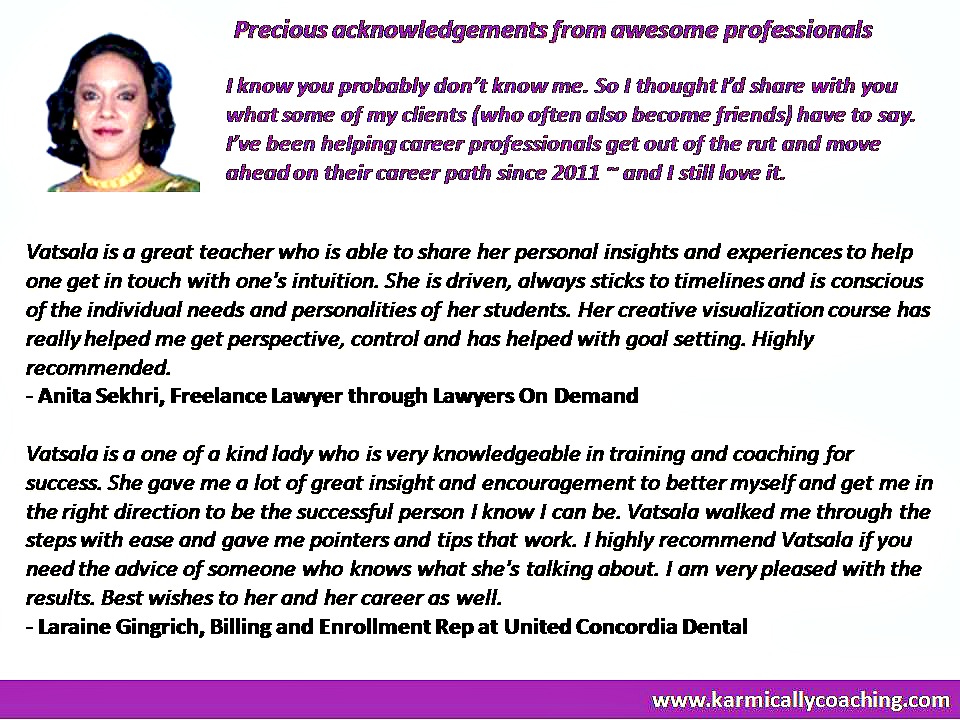 Is this Offer relevant to you?
This offer is meant for professionals in any field and also works for young graduates who are entering the job market or professionals setting out as self-employed or starting their business. It will be of value to job seekers who are tired of losing out on interviews because they cannot articulate themselves and their value proposition.
IF
You are a professional who has realized that simply reading text books, downloading free reports or attending corporate workshops is not the solution and you really want control over your brand, the Karmic Ally Coaching Experience Offer is for you.
You are ready to take responsibility for your results and are willing to make small changes that can lead to greater results, then please buy now and let us start on your journey to success.

My Guarantee
IF you met the 2 criteria that I mentioned above, THEN I guarantee that after you complete the exercises and start implementing the tasks of Module 1, the changes will start and you WILL see results that will amaze you.
I personally know that the Modules can be completed within 7 days in less than 30 minutes each day. Then it is up to you to maintain your online social media presence but life happens and the last thing I want is for you to feel pressurized and give up over time commitments.
Keep it self-paced but once you start, please complete it!
Finally, it's your turn to take action 
When you get the Crack the Code to Your Professional Brand & Create an Awesome Online Presence today, you'll get the key to…
Identifying your brand as it is right now and rebuilding it step by step
Creating your Mission Statement, Elevator Speech and Brand Statement that resonates your true worth and value
Optimizing your social media presence on the 4 Big Social Media sites
Managing your online Professional Brand in just 30 minutes a day
Inside this workbook package you will receive
Exercises with relevant examples to help you with each step of the brand identification and building process
Video Training links within the workbook to help you understand and implement your exercises
Checklists to optimize your brand on 4 big Social Media sites
List of daily activities to nurture and maintain your brand – all in less than 30 minutes
Invitation to access to my teleclass Monitor your brand with LinkedIn Social Selling Index for free (access link will be sent separately in an email post purchase)
And you are 100% safe to try this out. That's all I'm suggesting. Just try it for 30 days to see if it works for you. If it does, you'll be delighted – and I think that's exactly what's about to happen.
It's Decision time…..
You have a choice to make: Do what you've been doing (or worse, do nothing at all). You know where that will lead. Is that really where you want to go? Take a new action, and get a new result. Finally get an enviable professional brand and create an online presence that makes others reach out to you with opportunities that add to your career and business.
Which do you really want for yourself? Here's what to do now -get Your Checklists, Videos and Step by Step Workbook plus LinkedIn Social Selling Teleclass.
All for $30! 

Get Your Step by Step Workbook, Checklists and  Videos PLUS LinkedIn Social Selling Teleclass right now for only $30  

You will be directed to Paypal and the entire transaction will be done over a secure line. Be assured that we don't store credit card information – everything is handled by Paypal.
After you place your order & confirm payment you will be redirected to a "thank you" page where you can immediately download your branding workbook. I will then send you a separate email inviting you to listen to the LinkedIn Social Selling Index teleclass recording and necessary instructions. You will be requested to enter your details and follow the procedure to be taken to the "download page" with access to the teleclass.
As a bonus, you will be added to the Karmic Ally Coaching list for further professional development tips and resources (you can always opt out if you feel my coaching and training style is not aligned with you).
 If for some reason you're not redirected, please send me an email at vatsala(at)karmicallycoaching(dot)com  with details of your purchase and I'll get a link to you asap.
India-based buyers:  Please use http://karmicallycoaching.com/connect/ to get payment transfer details if you have problems with the purchase procedure. Thanks!
Since Karmic Ally Coaching is offering non-tangible irrevocable goods we do not issue refunds once the order is accomplished and access is granted to the product. As a customer you are responsible for understanding this upon purchasing any item on this site.
Please note all digital products are non-refundable once payment is processed. This digital product is yours forever. If you have any questions or concerns, ask in advance of purchase at vatsala(at)karmicallycoaching(dot)com.
Follow Me
Share with others!

I adhere to the Certified Coaches Alliance Code of Ethics and Standards. A copy is available on request.