Ace Your Interview Guide
You've been actively searching for a new job for months. Then one fine day, when you least expect it, the phone rings and you learn that you have finally received the much desired interview call. Need help with the interview questions? Click Here for my new guide.
How do you take in the news?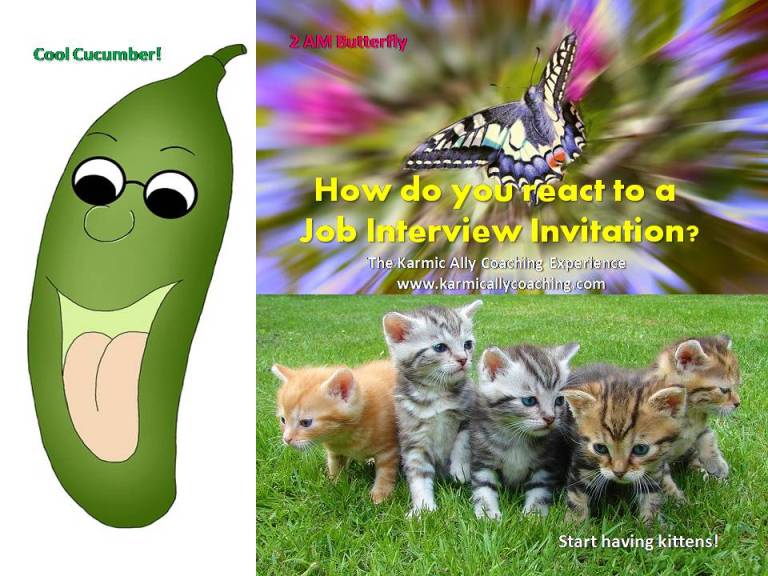 Are You the Cool Cucumber ready to smash the interview or the 2.00 am Butterfly? Are you having kittens?
If you relate to the Cool Cucumber, then bravo! Best of luck with the interview.
If you identify with the latter 2 choices, then please continue reading because I have a solution that can help you prepare for the Big Day.
Now you're wondering to yourself. I know what a Cool Cucumber and the phrase 'Having kittens' means but what is a 2.00 am Butterfly? Don't butterflies sleep at night?
How to figure out if you are the 2.00 AM Butterfly or having Kittens?
You got to bed all excited about the job interview invitation but wake up around 2.00 AM and start pacing up and down. Your thoughts go along these lines:
OMG! I can't sleep. I'm so thrilled, so excited, because I finally got that job interview invitation.
I've been dreaming of working for this company for so long and now it looks like its happening! Or at least possible………..
Oh, what a relief! What a joy! Now, I can focus on preparing for the interview instead of applying for other jobs.
If only I could guarantee that I would make a great impression on the interviewer.
I've got to find a way to nail the interview and make sure I am invited back for the second round of interviews.
I'd give anything to get a job offer with a salary package that matches my worth.
Once I calm down, what I really need to do is figure out how I can present myself in the best light.
And then next, I want to prepare for the different types of interview questions that might come up.
If only I had some information that would be so helpful right now. It would help me stand out from the other candidates and show why I am worth hiring.
What would really blow my mind is if I could find a resource that would answer all my questions and provide guidance. THAT would be unreal.
And it would make my dreams come true with greater ease, speed and joy.
The Karmic Ally Coaching Solution for the 2.00 AM Butterflies and Having Kittens Interviewee
Fear not, dear Job Seeker, I have you covered. And it won't cost you anything!
As well prepared as you might be, there are always certain interview questions that can stump you. This short report looks at 5 of the trickiest questions with guidelines and tips to help you prepare for the question without tripping up at the interview at a throwaway price.
These questions are tricky because you need to answer them in a way that helps the interviewer get to know the real you and showcase all the reasons why you are the best candidate for the job.
The answers in the report will give you a new perspective on how to answer tough interview questions. They are not there for you to cut and paste and use for your next interview. Instead, they are provided to guide you to create your own original answers to not only these 5 questions but for any other question that the interviewer may ask.
These are the same questions that I make my 1 on 1 coaching clients practice before their big interview and I am gifting it to you because if you are still reading this page, then it means you really want a solution to your problem. Besides, with all the other training that I give them, they give tough competition to the others.
Do You want job interview information with a value of $47 for only $10?
If yes, then read on!
You will begin preparing for your job interview with one simple objective in mind; to showcase yourself to the interviewer in the best light possible and prevent getting stumped by tricky questions. The first step is to acquire your special copy of my report by clicking on the image below and help me confirm that you really want the guidance or the PayPal Button.
Payments are made via Paypal. Be assured that we don't store card details- all payments are handled by Paypal.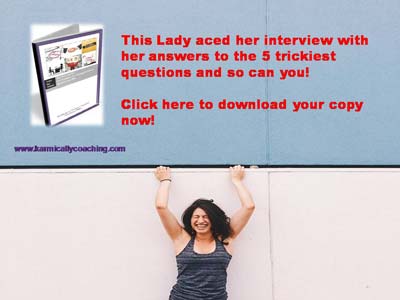 After you place your order and confirm payment you will be redirected to a "thank you" page where you can immediately download the ebook/guide/workbook.
If for some reason you're not redirected, please send me an email at vatsala(at)karmicallycoaching(dot)com with details of your purchase and I'll get a link to you asap.
Since Karmic Ally Coaching is offering non-tangible irrevocable goods, we do not issue refunds once the order is accomplished and access is granted to the product. As a customer, you are responsible for understanding this upon purchasing any item from this website.
Please note all digital products are non-refundable once payment is processed. This digital product is yours forever. If you have any questions or concerns, please ask in advance of purchase at vatsala(at)karmicallycoaching(dot)com.
Follow Me
Share with others!

I adhere to the Certified Coaches Alliance Code of Ethics and Standards. A copy is available on request.