This post has already been read 1659 times!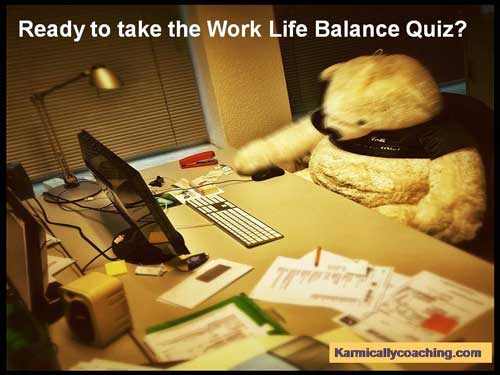 Those readers who have been reading The Karmic Ally Coaching Experience Blog posts would recall my post on the 3 tips to get one's life balance back over the weekend.  While it is good to receive tips and advice it is more important to feel confident about your work life balance.
If you are sure you have it all worked out, then that is really good! So, how confident are you? If you hesitated on reading the question, then I invite you to take this short quiz and find out where you score in the work-life balance challenge.
Work-Life Balance Quiz
This is a really short quiz to give you some insights.
All you need is a piece of paper and a pen and mark each of the statements as it relates to you in terms of True or False.
I regularly bring work home with me
I've missed many of my family's important events because of work-related time pressures and responsibilities
My annual leave entitlement either lapses or I end up en-cashing it
I have a hobby but rarely spend time on it nowadays
I often feel like I'm missing out on the things that mean the most to me
I think about work in my sleep
I have clutter in my house and/or in my office
My career is not what I thought it would be when I was studying for it
I get angry when people tell me to relax
I can't remember when I spent some "me" time
I can't remember the last time I went to the movies or visited a museum or attended some other  cultural event
I wake up tired in the morning
Sometimes I feel as though I've lost sight of who I am and why I chose this job/career
I do what I do because my family depends on me for support
I cannot remember when I last read a good book
Scoring:
Give yourself 1 point for each true response and 0 for each false response.
0-3 – Your life is in pretty good balance; just be sure to do what you can to guard that balance and work on the areas where you marked the statement as being True
4-6  – You are bordering on the negative side of work/life balance spectrum and now would be a good time to take proactive measures before the areas that you marked as True start to play havoc with your life, work and everything and everyone that is important to you
7+ You already felt your life was out of balance when you took the test and now you know for sure. NOW is the time to act on a priority basis to make the necessary changes in your work and your life. Take your family into confidence and seek the required support to make changes before it is too late.
What about the statements that you marked "True"?
Each "true" response is a sign that you probably need to make changes in your life — and the higher the number, the more critical it is for you to make changes in your lifestyle. Remember, no matter what your score, there is always scope for improvement and that is where Ten Steps to a Balanced Life The Karmic Ally Way will come in handy. The document is downloadable at Slideshare.net.
How did your quiz go? Any surprises or areas where you think you need to focus to get your work life balance back? I'd love to read your comments, so do tell me!
Written By: Vatsala Shukla
Follow Me
Share with others!