Who is Karmic Ally Coaching?
Karmic Ally Coaching is a business coaching and consulting practice founded by Vatsala Shukla to fulfill her mission of guiding professionals turned small business owners and consultants create viable ventures.
Vatsala also coaches spiritually-minded mid to senior level women (and a few male) careerists to overcome roadblocks, hiccups and barriers in their career path that have made them question whether they are on the right track or feel out of alignment with their life by providing focused customized Success Breakthrough Coaching services and programs based on Karmic Ally Coaching's 8 Step Change Model.
In addition to providing solutions for career and business problems, Vatsala mentors her clients on work life balance, stress management, time management and traditional life coaching using metaphysical tools and methods.
At Karmic Ally Coaching, we welcome professionals who have recognized that they need to change the status quo but need support to take not just any impulsive or knee-jerk action but the right one which will fit in with holistic view of their life.
These services are offered to professionals who require innovative intervention to create breakthroughs in their business & careers to achieve success. The Co-Creative Coaching Model is used to enhance the coaching experience that transforms the client's mindset while working towards tangible goals. Spirituality is a key component in the quest for holistic success.
Coaching is conducted over phone or Skype.
The Philosophy & Core Essence of Karmic Ally Coaching
A business is an extension of the owner's dream to create a difference and is guided by vision and mission to manifest that desire. That certainly holds true for The Karmic Ally Coaching Experience!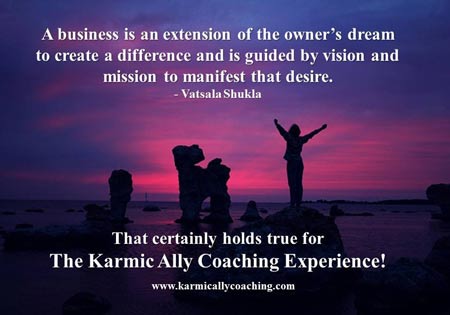 In the course of a 25 year global career, I couldn't help but notice synchronicity in the interactions that I had with others. I met people either professionally or at a personal level at different stages of my life and career who seemed to know what I needed as a person. Interestingly on many an occasion many of the individuals whom I met were also at a stage of their lives and careers where I seemed to be able to give them the benefit of my experience or insights that helped them overcome their situation.
While training as a Life Coach, we were taught that time and again clients are drawn to their coaches by a mystical law of attraction where either the coach is at a stage of personal development where they are the right coach to guide the client with resolving their present situation or the client has a need that can help the coach to further their own learning & development. A sort of predestined meeting of two equal individuals often referred to as a Karmic meeting. That certainly seems to be the case with my coaching and consulting business!
The name for the practice is the best way of describing my own belief about my coaching & association with prospective clients as a validation of my experiences by describing me as a Karmic Ally for my clients. You can learn more about my journey from a successful finance professional to a career and business coach in the Meet the Coach section of my website.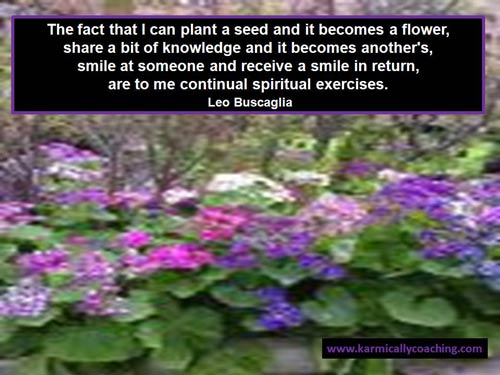 I invite you to take the Quiz: Fearing Change or Confident to Win Challenges and learn more about yourself.  Complete the form below. It's my gift to you for visiting me!