Welcome to Karmic Ally Coaching's Mini Career Coaching Course!
Welcome to the Mini-Course where we'll uncover what you need from your job or career in 3 steps – guaranteed!
Here's a huge high-five for stepping up and taking action to make your next job or career move your best ever.
A quick word about housekeeping for this mini-course.
The content of this course will be delivered by email. Please look out for an email from Vatsala Shukla and do check to make sure it has not gone into your spam box.
Please also remember to whitelist my email address – vatsala(at)karmicallycoaching(dot)com.
The 5 Day Zero in on your Important Career Need Course starts right now.
The intention of this mini-course is to help you get clearer about whether you want a job or career change and to help you take the next step from a place of clarity.
This course uses practical and metaphysical techniques that I use with my clients to help them ascertain their career roadblocks and to move forward in positive motion. It's part of the coaching program where my clients discover what they really want. It's going to show you what you can achieve if you really want to get ahead with your career.
** Success Tip #1**
Invest just 15 minutes a day into doing the work and you'll walk away with your PERSONAL plan that will help you start your next step towards a new job or career. (I'll explain a little more later in the  email I'll be sending you).
This mini-course has been offered to my subscribers to the Quiz: Career or Job Change and is based on that quiz.
 It is also being offered as a standalone mini-course. In case you arrived in the latter scenario, here's your first step to success.
Download the quiz now by clicking here
Take the quiz and then click here to learn more about your scores and note them down.
It's the most powerful 15 minutes you can invest in yourself to discover whether you need to be considering a career or job change.
See you shortly in your Inbox
Vatsala Shukla
PS. You will receive a fortnightly newsletter with useful tips and guidance for self-management. Be assured that I do not spam or share emails with others and you can always unsubscribe if my methods and techniques do not resonate with you (though I hope you will stay!)
Please remember to white list my email address vatsala@karmicallycoaching.com to ensure that you receive all my emails safely and get all my tips and resources.
I look forward to getting to know you better and am available to help you as and when the need arises.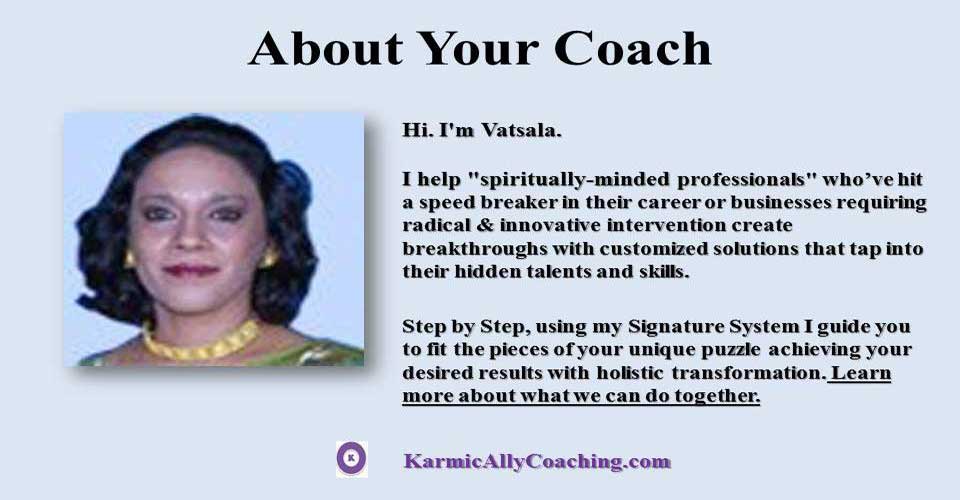 Follow Me

I adhere to the Certified Coaches Alliance Code of Ethics and Standards. A copy is available on request.