This post has already been read 514 times!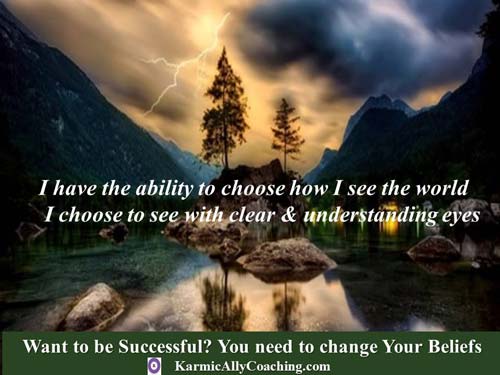 So much has been written about limiting beliefs and fears and I doubt the subject is going out of fashion soon.
Google the topic and you'll find tons of articles and blog posts providing tips to deal with various aspects of this debilitating phenomenon – including 10 of my own to date!
Knowledge is power but coming face to face with your fear or belief and having to deal with it head on is the real acid test.
I wrote about my own experience when I explored the secondary gains of bad habits and can state with conviction that confronting a situation and writing about it academically are 2 different things.
Here's another case study with a different scenario and solution.
Sometime back a client hired me to help get her career back on track. An overall good performer, things had not been the way they were before her maternity leave and she realized she needed someone in her corner to help her regain her momentum and visibility.
We were making progress and then we had a session that proved to be the watershed in our work and her approach to her career and the elusive work life balance.
The session started off well and then I asked her about her week in general. That's when her normally confident voice started to shake and I suspected tears were near to the surface.
The next few minutes can only be described as a flood after a dam bursts.
In between sobs, I gathered the issue had something to do with being a good mother, an overbearing boss, her not getting good roles, no one to champion her for meaty projects and a whole lot of other things.
She feared in a shaky economy and budget cuts in her department, if she didn't get the right projects and visibility, her job might be among the first to go as she was a generalist.
In my heart I knew we were at the precipice of a powerful coaching moment and if handled properly, my client would get a breakthrough that would make her unstoppable.
But the first priority was to get her to cry as much as she wanted and get it out of her system.
That's where my techniques are different because I view crying as cathartic. I encourage clients to cry if they feel like it even though I don't make them cry.
I suggested we take a break of 15 minutes during which I wanted her to go and make herself a cup of tea, chamomile preferably and do a brainstorm of her beliefs. No restrictions were placed on the beliefs – I wanted it all out on the table, the good, the bad and the ugly.
We got back on the call as agreed a quarter of an hour later and my client had brainstormed 13 beliefs about herself and her situation.
As we went through her list, we found 9 empowering beliefs, 1 that is universal in any job, 1 that could be easily fixed and 2 that were affecting her adversely in her current situation.
One was based on an uncertain future and the other on her ability to maintain boundaries and work under pressure.
We went through a coaching exercise that I elaborate on in my post Is Uncertainty about the Future keeping you up at night (which is also available in my Self-Improvement Strategies Workbook)  and I showed her the technique of muscle testing to confirm her beliefs.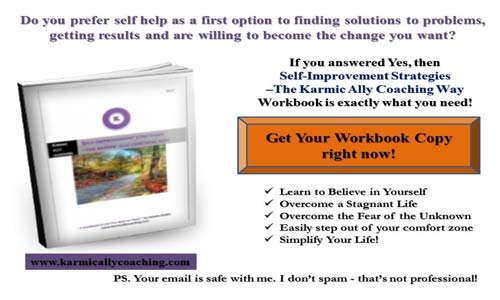 Further introspection revealed that her 2 critical self-limiting beliefs were based on specific incidents and in hindsight, this could have been avoided if she had maintained boundaries and not allowed her helpful nature to be exploited by others for their vested interests or was covering for other people's inadequacies.
My client was seen as somebody who 'gets the job done, can mediate, can achieve, has good relationship building skills and people like her. She was aware of the need to become more assertive and maintain boundaries.
As for the belief that was changeable, we made a discovery. Her former boss had actually put in a word to her new boss to give her more assignments so she could polish her project management skills!
When we looked at the situation carefully, she realized that her boss actually trusted her and liked to delegate tasks to her that were critical and important to an assignment that she was working on. I guess the boss had not realized she might be overloading her trusted team member.
The simple solution to this was to ask her boss to prioritize her tasks whenever the sense of overwhelm came on.
In future sessions, this 1 solution prove valuable both for her and her boss who had not realized how delegating had turned into dumping on her reliable competent colleague.
My client also realized her fears were inconsistent with proven skills and capabilities.
To make sure she stayed on track, we created new empowering affirmations to replace the 2 limiting beliefs that had created the problem for her.
As a post script, I am proud to tell you that she is unstoppable and as I write, is now in a position where she mentors and coaches her peers on the job. Her bosses recognize her leader skills and high level of Emotional Intelligence.
Understanding your power to change what you believe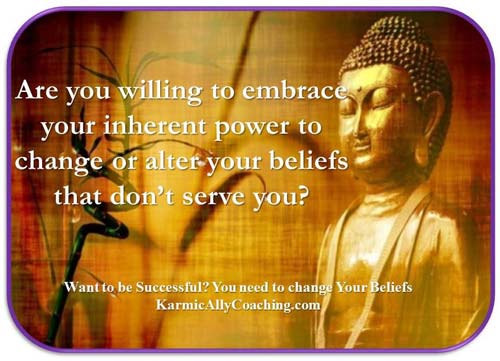 The case study I shared relates to 1 competent professional but the story is repeated every time a person has to face a situation that brings their limiting beliefs to the surface.
Here's what I've learned from my own and other's experiences.
It's important to recognize the impact our beliefs have on how we feel and behave.
Our beliefs about ourselves determine how we perform in a particular situation. They also determine the level of our self-confidence (which is what was happening with my client).
Believing something about a situation determines how events progress.
However, we can choose what we believe and if we wish to see a situation differently based on new information, we have the power to do so.
In any situation, what we think and feel about another person affects how we relate to that person.
Our beliefs are particularly important when relating to others. If we believe a person has certain qualities, then we assume we know how they think and act. But when we change our mind about someone, we see the person differently, often for the better. We are free to determine what we believe about someone.
Simply knowing we can change what we believe brings success in our lives.
We are free to make decisions about what we think is true but if we observe factors that don't coincide with our beliefs, we can change how we view other people and situations based on this new information.
Whenever you face a situation where you know the belief is creating a barrier to your success, take time out to reflect on these 3 Self-Reflection questions:
Do I have the power to change my beliefs?
What is a particular assumption that hinders me?
How can I create more success by accepting my power to change my beliefs?
Are you willing to embrace your inherent power to change or alter your beliefs that don't serve you?
Follow Me
Share with others!