This post has already been read 561 times!
Last night the Northern Grid tripped and entire North India was without electricity for more than 8 hours. No guessing how much shut eye any of us got!
Humid weather with no signs of rain, having the air conditioner on is important unless you are a deep sleeper who will only discover the situation in the morning. If you are a light sleeper, then you would have been up the whole night. Coco my furry pet child is one of them and I know it!
I was up all night trying to get her to sleep knowing full well that she wanted the air conditioner to be put on. I wasn't able to explain the power outage to her though her message- verbal and non-verbal was getting through to me. It always does, Coco is an effective communicator. So how does she do it and what did I learn?
Use KISS (Keep It Simple & Straightforward)
In other words, plan your communication. Know the message you are trying to convey and understand who you are trying to communicate with and how you will do it. Check for effectiveness and rework you strategy. Coco did it with soft growls and looking at the air conditioner.
Create a Clear Consistent Message
If you don't know what you want to say, how do you expect the other person to understand? Think of your choice of words. Pay attention to your non-verbal messages, the words and tone you use. Make sure your words match your body language.
Different Messages Need Different Methods
The choice of communication channel is important. Depending upon the sensitivity and nature of the communication, sometimes a verbal dialogue is better than sending a letter, email or text message.  Look at your message from the receiver's perspective and decide the best route. Dialogue during intimation of redundancy and working out exit strategies are known to make better business sense than pink slips with the pay check.
Check if Your Message Has Gone Through As Intended
This one is important and involves feedback which again can be verbal or non-verbal. Look out for body language signs. Listen to the other person and consider whether you are both on the same wavelength. Is the receiver of the communication showing signs of engagement or disinterest and confusion?
Communicating effectively is a skill and takes time to polish up. With practice comes success. To see it in practice, watch the Presidential elections or other debates and note how the words, tone of voice and body language are in sync and sending out a definitive message.
Effective communication is a key skill for good leaders and this little dog is a leader in her own right (says an indulgent pet parent 🙂 ).
Karmic Ally Coaching's Leadership Checklist shows you the other skills and characteristics.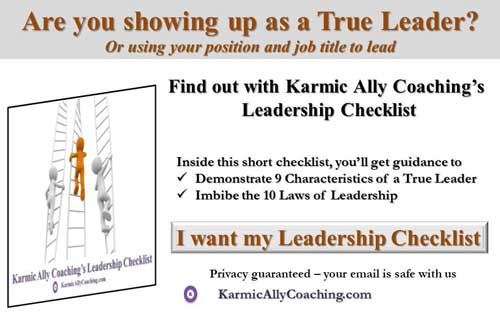 Follow Me
Share with others!