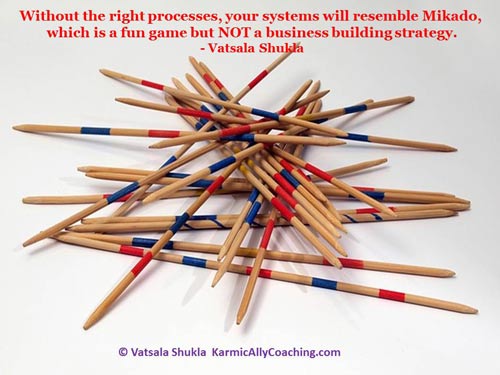 Knowing which business systems are important for your business allows you to focus on creating processes to achieve the relevant business objective. The astute business person knows this and makes sure they are on top of their game on this.
Without the right processes, your systems will resemble Mikado, which is a fun game but not a business building strategy.
Last time I wrote about getting our business system ducks in a row. In this post, we'll look closer at our business processes and take the first step towards creating content for our Operations Manual.
Wikipedia describes a business process or business method as
a collection of related, structured activities or tasks that produce a specific service or product (serve a particular goal) for a particular customer or customers. It may often be visualized as a flowchart of a sequence of activities with interleaving decision points or as a Process Matrix of a sequence of activities with relevance rules based on data in the process.
We'd normally think that only big businesses or those in production of goods would have business processes but the truth is, even a sole proprietor, freelancer, coach, consultant, healer or online marketer has business systems and processes. In fact, any business that interacts with a customer or supplier should have processes to ensure that they are able to deliver their goods and services efficiently.
As solopreneurs, we may not have formalized processes or very detailed ones. Yet they are processes and the best way to ensure that they meet our business needs is to formalize them and review them as our business needs change.
Documenting Your Business Processes
The documentation that you need to formalize your processes can be as simple as documenting the steps that you take to achieve the process objective or it can also be elaborated with a flow chart so you can see each step clearly.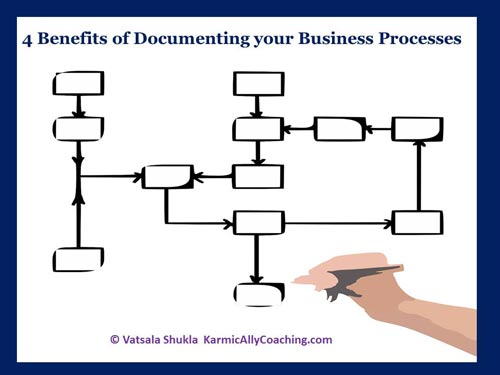 The benefits of documenting your processes include but aren't limited to
Improving the efficiency of a process and save time. Don't we all love to reduce our rework and have consistent results?
Ability to delegate tasks that can be performed by others e.g VA, staff etc by reducing your training time and the delegated person's learning curve time for that specific process
Providing a basis for business continuity should you fall sick and someone else has to take over the backend work. Or if we want to build value for our future exit planning (the buyer will understand that we are a serious business when he sees these documents during his Due Diligence Process)
Weeding out time consuming and perhaps unnecessary activities that don't add value to you or to you ultimate customer. Which means; we improve our top line and reduce our bottom line numbers.
Sometimes the process can be a simple one or it may form part of a bigger process, like the little wheels inside the big wheel in a watch.
No matter the complexity or simplicity of the system, there are key elements to the process which when completed form the documentation for your Operations Manual.
Your business process starts with a mission objective and is completed when it achieves the business objective. Sometimes one process can lead into another or may even have another process built into it.
In its simplest form the Key Elements when designing a business process is
Policy:           The Mission or standard that the procedure must meet
Purpose:       The rationale why this procedure is required
Scope:           Areas of your business that are affected by this procedure
Responsibilities: The people who are required to perform this procedure and their exact duties
Definitions:  This becomes important if you are going to delegate the task to another person whether within your business or outsourcing it. Think of technical jargon that they need to understand.
Procedure: The steps required to take the process from cradle to grave in detail
Effectiveness Criteria: This would include your Key Performing Indices, measurement criteria and documentation of results.
References: This includes any specific standard, regulation or law for which this procedure is required. If the process is leading into another one, then that too would be noted
Forms/Records: Each version of your documentation of a process should be recorded to ensure that everyone is working with the same version and you are able to check for any changes that have been made which may need to be revisited.
You would record the document number or ID, the name of the procedure, the revision number, the names of who prepared, reviewed and approved it and the dates on which each person did their activity. You would also note down the effective date of the procedure and also details of any relevant Standard or Regulation that you are required to meet.
When this documentation is completed, you actually have a process documented for your Operations Manual!
The best way to explain this is with an example. Let's suppose you are a coach, consultant, healer or a business that uses an opt-in to create your email list.
Your Fabulous Freebie is required for both your Marketing and Lead Generation Business Systems.
Here's how you would document the system and process for the Lead Generation part. Once that is completed, the process would lead into your marketing process.
Client Attraction Magnet/Fab Freebie Opt-in Process
Policy:  Lead Generation must comply with the tenets of permission marketing & consent to be sent fabulous freebie
Purpose: We want to build a list of interested leads who have given us permission to email them in compliance with CANSPAM and other national regulations.
Scope: This process affects our lead generation and further marketing endeavors with interested leads to convert them further into clients for our products and services
Responsibilities: The Owner, VA and outsourced IT professional (if required).
Definitions:  Insert definitions of Freebie, Optin, CANSPAM, autoresponder etc
Procedure: The steps required to take the process from cradle to grave in detail
Create Freebie
Create List in autoresponder (MailChimp, AWeber, Constant Contact etc)
Ensure all information required under CANSPAM and National Regulations are complied with.
Customize optin sequence for freebie in autoresponder
Upload Freebie in autoresponder or on a separate page on your website
Create Landing Page on Website
Enter copy on Page
Put code for Freebie on Landing Page
Publish Page
Test the sequence to see if it works
Tweak if required
Start promoting like there's no tomorrow
Effectiveness Criteria: Number of opt-ins, number of bounces and number of unsubscribes after downloading freebie.
References: 1. CANSPAM Regulations, Email Service Provider Requirements, Leads into the Email Marketing process.
Forms/Records: This is version 1.0 created on September 1, 2016 and is effective from September 4, 2016
Having created the documentation for our operations manual, we now need to test each part of the procedure and confirm that it works. For the purposes of our example, let us take step 10 above and assume that we are testing the sequence on Mailchimp.
Our known sequence of how the lead will behave and how our system will respond is as follows:
Opt-in via Website Landing page using sign up form
Redirected to Thank You Page with message that you are required to confirm opt-in to meet CANSPAM Regulations and we have permission to send the freebie plus any other information based email in future.
Opt-in Confirmation Email Email sent to subscriber Inbox asking for confirmation
Customer clicks confirmation – redirected to a Thank you page either on Mailchimp or on our website
Either the freebie is on the Thank You Page and he can download it or customer is sent another email with link to freebie
A Final Thank You Email with details is also sent (optional)
Customer is added to a specific list
Customer Ignores – no sign up and end of process
If all works well, you have added a potential interested lead to your email list and that person enters your email marketing process. Worst case scenario, they either don't complete the process or decide to opt out after grabbing fabulous freebie.
A point to note is that testing is important if for some reason the process couldn't be completed, in which case you need to tweak it.
Vatsala's Note: Want to test it with me? Have a shot at downloading my Fabulous Freebie http://karmicallycoaching.com/50-attributes-successful-business-person/
Or by clicking this image: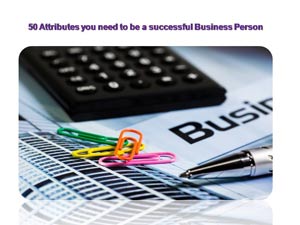 Documenting everything is good but isn't it a sore on the eyes? That's why creating a visual of the process; with a flow chart adds to your business process and operations manual.
In the diagram below, I've described the same email sequence which simplifies the process.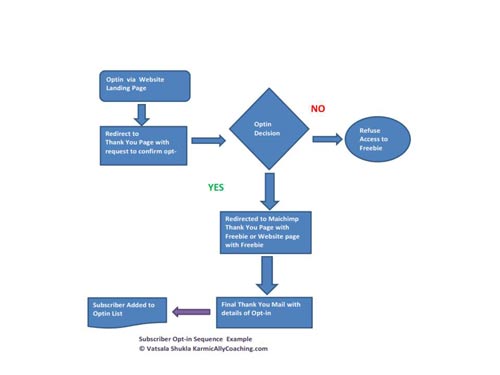 Clearly, having a process documented allows you to use your time efficiently so you have more time for other important tasks. It allows you to delegate tasks too so you have time to play the real game of Mikado after office hours.
Tell me, how do you keep track of your business processes?
Follow Me
Share with others!