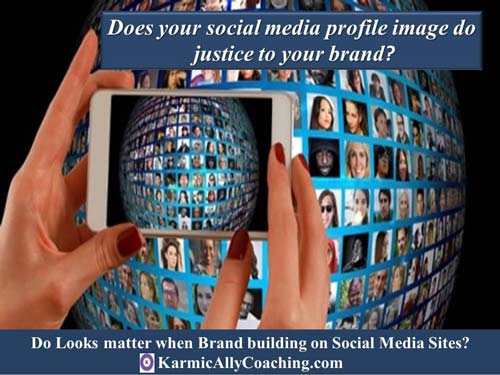 The answer to my question is a big Yes. Looks do matter when brand building on social media sites.
Brand building isn't just a corporate world thing, when you engage on social media sites, you are creating your own brand and this means that you need to pay attention to the profiles that you are creating. It's your make or break visiting card.
I'm not just talking about LinkedIn, but also other sites like Facebook, Twitter, Pinterest, Google Plus and Tumblr to name a few biggies.
Each of these sites has its own rules and engagement practices but the onus to come out looking good rests with you. That is how the world sees you.
Your friends and colleagues who know you will 'get your jokes' but others whom you may wish to connect with may not.
Here in my first video on 3 Tips for Brand Building, we're looking at your look and how it can be impacting your ability to connect and engage on social media as well as your personal brand. The slides can also be viewed on SlideShare.
Enjoy!
Update 26 June 2018 – I've added the transcript of the video tip for ease of use.
Video, Slides and post written by Vatsala Shukla
3 branding tips for careerists part 1 transcript added on 26th June 2018
Hi, this is Vatsala Shukla here. Today I'm going to start on a series of my 3 Branding Tips for Careerists and the first part that we are going to be actually talking about your photograph and how you look.
Before that, I was just wondering, are you curious to know why I've got this cow on the cover with those clips on her ears?
Well, this is a bit of trivia that might interest you – that the word Branding actually comes from the time when cowboys used to brand their cows with hot pokes so that if the cow disappeared, and they found it, they would be able to say 'this is my cow – this is my brand'.
Right? So by the same token you too are branded and when you create profiles using social media tools, you need to think about your personal brand.
When I mean that you have to think about your social media brand and how you look, basically I'm talking about what kind of a photograph are you going to be using because what happens is that the photo that you use, actually reflects upon your personal brand.
Now it all comes down to how you want the world to view you because if you are on social media, it means you want to be social, whether it's LinkedIn where you want to engage your network or its on Facebook or any other place.
So let's think about it.
If you are actually looking out for a job or to promote yourself professionally, I can assure you that you would certainly not want to look like my little dog Coco or an egg head or even Mr Roger Rabbit, even though 25 years ago, he was very famous!
You would also not want to leave your profile picture blank because different social media have different default images – like Twitter has the egghead, shadow images on Facebook and even on LinkedIn.
Now who would want to network & socialize with somebody whom we don't even recognize?
One point I would make is that your photo is as important even if you are in business and my 1 suggestion to you is please do not hide behind pictures of your pets, children or even funny images.
It's okay if it's on your personal Facebook Wall but that also depends if you connect with professionals on your private page.
DO you really want them to see that your image is making fun of yourself?
When people are searching for you on LinkedIn, they would want to see a face. They would also like to see a clear picture of you so my branding tips for how you look are to firstly get a professional photograph taken which doesn't cost a lot of money and use your passport size photograph.
You should always show your face and shoulder upwards and we're not talking about a small image of yourself.
Please don't leave the photo area blank otherwise a default image is used (also in case you comment on blogs) I would suggest you set up a Gravatar image also otherwise its left to the blog owner and his programmer.
I don't think anybody would want to appear like a dinosaur or a monster and my piece of advice when you're trying to build your professional brand is; please don't hide behind the images of your pets or children.
When you go to my Facebook personal wall, you can see me and my pet dog but when you go to my business page, you're going to see a very professional photograph.
One point that I have not written on this page (slide) is that be consistent in your branding. So use the same picture on the various social media sites that you use so that when people see your name, they start recognizing your face.
Always ask yourself, the photograph that you are using on social media – how does that reflect your personal brand?
Is that how you want people to remember you or an egghead?
Until then when I upload the second part of this series, if you are interested, you can always connect with me at the Karmic Ally Coaching Experience Blog or via Facebook, Google Plus or Pinterest.
You can even download my tips to get noticed on Amazon –   GET NOTICED!: 15 Insider Tips guaranteed to improve your Executive Presence.
Bye for now!
Does your social media profile image do justice to your brand?
PS. Remember to check out my Kindle Book Get Noticed!: 15 Insider Tips guaranteed to improve your Executive Presence and download the complimentary Executive Presence Checklist inside.
Follow Me
Share with others!