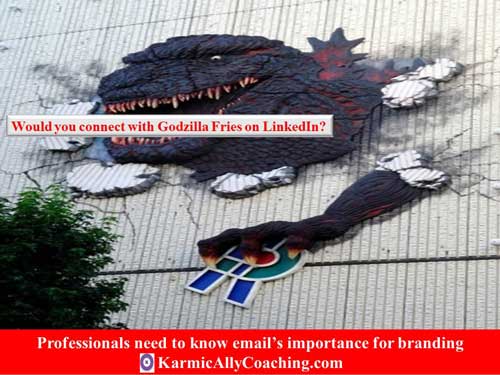 Picture this. You are looking for a new job and have found one on LinkedIn or the local papers for which your profile is a perfect match. Or to make the picture better, a Head Hunter has found you on LinkedIn, fallen in love with your profile and writes asking you to send your updated CV for a position that will take your career to a new level.
So you update your CV, write a smashing cover letter but because you don't want your current employers to get wind of this, you give your private email address as GodzillaFries@hotmail.com.
Ever wondered what impact it would make on the other person? Not very favorable, I can assure you, unless of course your name is Godzilla Fries or the other person knows the story behind Godzilla Fries from school!
Why Godzilla Fries (at) Hotmail (dot) com won't work for your personal brand
Believe it or not but your email address provides a great opportunity for your to build your personal brand.
And how is that?
The answer to that question with some more tips and ideas are the focus of the second video on 3 Branding Tips for Careerists with slides.
Update 12 May 2018 – I've added the transcript at the bottom for ease of use. 
Do check it out and please remember to leave a comment on what you discovered!
Till next time, enjoy!
3 branding tips for careerists transcript added on 12 May 2018
Hi, this is Vatsala Shukla from Karmic Ally Coaching and I'm back again with part 2 of my series, 3 Branding Tips for Careerists.
Now if you remember from the first part when I was talking about creating your profiles using different social media tools and the requirement to think about brand, we've already looked at how we want people to see you.
Today I'm going to pick up another point and that is, how people contact you or what email address you're leaving when you want to be contacted.
So here we go!
My question to you is – what email address are you using?
You wouldn't believe it but that also makes a big difference as to your brand.
Now if your email address is catnip@hotmail.com, would you actually connect with a professional on LinkedIn?
I mean, what kind of an impression does it give you by saying dog bone or say Hot Mama at Hotmail dot com?
Not a very good impression I can assure you. Especially if you don't have a photograph or you have a very unprofessional photograph. The same holds for Twitter or Facebook or any other social media platform that you are planning to use.
And my question to you is – How about Gmail?
Just take a second to think about it. If you're answer was, yes, why not to Gmail, then I'd say you're absolutely correct because Gmail in general gives a more positive reputation than Hotmail or any other internet service provider and at the same time you also have the added advantage of being linked to other Google tools which also helps to build your online relationships like, you have access to Google Plus.
That is one area or social media platform where you can share information with others and you can actually increase your circle or improve your networking and in general email address gives a very good opportunity for you to build your brand.
In an ideal world, if you could afford it, I'd say you must have a domain email address like mine is vatsala(at)karmicallycoaching(dot)com but if you don't have a domain name email address, then Gmail is still the better option because as I mentioned earlier, it gives you a more positive reputation than Hotmail or other internet service providers.
It has the added advantage of being linked to other Google tools that help to build online relationships and find other people and actually increase your network.
It's not just limited to LinkedIn where people might not accept your invitation but in Google Plus you can actually circle people and hopefully they will like your profile and circle you back.
Now when it comes to Gmail, I just wanted to raise a point as to what kind of an address should you have again. Not (again) catnip@gmail.com or hotmama@gmail.com or TwinkyToes@gmail.com .
Instead, make sure it is still professional. Now some schools of thought say you should have it as first name dot last name at gmail.com and my own personal view is that it is a personal choice and you really must consider security and are certain about what kind of an email address you are planning to set up.
So choose your email address wisely.
And as a bonus tip, if you wish to network, I would even suggest your email signature which is another opportunity to create brand name impression and you can ask yourself what we really need.
For example, should you give your phone number? Do you have a blog? You can add that also as well as other links to your social media profiles.
So think about your email address and next time I'll tell you more about a third tip that's quite important as well as share another bonus tip. In the meantime you can download my tips to get noticed in the workplace.
You can connect with me at my website. All my connectivity details are available on this page.
Take care and bye for now!
What email do you use? Does it enhance your Professional Brand?
Share with me in the comments box below.
Want to learn more about networking and raising your executive presence?
Check out my Kindle book Get Noticed!: 15 Insider Tips guaranteed to raise your Executive Presence
Written By: Vatsala Shukla
Follow Me
Share with others!