Anyone who has ever experienced the unconditional love and support of a pet knows the true meaning of a Blessing.  Pets are family members with benefits – they stand by us and unless there is something really important, they keep their opinions to themselves indulgently looking out for their human parents and giving them a priceless loyalty.
My Christmas post returns to a favorite area –how our pet's teach us Life Lessons. Coco has given me many a new perspective about Life and those of you who knew Bruno would agree that he was the embodiment of Yudhishthira's Dog.
Bruno was born in Doha the day I qualified as a Chartered Accountant in London. When I first met him, there was a bonding that cannot be described. For the next 18 years, he saw me through the defining moments of my life, celebrated the highs and stuck by me through the lows.
When I faced my first redundancy thanks to the downsizing of my firm post the Gulf War, my world collapsed. It was my first job and with a world-wide recession going on, I wondered who would hire a newbie 20 something redundant professional?
I jokingly told Bruno that he would have to join the circus to support me if I did not get a job. He learned to sit on his hind legs.  When rejection letters arrived, Bruno would put his little paw on my foot and look at me with an expression that said, 'Keep the faith'. If my parents gave me financial and verbal moral support, Bruno gave me spiritual and empathetic support. I did get another job within 3 months and moved ahead.
Bruno left for his Heavenly Abode on 12th June 2008 after bravely fighting a second stroke.
You can understand the depth of that friendship from the fact that it took me another 9 years after his demise to download photos I had taken of him in 2008 from my mobile and finally open them without feeling a sense of pain.
It would be 9 years before I would create the below collage for what would have been his 27th birthday and post it on Facebook for friends who knew him and those who have known him through my stories.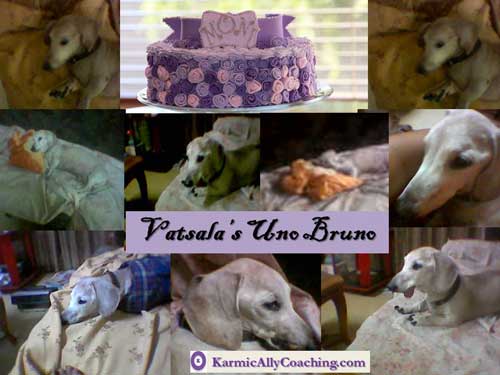 That day was also Ganga Dushehra, a most holy day to transition as the Hindu faith guarantees Moksha (freedom from birth and death) for oneself and one's family. People who had been touched by Bruno's love and compassion started referring to him as Yudhishthira's Dog.
In the Hindu epic Mahabharata,  Yudhishthira's Dog appears during the final journey of the 5 Pandavas & their wife Draupadi. Following the battle of Kurukshetra ,  Dhritarashtra anointed Yudhishthira as his successor. 36 years pass peacefully when he gets news that his friend Krishna had left his mortal body. The King and his 4 brothers feel  their time to go has also come and after placing Arjuna's grandson Parikshit on the throne of Hastinapur, retire to the Himalayas with their wife Draupadi on the Great Journey to reach Mount Meru, the abode of the Gods, Heaven (see History note below).
On the way, they are followed by a dog. On and on they go, until they can see Mount Meru in front of them. Silently they walk on in the snow, dropping dead until only Yudhishthira and the dog are left.  This dog continues to walk with the aged King. They reach Mount Meru and can hear the sounds of Heaven. It is said that the Gods shower celestial flowers on this virtuous King.
At the gates of Heaven, Indra, the King of Gods arrives in his chariot to take Yudhishthira to heaven. Due to the virtues of this King, he alone among mortals is allowed into Heaven in his mortal body. At first Yudhishthira hesitates as he is concerned about his brothers and wife. When assured that they have already reached Heaven, he tells his dog to jump into the chariot.
At this point Lord Indra informs him that there is no place for a dog in Heaven and that he must be left behind. Yudhishthira refuses and declares that he will not go to Heaven without his dog who has been his devoted companion through snow and ice, who did not leave him when his brothers and wife were dead. He declares that he will forsake the pleasures of Heaven and stay on the path of righteousness and be with the dog who has taken refuge with him until his own life is at an end. He agrees to accept Hell so that the dog can go to Heaven. It is told that at this point, the dog transforms into Dharma, Yudhishthira's celestial father.
In fact the dog was none other than Yama, the Lord of Death and Justice who is pleased that his son has passed the test of being unselfish enough to disclaim all his virtues and be willing to go to Hell for a  dog. He has displayed compassion for all creatures – the virtue of a true King. Yudhishthira ascends to Heaven.
We may not be Kings or Queens but we can imbibe the virtue of compassion and as mere mortals the virtue of Gratitude for our pets who are embodiment of Yudhishthira's dog; beautifully expressed by Debra Jason in her 2012 poem about Ike, her beloved companion.
Grateful for Ike
Ike, the beach and ocean were your playground.
Every person in your path, your friend.
Your eyes lit up with a joy for living.
Your spirit shined, your heart soared.
You loved without question.
And, you shared your gift of love with all.
A ball, a leaf, a coconut – all your toys.
A scratch, a belly rub – your simple pleasures.
I see you running across the sand, diving in the water, fetching with endless enthusiasm.
You were a gift, a gift of boundless love, a beautiful boy
A healer, a companion, a golden – the golden retriever of the north shore.
The champion who will never be forgotten.
I was lucky that Ike touched so many souls. He touched so many people, not just on Kaua`i, but around the country and around the world. I can see the smile on so many people's faces and my heart fills with joy knowing that my dog was so loved. He will always be "my puppy" and for that I will always be grateful.
Go gently into the night my beautiful boy. Know I love you and am SO grateful to have had you in my life. You were my true companion, a savior and a shining light that brightened each day.
– Debra Jason http://www.writedirection.com/social-networker-dog
I know there are other embodiments of compassion and loyalty out there in the world. Would you like to acknowledge their role in your Life? Please do tell us about them in the Comments Box below.
History note: In ancient India, when men, including Kings became very old, they would renounce everything and become ascetics. If they did not wish to live anymore, then they went towards the Himalayas, without eating and drinking and walked towards the Himalayas focusing on God until their frail bodies gave way. Read more at http://www.ramakrishnavivekananda.info/vivekananda/volume_4/lectures_and_discourses/the_mahabharata.htm

Written By: Vatsala Shukla
Follow Me
Share with others!