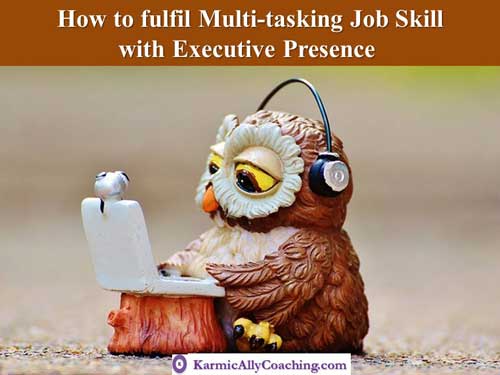 Multi-tasking has received a lot of criticism in recent years with studies demonstrating this skill is anti-productive, results in loss of memory and reduces attention span.
Contrary to popular belief that multi-tasking saves time, it can result in poor quality work requiring redoing which means ultimately, you end up using twice the time.
Switching tasks forces your mind to change into the right mindset for the new task. You have to take the time to remember where you left off and end up losing productivity.
Multi-tasking makes it difficult to focus entirely on each task you are doing. You are thinking about emails you have to respond to when writing a report and the phone calls you need to return even while you are thinking about the next task on your to-do list.
This type of working environment doesn't do anything but cause you stress. Instead of multi-tasking among several tasks, you should prioritize your tasks and break them up into workable time chunks.
In a study done by the late Harvard Professor Clifford Nass, it was revealed that multitasking leads to attention and memory loss. According to the study people who use online social media and other forms of electronic communications have trouble focusing their attention and have lower scores on memory tests.
Given a choice, I prefer to focus on 1 task or thought at a time based on priority and the time management rule of doing important but not urgent tasks first. In other words, I prefer to do mono-tasking because being focused helps create a better result for each task and saves precious time.
It's an open secret – Employers prefer Multi-Tasking Professionals
Yet employers seek multi-tasking employees and job candidates are often asked about this ability during interviews.
Frankly speaking, this doesn't surprise me. Businesses globally try to cut costs and improve profit margins and if they can get 1 employee who can do the work of 2 or 3, why wouldn't they want to hire a person who has what they are looking for?
Years ago when I was still  in the corporate world, I used to see job ads that asked for qualifications and experience that were relevant to the job as well as added qualifications for tasks that belonged to a different department or task set. So ambitious professionals would study further and have 2-3 degrees just to ensure they got a job interview.
It meant that if they were hired, they multi-tasked and spent long hours at work switching hats and responsibilities as required. It shouldn't come as a surprise when these employees fall ill or quit quoting work life balance in their exit interviews.
In a competitive job market where competent professionals are trying to rise above the noise, multi-tasking skills are considered an employable asset.
In Five Skills You MUST Convey In A Job Interview, Nathan Newberger refers to 5 key "secret skills" that employers keep an eye out for,  interviewers examine and how to demonstrate those skills –  Organizational  Critical Thinking, Communication, Interpersonal and Multi-Tasking.   4 of these 5 skills are important for Leadership roles and for demonstrating Executive Presence and the inclusion of Multi-Tasking cannot be ignored.
Karmic Ally Tips to Multi-Task without hindering your Executive Presence
Let's accept that multi-tasking will always be a requirement if you want to survive the corporate world and rise up the corporate ladder. But when you know the downside of multi-tasking, how do you use this skill without it affecting your Executive Presence?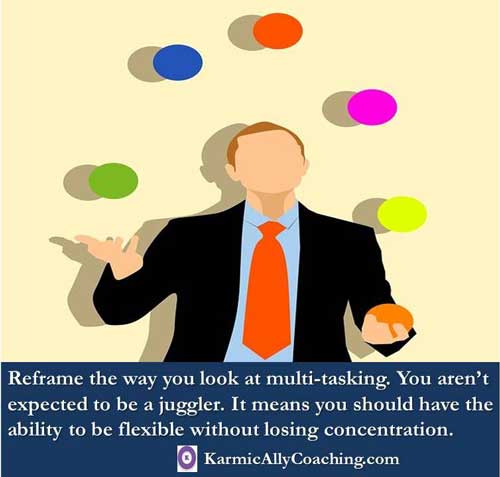 For starters reframe the way you look at multi-tasking. You aren't expected to be a juggler; you are expected to be able to
Work on a variety of tasks concurrently, switching between them when necessary to ensure that they are all completed.
Combine high priority tasks with low priority tasks so that the most pressing jobs get done quickly, while you make progress with the rest of your work, meaning those small tasks don't take up permanent residence on your to-do list.
Think of any cooking challenge on television where the cooks are expected to It means you should have the ability to be flexible without losing concentration.
Observe how the contestants create dishes with multiple parts and multi-task right from the word go until they plate their dish for the judges and you'll understand what I mean.
Tip 1 – Be realistic about your ability and task requirements
Remember that you are a human being and not a machine. Know how many tasks you can do in the allotted work time and prioritize what really needs to be done and what can be deferred without affecting your productivity.
Make sure you have a goal for each task that you are planning to do and let go of any distracting activities. .
When charting out the tasks that will be included in your multi-tasking sessions, assess if the task can be done without compromising quality in tandem or in sequence with other tasks or if it will require 100% attention. If it is the latter, allocate specific independent time for it.
Tip 2 – Strengthen your ability to stay focused
Earlier in this post I wrote about staying focused on 1 task or 1 thought at a time.  The ability to concentrate on any given task is a blessing especially if you work in an open office.
One of my favorite exercises to build concentration is to use visualization exercises. This simple exercise that we use for Creative Visualization also works for improving our focus and memory.
In my example, we're using a chocolate cupcake although you can use any other object to do this exercise.  The technique is described in this video.
Give this exercise a shot and I guarantee you will see an improvement in your focus and attention levels.
Tip 3 – Master the art and science of Effective Time Management
As you go up the corporate ladder and want to demonstrate leadership skills, multi-tasking becomes an asset and this means you need to master your time management.
This includes but is not limited to
Prioritizing tasks
Allocating time slots to complete a task or part of it while noting down what needs to be done when you return to the task
Delegate tasks that can easily be done by others provided you give proper instructions and review the work
Adopt a time management technique that will help you deliver results without creating stress. One of my favorite techniques is the

Pomodoro Technique

where tasks are allocated 20 minutes each and then a switch to another task. One returns to incomplete tasks again as per your planned time table.
Learn how to manage your time instead of running around the clock and becoming susceptible to time eating vampires. Karmic Ally Coaching's Time Management Online Course will help you chart out your strategy for Tip 3!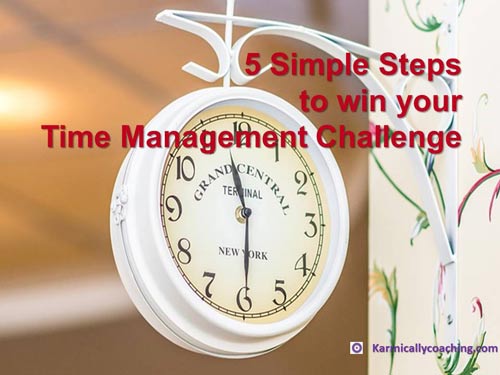 If you use these 3 tips, you will be able to combine multi-tasking with other skills required to demonstrate your Executive Presence – guaranteed!
Do you multi-task at work? How do you make sure you get your work done and maintain a positive Executive Presence?
Follow Me
Share with others!