Years ago, faced with a redundancy 9 months into my career thanks to downsizing of my employer in the post Gulf War days, I learnt the hard truth that it is always easier to get a job when you have a job rather than when you are unemployed and seeking gainful existence.
At the same time I also learnt 2 other truths. Firstly, that I was not the only one swimming in the pool of job seekers and secondly that you need to have an upper edge if you are to successfully dog paddle to the shores of  a desired job and employment. Nowadays, it is called Unique Selling Proposition (USP).
That was more than 2 decades ago and since then the race to land a job has become more competitive. Before that, one has to not only vie to get the job interview but also beat other equally competent individuals who are selected for the interviews. The dog paddle race has to be prepared for with diligence and strategy.
One way of gaining this upper edge and improving your dog paddle is to prepare before a job interview. It improves your chances of landing the position. If the 'Tell me about yourself question' hasn't stumped you, then certainly be prepared for the "Why do you want to work for us?" question.
This isn't so much a trick question as a way that the interviewer can assess how serious you are about the position while checking how much you know about the company.
Your individual truth may possibly be that you need the financial stability to meet your obligations or want to ensure a better career path than what you have right now but that is not the prospective employer's problem. For them the key issue is whether you have the right credentials and if there is a good match between the two of you.
Here are 9 suggestions to ensure you give yourself the opportunity to shine at the interview.
Preparing for the Interview
 Research the employer thoroughly. Learn all that you can about their vision, mission, products, locations, corporate social responsibility drives and policies for a start. This can be done by visiting their website, surf the internet for articles about them, read the papers and even ask among your network for information about them.
Tip: Do read their About Us section on their website for a start. Make notes as you do your research so that you can demonstrate knowledge about the company, its activities and the benefits of working there.
Check the company's LinkedIn Page to see if you have any connection who can tell you more about the company and what they look for in an employee. Start following the company on LinkedIn.
Do the same on Google Plus, Facebook and Twitter. The more you know about the company, the more prepared you will be for the interview.
Based on your research, make a list of their greatest attributes, achievements, plans, key issues and job description. Then match your own experience and qualities and focus on how you can meet their needs.
Consider practicing before the interview with a friend or family member so that you can get your response perfect.
How to stay cool on interview day
When I was preparing for my accountancy exams, I remember our teacher telling us that you can prepare as much as you want but it all comes down to your performance on the day of the examination and if the paper goes your way. We were instructed to stay cool and make sure that nothing fazed us at the last minute.
On the day of the interview, make sure that you are at your best. This includes dressing for success and being well groomed. Make sure that you know what attire is appropriate for the organisation. If not, then play safe by going conservative.
It helps to also know the exact location of the interviewer's office or the meeting place. I personally like to do a test run to the location a few days ahead to check out the location, traffic situation and parking arrangements unless I am using the Metro. I also check that the car has enough petrol!
Keep an extra copy or two of your resume with you in case your interviewer requests one. The copies also help you to guide the interviewer to the specific areas of your resume when you answer the question.
Budget your travel time to ensure that there is lee way for traffic snarls and other unexpected delays. Try to arrive at least 15 minutes before the interview time so that you have a chance to compose yourself. Use this time to look at your documents, pick up more information by observing the environment  and make any other last minute preparations
A well prepared interviewee is able to use their knowledge about the employer and the position and present himself as a viable candidate who can meet their needs. This candidate is looking for a Win-Win situation and knows how best he can achieve it.
Have you ever been asked the Why do you want to work with us question? How did you tackle it? Please do share your experience in the comments box below!
Need more help preparing for that Job Interview? Check out my guide by clicking on the image below, completing the form so that I have your permission to forward it to you and you are set.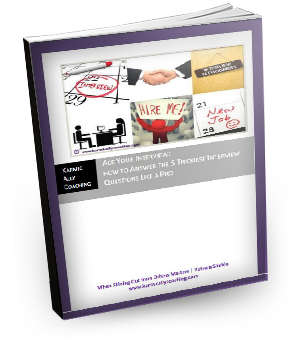 Written by: Vatsala Shukla
Follow Me
Share with others!