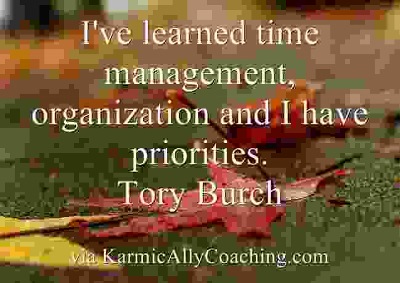 Sometime back, a client, whom I shall call Dolce, mentioned how her efficiency was being affected by constant interruptions in the office. She referred to these interruptions as her Time Bandits.  A spot of reflection and a closer look at the situation revealed much to Dolce's surprise that in fact, she herself was her secret Time Bandit!
The realization was aided by the fact that in each situation that Dolce recounted, there were actions that she could have, should have taken but did not. Dolce admitted that not all interruptions were time-wasters; some were important to her work and saved her hours of effort which would have gone waste if information had not been given to her on a timely basis.  We can plan our day with the world's best To Do List but it can go to waste if we do not also plan for unplanned events or updates.
It is important to keep interruptions in perspective. Quite often while you are working through your Urgent and Important or Important but Not Urgent set of tasks, there may be a colleague for whom interrupting you is imperative to complete their Urgent and Important Tasks which might in fact tie up with your successfully completing your tasks. The use of judgement to filter genuine interruptions from time wasting ones is imperative to master the art of time management.
How about the real deal genuine & authentic Time Bandits?
That being said, what about the real deal; the genuine and authentic time wasters? Well, here is where the rubber hits the road and it depends on both your time management strategy and commitment to minimize negative interruptions.
Quite often, letting people know that you are working towards a deadline in advance does the trick. Setting the stage helps to filter the time-wasters who would know better than to disturb you at the peril of death!
Some of my friends use a call back system on their mobile phones and it is quite effective. Messages are recorded and calls are returned based on the urgency of the message.  Take it a step further and send automated text messages saying that you are in a meeting and will return the call. If it really is important, people will text back the reason for their call and then it is up to you to decide if the interruption is worth it.
One of my favorites is from a former boss who used to tell us that he had only 5 minutes and if the matter required more time, to schedule a meeting for later. It worked!
It also helps to encourage people to get to the point quickly. If the other person is droning away with history, politely but firmly request them to tell you the purpose of the call or ask what the problem is.
Sometimes one simply has to be ruthless with the interrupter but I suggest that it be done politely. Some people are not as articulate as you might be and need to be guided to get their desired solution.  Give your full attention but be firm, helpful and guide them in the right direction.  If possible, do not send them away empty-handed. There may come a time when you need their help and you would want reciprocity of assistance.
There are other ways to self-manage the interruption Time Bandit.
How do you deal with your Time Bandits? Please do share in the comments box below!
Need help with your Time Bandits but don't need a full coaching program? My Time Management Tip Sheets are a great place to start! 
Follow Me
Share with others!