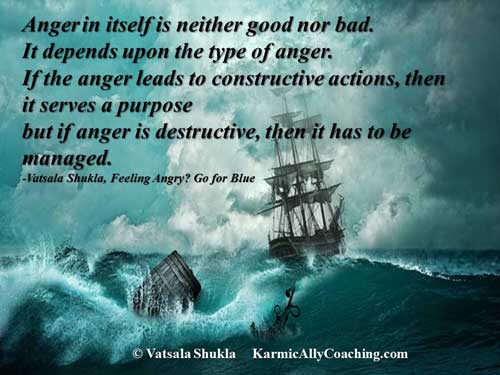 This guy needs anger management training- like yesterday
I witnessed an amazing anger scene yesterday afternoon while driving home. There I was driving peacefully when the vehicles in front of me slowed down to a crawl thanks to a truck which was blocking the way.
A short while later, I saw an angry young man in a red tee shirt charging towards the truck and next thing I knew it, he had managed to climb up the wheel and was engaged in a fist cuff fight with the truck driver while hanging precariously from the door of the truck.
The man's anger had made him blind to the immediate consequences of his action. No thought that this was a busy arterial road where cars were driving by fast. No thought that if the truck driver got it into his head to drive off, he could fall down and get injured perhaps fatally?
I don't know what happened next as I drove on but I did see a policeman walking in that direction so I guess the angry man would have found a place to cool his heels.
Anger in itself is neither good nor bad.  It depends upon the type of anger. If the anger leads to constructive actions, then it serves a purpose but if anger is destructive, then it has to be managed.
A powerful tip to raise your threshold level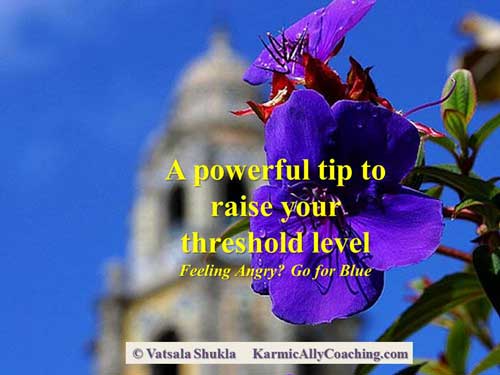 There are many ways to manage anger but the best ones are those that help to raise our threshold to anger.  One technique is to use the color blue to help raise our resilience to anger.
Blue is cooling and relaxing in nature. A calming color, it is considered well for reducing anger.
Blue is also associated with the throat chakra, which deals with willpower and communication.  The color blue can be used for throat problems, asthma, stress, and migraine.
This week, why not try using the colour blue and see how it affects your mood and anger levels?
I recommend 3 easy ways to test whether blue works for you without anybody even knowing it!
Try wearing clothes which are predominantly blue –say a blue shirt, blue tie, blue scarf, blue dress and even blue accessories. You don't have to go completely blue – just an item of clothing or accessory.
If you feel angry and are practicing breathing methods to calm yourself, enhance your chosen method by visualizing blue colored scenes or objects– a blue sky, a blue ocean, a blue flower while practicing your calming technique.
Use a blue colored bulb in your lamp. When you want to relax, sit in a room which is otherwise completely dark and switch on your blue light lamp.  You will notice a difference in the relaxation level achieved.
Using colors to manage anger may not be everyone's cup of tea.
But wouldn't it be fun to test the color blue for anger management? It might just work for you!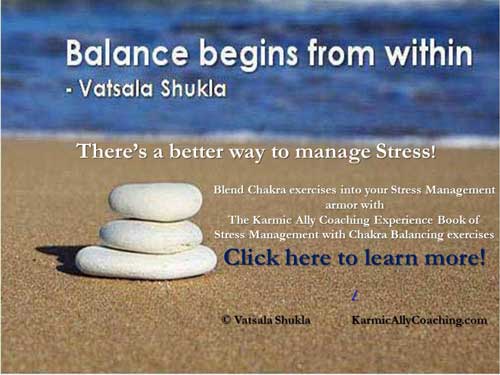 Written By: Vatsala Shukla
Blue Flower by Jon Sullivan
This post was originally published in April 2013 and has been updated.
Follow Me
Share with others!