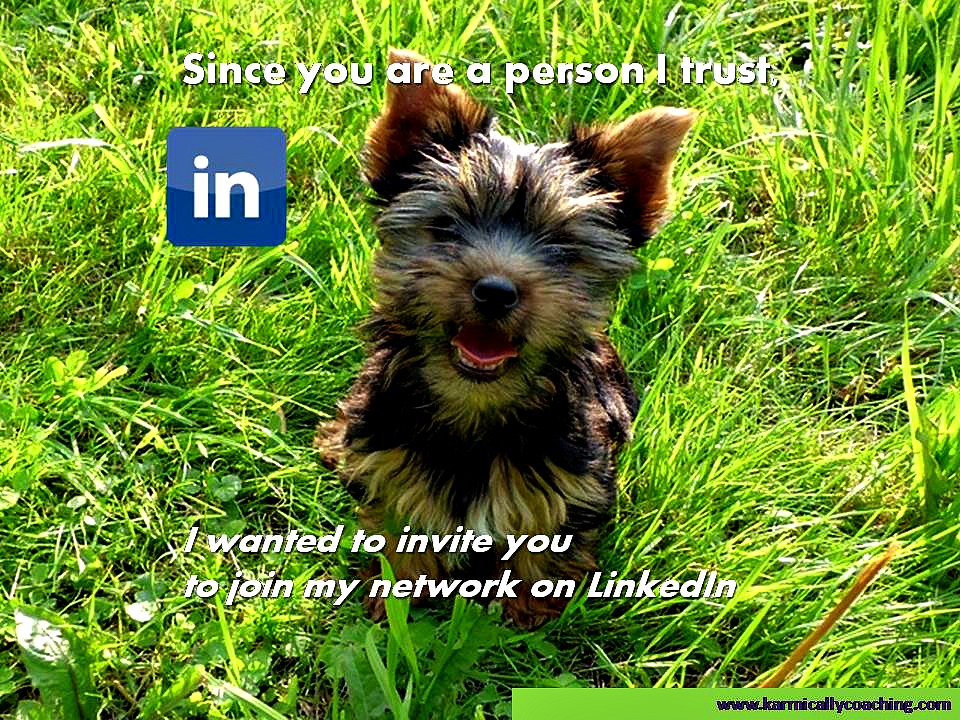 I wrote about connecting on LinkedIn sometime back in my blog post "Are You the Missing Link on LinkedIn?" that became so popular with spammers that my IT guy deleted all comments as a safeguard. Considering the spike in the number of trusting strangers wanting to connect with me in recent times, the topic merits a revisit.
By now, I am immune to the generic invitation
I'd like to add you to my professional network on LinkedIn
If I know the person, I accept immediately and drop a line to them telling them how delighted I am to reconnect and then catch up with what's been happening.
I've updated my contact details on LinkedIn clearly stating how I can be contacted and if the person does not know me, to please tell me the reason for wanting to connect & not pretend to be a friend.
Not that some people read the bottom of the LinkedIn profile or bother to honor my request. That's okay. If I don't know you then, without accepting the invitation I'll ask you to jog my ageing memory and remind me how we know each other.
Your reply will decide my next course of action.
Since you are a person I trust, I wanted to invite you to join my network on LinkedIn
Imagine my surprise when I first received an invite with the above statement and could not place the person.
(Update October 2017: Since I wrote this post, this particular boiler plate template seems to have disappeared)
So I logged in and went to look at the profile and found no picture, no details and 3 connections. The only word that made sense was real estate and that too because as an IFRS specialist, I had done some work for real estate companies being listed on overseas stock exchanges.
I thought okay, maybe this person is just starting out on this platform. Maybe we have worked together and I made a good impression in real life. I wrote back asking to be reminded how we knew each other. I got no response and I ignored the request. You trust me but won't answer a valid question?
Then I got another one where there was a picture of a beautiful model in great clothes but this time my query resulted in a long message telling me about this apparel company and how they were exporting clothes to so many countries. I was given instructions to immediately like their Facebook Page and promote them.
No second guessing, I declined the invitation and marked them as not knowing them. I could not bring myself to mark them as spam but thought more about my reasons for declining these 2 invitations.
Here's why I declined your invitation
I have no idea who you are
I have never met you in real life
Your incomplete LinkedIn profile is the only reference point which did not pass muster
Your profile shows we have no Group or mutual connection in common
Your agenda is not clear (I don't want to like you on Facebook or promote a strange stranger)
My parents told me not to talk to strangers
My dog doesn't trust strangers and neither do I
What you should do instead to get your invitation to connect accepted
This holds true not only for me but others whom you trust but don't know.
Once my irritation with the clothes horse subsided, I went searching on the platform and discovered that this being a trusted person is actually another default invitation template.
Nothing wrong with using it except that it makes me think that you are collecting connections, that you are not interested in real networking. If you must use a template, please personalize it!
Read the profile, find something or someone in common and let me know that you want to know me and not my name. Take a minute to personalize it. I'm not obliged to accept your invitation and if you catch me on a bad day, I might just mark you as spam  and if more people mark you as spam, LinkedIn may block you from trusting another stranger for a long time.
Quite possibly you may know the person from another social media platform like Twitter or Facebook Group, are in a LinkedIn Group, school alumni or visited their blog in which case mentioning this   takes the sting out of the person I trust business and demonstrates that you are not a stranger, just someone who, for whatever reason selected a default template.
The stranger who made a difference
I got the "I trust you" invite from someone who had a photograph, a headline "looking for a job opportunity" and a profile that was still somewhat complete. We had 4 connections in common and I sent a communication asking how we knew each other.
To my pleasant surprise, I got an immediate reply that was honest, respectful and confirmed that we did not know each other but we were from the same professional background and that she was looking for a job and was hoping I could help her.
My heart melted. I'm a veteran of 3 economic recession based redundancies and I know that it takes courage to reach out and say that I need a job.
I gave her a few tips on how to improve her LinkedIn profile – things that I provide in my Build Your Brand on LinkedIn service gratis. She was grateful for the assistance which was implemented immediately and I was happy to have made a difference.
A few more to and fro by email with more suggestions for her job hunt and I accepted her invite.  I knew enough about her to be able to share her CV with my circle and ask if someone could help.
My point is, when you want to connect professionally with someone, be upright and honest. Take the time to craft an invitation that shows you have put some thought into it. Remember, in the online world, our terms of reference are very different.
You wouldn't allow a stranger on the street into your home, it stands to reason that the same applies with someone online.
Have you been bombarded with the person I trust invitation by a stranger? How did you handle it? I'd love to know so please share your experience in the comments box below.
Need help to optimize your LinkedIn profile? Learn more by clicking the image below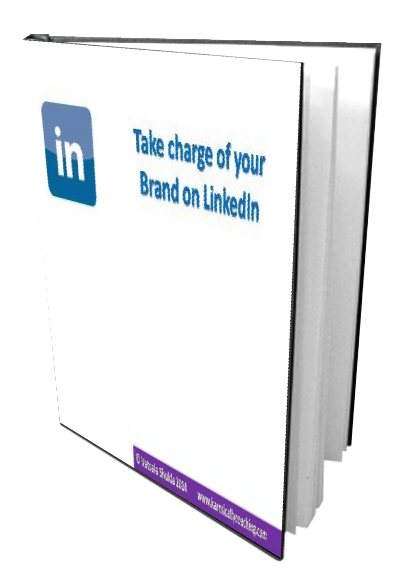 Written by: Vatsala Shukla
Follow Me
Share with others!