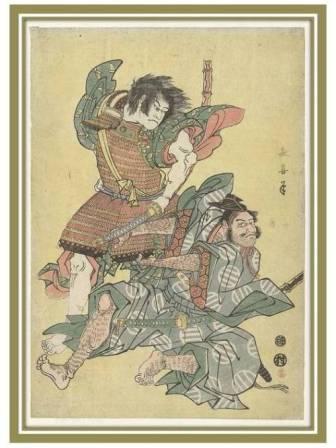 Back in the days when my diplomat father was posted in Kabul, the long winter season meant staying at home and reading books because it was too cold to go out and play. It was around this time that I was presented with a book full of folklore from all over the world and I read a story about how an underdog Japanese Hero fought the Fiercest Warrior in the Kingdom to transform from underdog to Top Dog and win the hand of the princess in marriage which was the main prize.
I must have been 10 years old at the time and have long forgotten the name of the story but the eyebrow part remains evergreen in my memory.
Apparently, the Ladies of the Court had, according to the fashion and standards of beauty of that time, shaved and painted high eyebrows which went up in amazement and at one point in the story, disappeared into their hairline when the underdog Hero was making mash of the Fiercest Warrior in the Kingdom. When I look back, I suspect that was the beginning of my fascination with facial expressions in general but certainly eyebrows!
Since children are normally treated as flies on the wall, it was easy to observe the adults, whether they were my parents, teachers (the school principal was a good object of study because his mustache moved too along with his eyebrows), the house help, the parents of my friends and just about anybody who qualified as ancient from a 10 year old child's perspective. I even recruited my younger sister and friends and we had fun.
What was meant to be a fun game ended up teaching me quite a bit about the role of eyebrows as expressions of confidence and assertive body language.
Indicating assertiveness with your eyebrows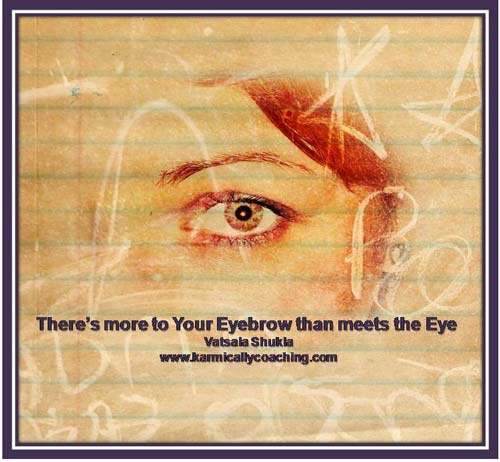 Step 3 in my book Self Confidence in 8 Steps, shares 2 self-coaching exercises to implement confident attitudes. In this post, we'll look at a few ways to exhibit confidence and assertiveness to support the inner work that is required for change with our eyebrows.
Believe it or not but eyebrow control is absolutely crucial during the early days of imbibing self confidence and an assertive stance. If the eyes are the mirror of the Soul, then the eyebrows can help you wing it until you get the hang of being assertive.
An assertive person's eyebrows are relaxed and will match the tone of voice. A person who is passive would raise their eyebrows indicating lack of assurance and a desire to please while eyebrows that are pulled downwards indicates aggression or lack of clarity.
Give it a try – go to the mirror and try out expressions based on your inner feelings and see what happens with your eyebrows. Better yet, observe others. You'll get the drift.
To make your assertive and confident stance even more effective, maintain good eye contact with the person that you are talking to. Take it a step further by standing tall in a relaxed manner.
In my post Executive Presence & Professional Brand needs a Strong Vocabulary I mentioned that body language comprises 55% of effective communications. Practicing eyebrow control is winning more than half the battle right there.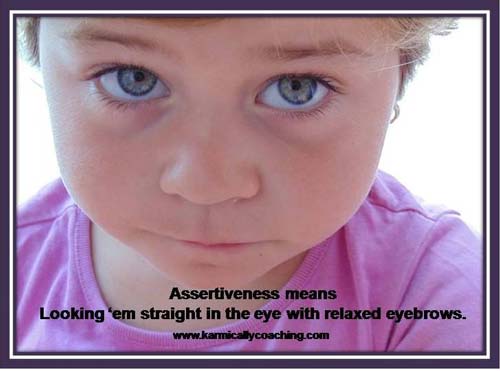 Supplement your body language with a steady, firm, medium pitched tone of voice with a stress on your key words delivered in a warm, clear and sincere manner and you can exude self confidence and assertiveness even on a day when you are far from feeling it.
How do you cover up your moments of passive behavior?
Additional Assertiveness Resources
There are lots of posts to help you with your assertive behavior at my blog. Here is a small selection including my book Self Confidence in 8 Steps.
 You can also visit Amazon India
Executive Presence & Professional Brand needs a Strong Vocabulary
When your time management is not enough
Japanese Warrior Picture Credit: Pixabay
Disclosure: If you purchase a product through a link on my site, there's a good chance I'll receive some kind of "thank you money" from the company or person I referred you to. For more details, check out my full disclosure policy (link is also available at the bottom of every page).
Follow Me
Share with others!