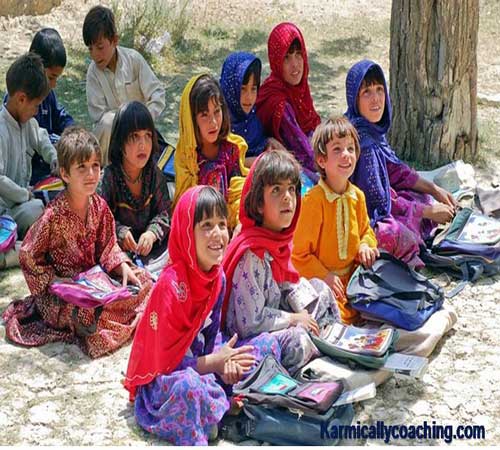 When we talk about the problem of inequality, the first solution that comes to our minds is education. But do you know that 4% of children in India will never see the inside of a classroom?
There has always been and will be inequality in some form or the other– that is a fact of life. But it is not a fact of life that a person should live in deplorable conditions with no hope of ever rising above his station in life.
I salute the individual's effort to reduce the inequality gap
When someone is trying to make better of his lot in life, we too need to step up to the plate and help in whatever way we can. That is exactly what our pharmacist is doing by supporting one young delivery boy in achieving his dream.
Over the last 2 years, I have seen this young boy actively working his way out of his level of inequality towards a better future. Economic hardship for his family means that he has to support them but he knows that education will take him further and continues to study privately.
As I write this post for Blog Action Day 2014 I salute this young man's tenacity of purpose. Just a few months back, he rang our door bell to let us know that he had enrolled for a Bachelor of Commerce degree as he felt he would have better employment prospects. This young man speaks fluent English with confidence and there is a fire in him that cannot be described.
I also salute the pharmacist who has encouraged this young man to pursue his dream. He gets time off to study for his exams and every other support that is possible to get him to his destination.
This is the second instance of a delivery boy who is educating himself to fight off inequality and better his circumstances. The first one is much younger but holds onto his dreams in my post Making choices when we have no choice.
Then there is the Kamlesh, the Dhobin (Ironing Woman) who is putting her children through school and college. She and her husband want to give their children what they themselves could not have without gender discrimination. Her eldest daughter is a graduate, married to a lawyer and working in a white collar job. When one thinks of the fact that these children are studying on the footpath while their parents work, one sees grit determination all around. I salute the parents and the children.
But these are exceptions to the rule – the reality of inequality is grimmer
There is a much darker side to the inequality issue. The UNESCO's Education For All global monitoring report shows figures that should shake Indians into taking action at the individual level.
Here are some numbers that I find disturbing, to say the least.
90% of people do not continue to college in India
58% do not finish primary school AND
4% never even have the opportunity to start school
According to the report at 287 million, India has 37 percent of the total population of illiterate adults across the world and that the poorest of India will not expect to receive universal education until around the year 2080.
Other international studies indicate that despite India having one of the fastest growing economies in the world, this growth has not flown down towards the lower sections of society. In fact, inequality in India has actually increased during the post-reform period.
The public infrastructure is growing at a respectable rate but there is one issue that takes away the shine from any economic number – the dire need to improve the education system in India and create a model that will help the poorer sections of the population live a life of dignity and reduce the inequalities that exist within the current scenario.
There is work to be done by the government but there is work that we too can do to give children their fundamental right to an education.
One drop of water, one drop of water and one more until the ocean is created
It is not enough to pay our taxes and put the entire onus on a government to provide education and raise the literacy and employment levels. It is not just for MNCs and companies to work on uplifting the masses through their Corporate Social Responsibility Programs by setting up schools in industrial areas or providing adults with means to a proper livelihood from their efforts sans middlemen.
We too can take initiative. To bring about a wider change, we need to see our role as part of a bigger picture. The question we need to ask ourselves is what I can do to make a difference and then just do it.
The 2 major national dailies have programs for teaching children from less privileged levels of society where professionals can volunteer their time. There are 2 examples that I recently discovered that made my heart sing.
Teach for India
The first is Teach for India, an organization that believes that every child can and must attain an excellent education. Teach for India is creating a movement to end educational inequity by following a 2-part Theory of Change.
The first part involves recruiting college graduates and high performing young professionals into a Fellowship where supported by the organization, the Fellows serve as full-time school teachers in low-income schools for a term of 2 years. The Fellows are trained to use innovative teaching strategies to help their students bridge the immense gap towards a different future than the one they have.
In the second part, these Fellows are inducted into the Teach for India Alumni Movement on completion of their Fellowship. Having experienced the challenges that their students face the Alumni are able to use their experiences and insights to further the cause of education and bring out more long term changes that are required to bring educational opportunities for children held back by economic circumstances.
Wingreens Farms
The other organization that made my heart sing came to my notice by chance at The Steak House in Jorbagh Market when I dropped in to pick up my favorite corn on the cob. There was a polite young man, who I knew was not an employee, serving dips with dried Pita bread which were so delicious that I simply had to buy some and wanted to learn more about the manufacturer.
What I discovered made my purchase of Garlic Dip and Hummus Dip even more delicious.
The manufacturer, Wingreen Farms is helping farmers and rural women to empower themselves. Farmers are being educated through demonstration to move towards more water efficient and lucrative crops.
The WIN in Wingreens stands for "Women's Initiative Network" and symbolizes the organizations endeavors to empower women both financially and emotionally by providing them with expert certified skill training in the fields of food technology, food hygiene and food processing and employment opportunities. Their initiatives also include sponsoring the education of the children of their women employees by supporting an NGO that is providing education in the village.
The buck does not stop there. In addition to this, they employ more than 40 youths as members of their creative sales teams and train them through the Youth Training Institute for Sales and Life Advancement where modular certification is given to enhance their qualifications.
It is these chance discoveries that give me the confidence to believe that there is passion and drive to change the world from one of abject inequality to one where everyone experiences personal empowerment and the inequality gap is lessened to an acceptable level.
And that is what I mean when I say
One drop of water, one drop of water and one more until the ocean is created
If you are in a position to help someone less privileged than you, then do it. Good deeds live on long after they have been done.
PS. Learn more about the 2 organizations here and see how you can support their initiatives.
Written By: Vatsala Shukla
Follow Me
Share with others!