The results of the Best Coaching Blogs 2012 sponsored by the School of Coaching Mastery were announced yesterday and your Blogger won 1st Place. This would not have been possible without you, the Readers support and I give thanks. My success is actually YOUR success and I am sharing a link to the results. It is a testimonial of how a collective effort can move mountains!
Thank you once again for your support and keep reading, commenting and sharing!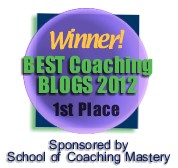 Read about it here: Best coaching blogs triumph despite historic India power outage 
Follow Me
Share with others!