LinkedIn Mistakes ebook….Almost there!
To make sure that you really want to receive the 5 Mistakes Professionals Make on LinkedIn ebook and for me to comply with CANSPAM Regulations, I need to confirm your email address.To complete the subscription process, please click the link in the email I've just sent you. Talk to you soon! Vatsala Shukla PS. Once you know how to correct the mistakes you might be making on LinkedIn, you would want to monitor your progress using LinkedIn's Social Selling Index. Karmic Ally Coaching has another resource for only $19/- . If that interests you, click here to make the purchase or on the image.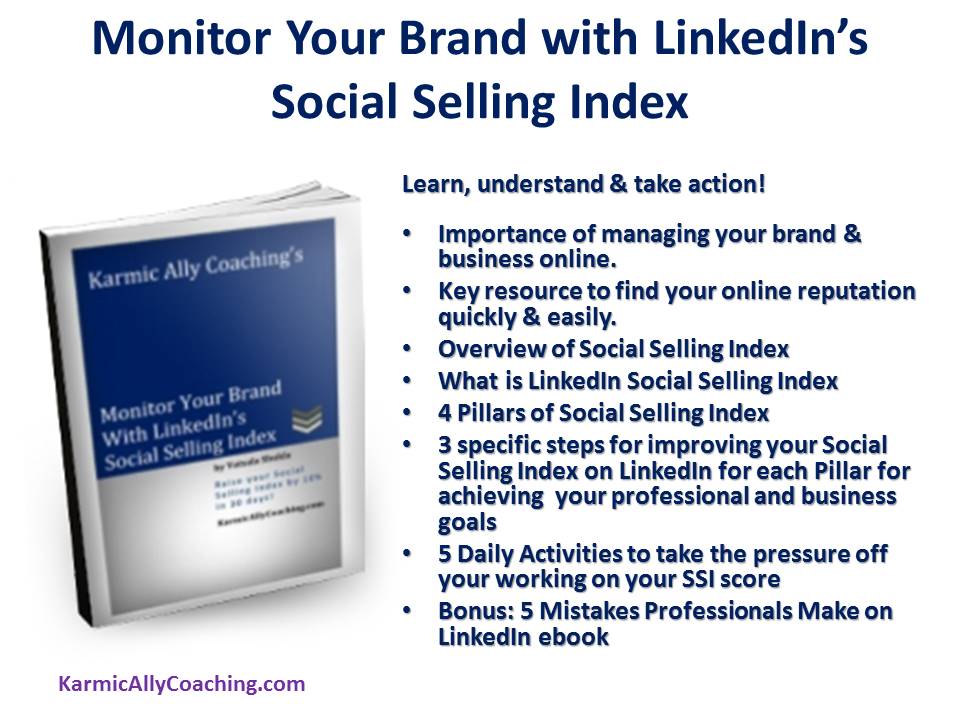 Since Karmic Ally Coaching is offering non-tangible irrevocable goods, we do not issue refunds once the order is accomplished and access is granted to the product. As a customer, you are responsible for understanding this upon purchasing any item from this website. Please note all digital products are non-refundable once payment is processed. This digital product is yours forever. If you have any questions or concerns, please ask in advance of purchase at vatsala(at)karmicallycoaching(dot)com. You will be directed to Paypal and the entire transaction will be done over a secure line. Be assured that we don't store credit card information – everything is handled by Paypal.  
Follow Me

I adhere to the Certified Coaches Alliance Code of Ethics and Standards. A copy is available on request.