Life Skills Coaching
The concept of Life Skills coaching precedes many of the niches available in the coaching domain including those of executive or business coaching. This 90 Day Life Skills Signature Program will help you to create the right balance in your life and improve your quality of life.
At the Strategy Session, a detailed discussion will take place to determine what you intend to achieve, your goals, your expectations and the level of commitment that you can bring to the coaching relationship.
You will receive a  hard copy coaching workbook to record your goals and note your achievements during the course of the program.
While this product is intended to be delivered by telephone and internet communications, depending upon the individual client's preference and comfort a combination of face to face and phone coaching can be facilitated.
Taking it forward…..
Prior to commencing the coaching, you will complete an assessment which would determine your nature, strengths, weaknesses and other areas that require addressing to tailor the program accordingly.
An analysis of the assessment will be discussed with your at the Strategy Session and 2 key areas will be addressed over the coaching sessions with action plans and tips to immediately action 1 key area requiring focus while longer terms coaching objectives are worked upon.
You will understand the interrelationship of different aspects of your life and how these aspects can affect other areas. Clear practical techniques will be worked out to be practiced by you on a consistent basis to help you to improve and feel better about yourself and your relationships.
Find out more by leaving me a message using the Connect Form and we'll set up an appointment to discuss whether this program is the right option for you.
Another Option!
Do you prefer self-help over the guidance and mentoring by a Coach?
I invite you to check out the Life Focus in 7 Days Program. 
Just click on this link –  http://karmicallycoaching.com/life-focus-in-7-days/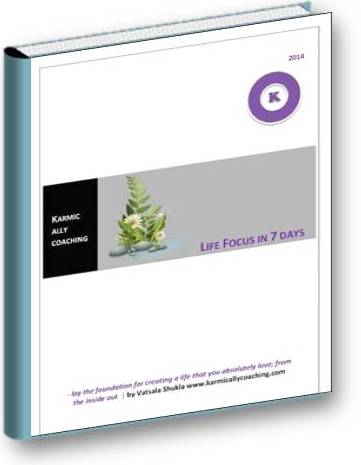 Start your journey with The Karmic Ally Coaching Experience Self-Improvement Strategies Workbook by clicking here. It's on the house!