This post has already been read 388 times!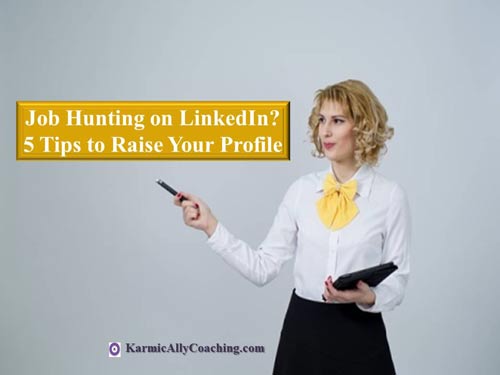 A few months back, there was a discussion in one of the Groups that I subscribe to about whether people actually found jobs through LinkedIn.
The answers were more towards Nays than Yaes with lots of other comments.  However, LinkedIn is the number One social media network for professionals looking for jobs and business.
Whether you would vote with a Yes or a No, there is always the possibility that you might land a job or a project through your LinkedIn network and it is safer to err on the side of caution.
Executive search firms and others do Google your name when you apply for a job and it would not be a bad idea to have a strong profile on LinkedIn. It might just prove to be the differentiator in your getting an unexpected job interview call.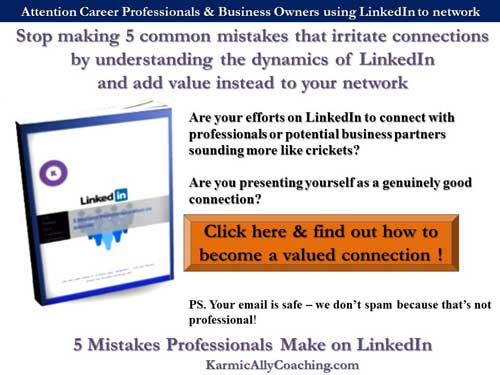 This week's post focuses on 5 key profile raising tips for you to try. Who knows, you might just make it to the top percentiles of most viewed profiles this year!
Claim your unique LinkedIn URL
When you first subscribed to LinkedIn, you might have noticed that your name appeared as say, JohnDoe123. Consider what happens when there are dozens of John Does' on LinkedIn?
If someone is trying to connect with you, they would have to go through the whole list until they find you, especially if you haven't uploaded a profile picture. The easiest way to demonstrate professionalism is to claim a unique URL for your profile. For example: www.linkedin.com/in/JohnDoe.
If you are thinking WIFM (what's in it for me), well, when people type your name into a search engine, the chances of your name appearing increase. It becomes easier to include your LinkedIn URL in your email signature. May I add it also looks more professional?
Bonus Tip: Remember to set your LinkedIn profile to 'public'.
Upload a professional photograph
Whatever you do, please upload a professional and high-quality photograph of yourself. In the event that your unique LinkedIn URL has drawn someone to your profile page, they would certainly like to see a face that goes with the profile.
At the same time, keep in mind that LinkedIn is a very different platform to Facebook and other social networking sites. Cute photographs of your pets or those of you in casual attire are to be avoided, as are cartoon characters. Keep that for Facebook.
I remember a Coach with whom I am connected on LinkedIn had a photograph of him in a sweat shirt with yellow stripes. We connected as we knew each other but others would not have thought him professional enough. Things have been very different for him ever since he put on a suit – He made it to the 1% most viewed profiles for 2012!
Craft an eye-catching profile headline
Apart from your photograph, anyone who might stumble on your profile through the People You May Know Section or through a search engine would look at your profile headline. Optimize this section of your LinkedIn profile by creating an interesting and informative profile headline that catches the eye.
I suggest that you think about what you do and not what your qualifications are. Like an elevator speech but shorter and to the point.
Develop a professional summary statement that makes you shine
Your professional summary statement should make a viewer want to learn more about you and if there is a match of interests, want to connect with you. Make sure it is short, concise and confident. Talk about your qualifications and goals and a brief history of your career and your proven skills. Make it easy for the reader by putting in the information in paragraphs or by using bullet points.
List your key skills
This section is a great place to bring out all your skills. These are the key words that a head hunter or executive search professional will be typing in during his search. You want to make the cut.
Use key words and phrases that relate to your actual skills and work experience. Remember, your assertions will be verified at a later date. Be authentic. You are allowed a limited number of skills, so choose well.
The best part of listing your skills is that it is easy for your contacts to endorse you if they do not have time to write a recommendation or do not know what to write. When you receive an endorsement, consider reciprocity for a skill that you know your endorser has. That too will bring viewers to your profile.
Bonus Tip: Update your status at least once a week
Most professionals that I know visit LinkedIn once a day; some keep it open all the time. It all comes down to what works for you.
I would suggest update your status at least once a week. This could be anything – liking a conversation in a LinkedIn Group, commenting on a post, connecting with someone new, sharing an interesting article that you have read.
The end objective is to keep your profile on the radar screens of other people- to engage in dialogue to meet with professionals with similar interests.
Pick up some more job hunting tips on LinkedIn in my post 5 LinkedIn Tips you need to apply if you want Job Hunting Success.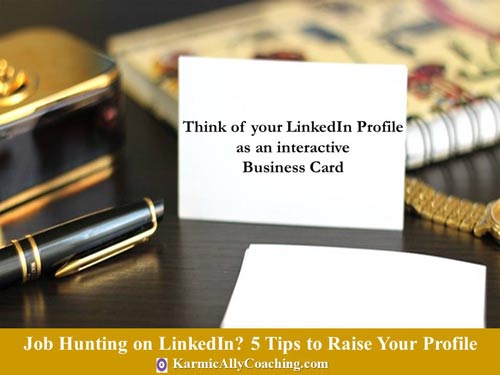 Think of your LinkedIn profile as an interactive business card. It's a summary of your professional experience, interests, and capabilities. It is your online curriculum vitae without the 3 page rule.
A strong profile is a key differentiator in the job market. So make sure your profile is 100% complete and make it one that a fellow professional would want to view and connect.
Have you tried any of these tips? How did they impact your Profile Views or Invitations to Connect? Please do tell me in the comments box below.
With a proper professional profile and savvy 15 minute actions on a daily basis, you can leverage LinkedIn to increase your visibility and credibility, which as you know are hallmarks of a credentialed professional. Here is an easy way to do it yourself with my help – Build Your Brand on LinkedIn. Click the preceding link or the image below to learn more.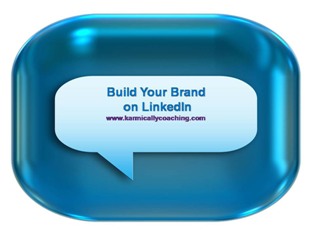 This post was first written by Vatsala Shukla on April 13,2013 and has been updated for relevance and new information in 2018.
Follow Me
Share with others!