This post has already been read 920 times!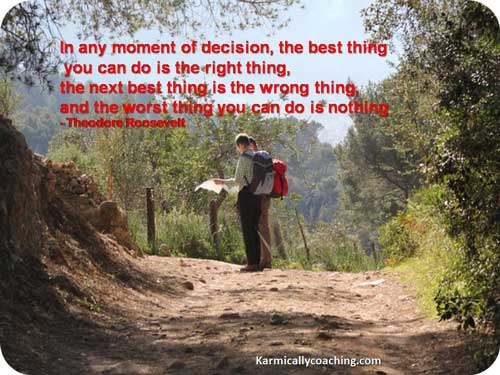 You know you need to make an important decision but your head starts to hurt from the responsibility of taking a step, or any step and you decide not to. Guess what? That too is a decision! Sifting through the archives of my career history, this week I'm going back to basics by looking at the 3 keys involved in exercising the power of decision in any area of your life.
It is Your Call
Years ago, I reported to a fine professional, affectionately nicknamed The Boss by the team. The Boss had mastered the art of making his team take decisions – 80% of the time they were those that he wanted of course but with a tone of democracy! Here is how he exercised the power of a decision.
The strategy was to first discuss the issue with the subordinate for buy-in. If the agreement on action took too much time or there was too much resistance, he'd calmly say "it's your call" which was an indicator to make a decision and handle whatever followed.
On the face of it, it would appear that The Boss got away with it but looking back, I realize that this was a lesson in exercising the power of decision. Provided we made a logical and well-backed argument against the idea, my boss would reconsider otherwise, we followed along. 
The key point is that we took a decision.
Key #1 Decisions are up to you
Remember that you always have the power to make the decisions that involve your life. There are times when we cannot control the situation but even then, we have the power to decide which direction we want to go.
We can decide to resist, accommodate or just go with the flow.
At any point of time, we get to decide our actions, our responsibilities and our perspectives. Of course others will try to persuade us to follow their view but we retain the power to decide our stance.
Taking a stance means taking responsibility for our choices.
In the words of The Boss, it is our call.
Embracing the power of decision can aid us immensely in creating the life that we desire. Yet, when it comes to taking a momentous decision or a decision to change the status quo, we more often than not falter and may choose not to make a decision which in fact is also a decision!
When you decide not to do anything about a matter that is important to you, you are basically saying that you accept the status quo even if it means being unhappy because you do not want to create ripples that might actually help you to get out of a situation for the better. In this case, exercising passive acceptance too is a decision.
This may work well when the issue in question is a non-issue but to get out of a rut or move ahead with your goals and aspiration achievement, you need to change the way you see the world and take action.
Key #2 Decisions require action
In order to bring about a required change in your life, it is not enough to decide and then sit back and do nothing. Even in the Law of Attraction and Creative Visualization, the basics of manifesting our desire require that we take inspired action.
We can do all the meditation, affirmation and visualization that we want but no miracle will happen until we get up and do some task or activity to bring our decision to fruition. The actions that we take need to be aligned with our decision to achieve our desired result. Otherwise, it will stay no more than intent.
If you think about it, you make decisions every day. It may be as simple as what you will have for breakfast or what you will wear. It could be an impulse purchase of a pair of shoes which are on sale.
You would have made many more decisions in the course of your life which have set the direction that you are following right now. For example, the decision of subjects that you studied at school and college, the decision to change jobs because of better pay or career path prospects, the decision to have children, the decision to take a loan and buy your residence, the list goes on.
The common factor that you would notice in all these decisions is that you then took action or even a series of actions to transform the intent into a reality and set your life on a path that you would not have taken but for the decision plus action.
Key #3 Embody your decision by taking action
At this stage, you will realize that something has to give. If you truly want change, then be willing to do so, and commit to doing an action that signifies this decision.
Taking a decision means taking responsibility for the outcome of that decision and being accountable to you for the realization of that decision.
I recommend stepping back and assessing where you are now and where you really want to be. Think and decide on what steps are required to get you there. 
World Chess Champion Viswanathan Anand sums it up beautifully in his quote about chess.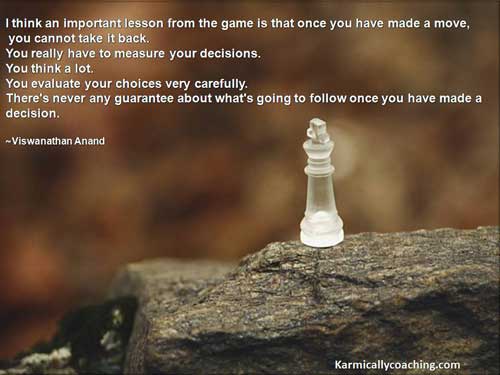 Quite often we do take decisions and then fear stepping out of our comfort zones to take the next step towards our ideal life or the one that we had started out to create.
Creating change will be overwhelming and even daunting but if you break it down into an action plan and decide on just 1 baby step which you can take immediately, the intent will turn into a decision provided you actively take steps in the right direction.
Fears will surface and you will need to address them for their truth – are they genuine concerns or is it that you are going to shake things up? If it impacts your loved ones or lifestyle, then take them into confidence and seek support, whether it is from the family members, mentor, coach or group as required. (For more help, have a look at my post on using the Confrontation Technique).
Caveat while exercising the power of decision
The only caveat that I offer is that your actions should be taken after considering all available information and seeking more details while in the process of exercising the power of decision.
Acting on impulsive decisions is detrimental to our overall goal achievement and if you find intense emotions involved, then take a step back and wait for the mood to pass or pay close attention to the trigger for that emotion. Most of the time, the emotion is a manifestation of a deeper issue which needs to be addressed separately before taking action that can change the course of our life.
In other words, make informed decisions, not enact knee jerk reactions or act in the throes of a melt-down.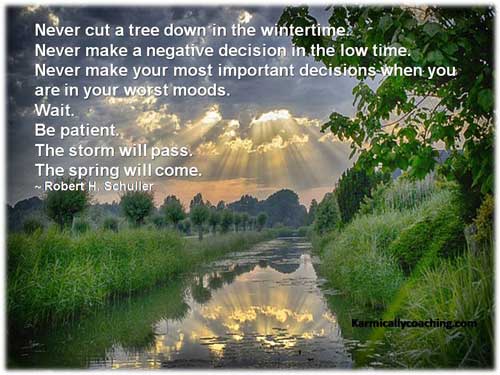 One never knows what the future will bring but once we set out on a path to achieve our long forgotten dreams or the new ones that we really crave for in the course of life, then the impossible becomes possible. As long as one knows the intent and takes measured, informed and decisive steps, the world is your oyster.
But it all starts with exercising the power of decision.
Your turn now. Have you ever found yourself stuck in a rut and then done something to change the situation? What extra tips can you share to help to exercise the power of decision. If you found this post useful or thought-provoking, please do share with others. Who knows they might just need to read it. Thanks!
PS. Sometimes you know you need to do something but may be trapped too deeply in the present to think about the future.
If you need some instant self-help, have a look at my self-coaching workbook Life Focus in 7 Days here.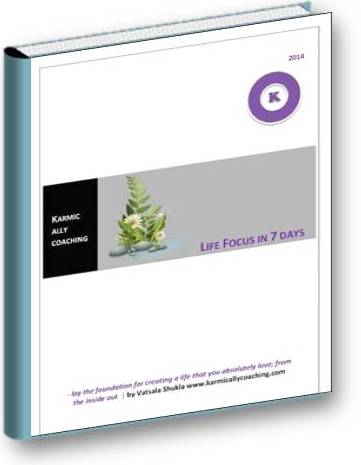 Written By: Vatsala Shukla
Follow Me
Share with others!