This post has already been read 1390 times!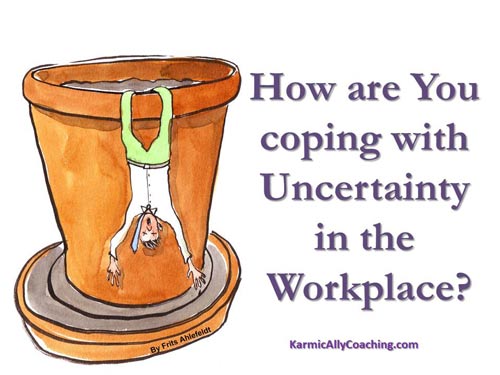 Job insecurity seems to have become a regular workplace phenomenon.
It wasn't always like that. Or at least not as bad as that!
Once upon a time, jobs were meant for a lifetime.
You joined a workplace, worked there for 30 years or so and then had a retirement party where you were gifted a golden watch or pen or something equally memorable with your name engraved on it. (My Grandfather got a golden watch after 40 years' service with his name engraved and a farewell party from the Steel Company that he worked for.)
For sure redundancies took place during recessions and there was unemployment but that was a lesson in history and economic classes at school. I admit reality bit way back in 1984 when our graduate class from the University of the West Indies had a hard time finding their first jobs.
We were supposed to have been one of the best but recession doesn't care. I was fortunate that I was still in quasi student mode as a trainee Chartered Accountant but it wasn't that easy for others who were entering the job market. Mercifully our Alma Mater cared and went out of their way to help all of us and we landed on our feet.
When I finally joined the workforce in the latter half of the 1980's, like other graduates I had stars in my eyes and the firm belief that the world was my oyster.
The bywords in the workplace were "Promotions", "Pay rises" and my favorite "Bonus".
Economic cycles especially the downturns were a nuisance as were pink slips but one managed to get a job provided one was willing to step out and find one. There was stress and uncertainty but not the kind that we have today with the ongoing economic downturn.
Fast-forward to the 2010's and the bywords in the workplace are "Layoffs", "Budget cuts" and "Salary Freeze". Bonus does exist but appears to be heading for extinction like the Dodo.
Restructuring and re-organizations are dreaded words.
In a recent LinkedIn Group Discussion it was quite apparent that thanks to redundancies at the workplace, workloads of surviving employees had quadrupled and there was no scope for protesting or asking for better working conditions unless you wanted to join your redundant colleagues.
The stars in the eyes and World Oyster feelings have been replaced with fear, uncertainty and higher levels of stress.
Post the financial crisis of 2008 (which was the worst economic disaster since the Great Depression of 1929) which had a global impact, the economic climate is certainly not conducive for stress-free living. Job and workplace stress always increase in times of economic downturns.
Common causes of excessive workplace stress include but are not limited to fear of being laid off, increase in overtime due to staff cutbacks, pressure to perform without a proportionate increase in job satisfaction and mixed messages from management.
Understandably stress management techniques which work during normal times may not be quite as effective although they do make a difference.
Uncertainty at the workplace can be a catalyst for change if you dare
Sometimes, this is the very catalyst that makes us take steps in a new direction which we might not have considered because we are already operating outside of our comfort zone.
It's a good time to reassess whether you want to be proactive with a job or career change.
The Karmic Ally Coaching Quiz will help you assess where you stand. Click the image or on this link and get your copy of the quiz with a situational tip with my compliments.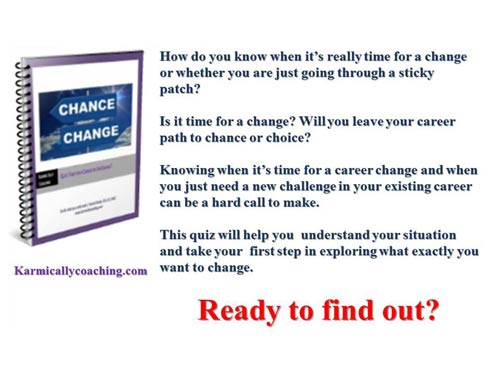 Emotional Intelligence helps to cope with uncertainty in the workplace
This week, I would like to introduce and sharpen another technique in your toolkit for handling stress and particularly coping with workplace related stress – Emotional Intelligence – the ability to manage and use your emotions in positive and constructive ways. It's also an excellent tool to enhance your Executive Presence.
Using Emotional Intelligence as a stress management tool starts with recognizing when you are stressed, the stress triggers and your emotional response. Once you have self-awareness it is easier to self-manage your responses, behavior and reactions to the stress triggers.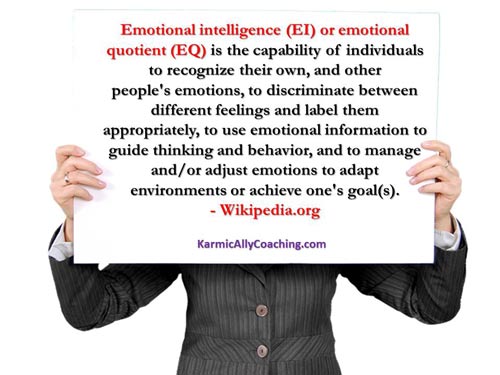 If your behavior is not appropriate or you are prone to knee jerk reactions, you can modify it and adopt new techniques to adapt to the changing environment without internalizing stress.
Emotional Intelligence means having a sense of humor. Laughter is a great stress buster and if you can make others join you with a good joke then that is stress relief all around. Make sure the humor is healthy and not targeted at anyone.
It also means making sure that your verbal and non-verbal responses are in synchronicity. Remember that body language accounts for 55% of communication while what is being said makes up only 7% of communications. Aim for congruence of body language, words and tonality of voice. This is explained further in my post on building a positive reflex for exuding Gravitas and building your Executive Presence.
There will be days when everyone is stressed out and disagreements will arise at the workplace, whether they are on serious issues or trivialities. In such situations, try to see the other person's point of view and use your conflict management skills to the best of your abilities.
Take the initiative to keep dialogue healthy and if necessary walk away and return to the issue when both parties are in a cooler frame of mind and dialogue can be resumed in a healthy manner.
So, what is the bottom-line? Focusing on those areas that you can control and the one person that you can control – You.
How are you coping with uncertainty in your workplace? What stress resilience strategies are you using?
Out Of Energy by Frits Ahlefeldt
Follow Me
Share with others!