This post has already been read 521 times!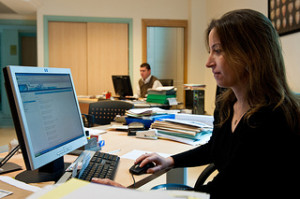 One of the biggest challenges that Office workers have is weight gain and weight related problems due to the sedentary nature of the work. Excessive weight brings with it a host of medical problems. For example, high cholesterol levels and from there heart problems or back problems which make us vulnerable to prolapsed discs or cervical issues.
For those of us who do find the time to visit our General Physician and do achieve the goal of shedding excess weight, the challenge of maintaining our new weight arises. I asked my friend and colleague Weight Loss Strategist Jessica Marie if she would share some tips for busy professionals and am delighted to share her strategy especially for The Karmic Ally Coaching Experience Blog readers. Read on!
Everyone struggles to maintain that "perfect" weight.  What is the "perfect" weight?  It is the weight at which you feel the most comfortable, happy, energized, and ready to tackle life.
I know that it can get tough to keep that "perfect" weight when you are busy with a full-time career and full-time family.  Life can definitely get in the way of our weight management.  So, how do you maintain this weight when you have so much other stuff going on in your life that seems to take precedence?
Here is the strategy that I use, and that you can use to maintain that weight.  After all, you worked so hard to get it off and now you want to keep it off for many years to come.
The first thing you need to keep in mind is that you need to continue doing the things that helped you lose the weight in the first place.
Easier said than done, right?  It is definitely easier to say that you are going to continue than it is to actually continue with all that you were doing.  This is why I am going to give you my strategy now!  So you can get started today maintaining your weight loss around your busy schedule.
Give yourself a weight range:
Now that you are at your goal weight, you do not need to be as strict about your diet and exercise.  This is why you need to have a weight range.  Having a weight range will help you gauge your maintenance success.  Since our weight will fluctuate on a daily and weekly basis, it is good to weigh yourself once a month at this stage.  By checking in once a month you will be able to notice trends of weight gain or weight stability.  If you begin to notice a continual increase in your weight, or your clothes start to feel tighter you will know that it is time to check in with your nutrition and workouts.
Check in on your nutrition:
This does not have to be as specific as when you were losing the weight; just a list.  I suggest that you pick two days each week when you will write down everything you eat.  You do not need to include specific amounts, you can just estimate.  This will give you an idea of what your overall diet looks like, keep you mindful of your portion sizes, and you can make adjustments if you do not like what you see.  This also gives you something to look back at when you notice your clothes fitting a little too snug, or you feel a lack in your energy levels.
Remain active:
It is important that you stay active to keep the weight off.  Not only does it help you lose weight, but moving throughout your day helps you manage your weight, reduces blood sugar, improves mood and well-being, and keeps the heart strong.  Who doesn't want a strong heart?  The best way to do this is to aim for 3-5 days of scheduled exercise each week, along with adding little bonuses like taking the stairs and parking further away into your day.
Realign your goals:
Make sure you check in with your goals.  You want your weight management goals to be different than your weight loss goals, and you want them to keep you on target.  As your life changes it is important to take another look at your goals to determine if they are still what you need at this moment in your life, or if you need to change them.  Weight management goals go beyond weight goals; make sure you include other goals as well. Examples of goals could be water intake, vegetables, improving exercise times, "me time," rest days, or even reading a book. (My favorite goal is to read for 20 minutes a day.)
 Let others know:
One of the best ways to stay on target with any goal is to have a support/accountability system.  Once you have set yourself a goal, tell someone.  You may even be able to begin a lunch club that walks every day at lunch to help you meet your movement goal or start a family activity day where you and your family go outside and play together once a week.  A little motivation and support can go a long way.
Whether we are maintaining a weight loss goal or maintaining our health, it can be difficult to accomplish with a full-time career.  By implementing some of these strategies you can keep your health intact while keeping your busy schedule.
Do you struggle with maintaining your weight loss or health while going to work on a daily basis?  Share in the comments which of these strategies you are going to start implementing to help you maintain.

 About The Author:  Jessica Marie is a Weight Loss Strategist who helps busy moms naturally lose weight and  gain balance in their lives around their busy schedules without taking away quality family time.  She has helped  busy moms lose 50, 100, or even 200 pounds.She is a full-time mom, spouse, and business owner who knows what  it is like to have an overly busy schedule.  She knows that the last thing any mom wants is to add one more stress  that takes away from the precious family time added to her life.  Jessica is sharing her strategies, advice, and tips  with moms all over the world on her website http://jessicamarieenergy.com
Photo Credit: Creative Commons World Bank Photo Collection
Follow Me
Share with others!