This post has already been read 501 times!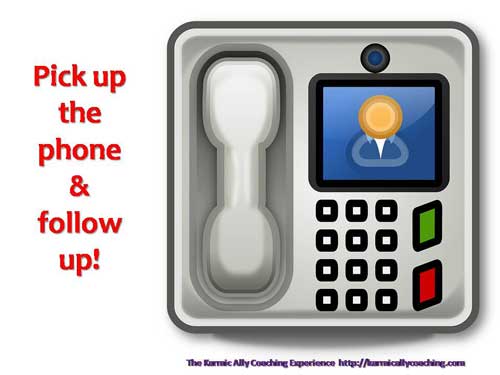 It always helps to have a good networking strategy while seeking a new job or new customers.
Your actions should include relationship-building activities which include but are not restricted to:
Net-weaving – where you help others with whom you are networking thus showing your value to others
Personal references to people whom you are trying to reach
Raising your profile by subscribing to memberships of key associations & groups where you will meet the  right people associated with your field. Make sure you are an active participant as well!
Attend conferences and seminars related to your targeted field and audience.
When applying for a specific job or business, get input if possible, on your job specific resumes and cover letters before sending them out, especially if you are sending a cold email.
Considering that you have done at least one of the above activities, do you think you have done enough?
If your answer is yes…… then sorry, you've only completed part of the task.
If your answer is no you went ahead with the step of following up on your activity…. then congratulations, you are nearer to your objective than you thought.
In other words, doing a follow up is essential for any person trying to get a new job or new customers. The best part is that it is quite easy and that it requires is taking a deep breath and doing it.
I share some job hunter specific follow up methods in my book 5 Reasons your job hunt isn't giving desired results that you should check out if you are actively searching in the employment market.
4 good Follow Up techniques that do the job – guaranteed!
There are four techniques for doing follow-ups with different levels of efficiency ,effectiveness and personal touch.
Following up in-person is personal and can be very effective. Attend workshops, conferences and networking events where professionals from your field or niche market congregate. The beauty of this method is that you get a chance to renew contacts and make new ones with the opportunity to follow up further by email or a phone call.
Following up by phone can be both very efficient and effective. Call ahead with your purpose and then send an email requesting a confirmation of receipt. If you don't get the response, call again. Four times out of five, I have discovered that new information surfaces that can be useful further ahead in refining your strategy and approach.
Using email saves time but can be construed as impersonal and may be deleted without being read. Email is best for quick introductions and follow-ups, especially if the recipient is expecting your email.
Using social networking websites is an effective way to connect with others. Sites like LinkedIn offer the facility of being "introduced" through your existing contacts. This enhances your credibility as well since all like to deal with known people. This kind of introduction can then be followed up with a phone call or email to discuss the exact nature of your business.
I personally recommend starting with a phone call followed by an email. If you are more comfortable with an email followed by a telephone call then please do so. What is more important is that you do a follow-up whether the person you are following up is a prospective customer or potential employer. This helps to confirm your interest.
Doing follow ups should not be ignored- even in business. I recommend you read this post, How to Use Follow-Up to renew Past Clients by Robert Middleton of www.actionplan.com 
Do you follow up after first introductions or let connections gather dust?

 
Share your strategy with us in the comments box below.          
Written By: Vatsala Shukla
This post was originally written in June 2012 and has been updated in May 2018 for relevance.
Follow Me
Share with others!