This post has already been read 460 times!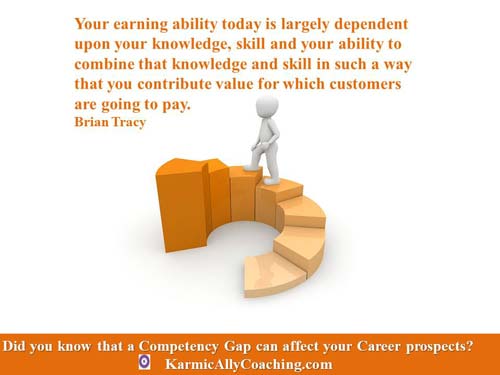 In my Kindle book Get Noticed! 15 Insider Tips  guaranteed to improve your Executive Presence, Tip Number 11 talks about creating a Professional Development Plan.
Now everyone knows about personal development plans and self-improvement plans but what about professional development?
Advancements in technology, techniques, methodology and information take place rapidly and the skills or knowledge that you had learned earlier put you in danger of being made redundant unless you keep upgrading your skills and enhancing your knowledge.
This does not mean going out and signing up for all the training programs that your organization offers or that appears in advertisements whether you read them in the newspapers or receive email alerts.
It also doesn't mean signing up for every free webinar or Group coaching program offer that you receive by email.
It means recognizing a potential competency gap, upgrading existing skill sets or learning new skills to keep up with the world and your career goals.
Let me give you my own example. Last year, I started to notice something called an Infograph appearing on different blogs and websites. Then top leading marketing firms started giving free advice on how to create Infographs. Then a few weeks after I noticed the trend, I was invited to download some in an Infographic Giveaway!
I soon realized that the infographic business was a big thing and also knew that I needed to either learn how to create my own or hire someone. The hiring part meant shelling out USD 100 to USD 400 for each infographic.
So I followed the techniques given in the free articles on online software and finally decided to give it a rest because it was quite challenging and I had to look at other aspects of my coaching service most important of which was client service delivery. I put it on my professional development list for 2014 when I would go looking for some easy software.
It must have been a case of Law of Attraction in full swing because earlier this week, my friend and go to person for technology, John Banks created a 30 Minute Infographic course complete with templates, icons and video instructions which sadly, is no longer available to the public because a couple of black hat folks stole the content and started selling it on their own. (That will be a topic for a future post)
The best part about this course was that I didn't need any fancy software or online activity. All I needed was the Power Point program in my computer and a bit of creativity.
Having nothing to lose and taking Dutch courage, I took up the course and can proudly say that the infographic in this post was made in less than 30 minutes! I was keen to learn as I went along and used my previously created graphics.
It's a first attempt and I am pleased to say that I covered a professional development competency gap – one that for me is critical given the change in technology and content management.

Role of Motivation in closing Professional Skill Gaps
Once you know your career goal, which should be SMART, compare your present skills and experience to that which is required for successful goal achievement.
Honestly look at your present situation and determine if there are gaps in what you need to be able to do and what you are able to do.  In other words identify the skill gaps requiring to be covered by further professional development. I did.
I asked John later as to what inspired him to create this Infographic product. To quote him ad verbatim
"I created this Infographic course because the old saying a picture is worth a thousand words is true, I found people on the Internet especially through my social media channels are much more responsive to visual things. I have always been into graphics and Infographics but they are VERY expensive to get made.
I made this course so others can create their own and not have to fork out hundreds of dollars for one! I have also broken down the technical boundaries with this course, anyone can make these!"
So this was how I enhanced my own professional development because I felt that I needed to know how to create infographs (which are very popular on Pinterest) whether or not I created them.
Then later in 2017, when video was becoming the rage, I took my own video making skills to the next level and invested in my professional and marketing skill development.
Here's a video that I created for Get Noticed.
Knowledge is empowerment. So now I have a question for you.
Do you regularly do you check to see if you have to update or refresh skills or learn new ones to stay on top of your game?
I'd love to read your observations in the comments box below! 
This post was originally published in February 2014 and has now been updated for fresh information.
Link for Get Noticed: http://www.amazon.com/dp/B00XHL2Z66
Remember to download your Executive Presence Checklist within the Kindle book – with my compliments.
Written By: Vatsala Shukla
Follow Me
Share with others!