This post has already been read 1253 times!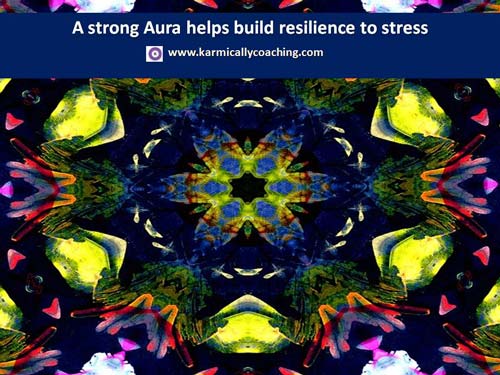 How many times have you met with a friend, acquaintance or complete stranger at a get together or spoken to someone on the telephone and felt completely exhausted or drained out? Maybe you have even gotten into a bad mood and snappy? Guess what, you have been exposed to an emotional vampire who managed to get through your auric shield!
On the surface, it could have been that you were suffering from fatigue or not in a very receptive frame of mind. On the other hand, it could also have happened when you were perfectly alright. It could be that your energies were affected by outside forces which invaded your space due to a weakness in your own energy system and could have been avoided or at least contained to prevent a sense of energy drain out if you had a robust stress management routine in place.
Stress management and a strong aura are 2 sides of the same coin
Successful stress management requires that we live as balanced a life as we can, which means eat well, sleep well, exercise well and a whole host of other wells to keep you in balance.
The same applies when we speak of auras, our shield to protecting our energies. A strong aura can also help us to cope better with the stress in our lives. With a strong and vibrant aura, negative, draining and unbalanced energies are deflected. Think of it as an invisible boundary between yourself, others and the environment.
The aura benefits from positive health practices. In other words, proper diet, exercise and fresh air strengthen our auric field while lack of exercise, sleep, indulging in excessive or under eating, inordinate consumption of tobacco and alcohol all weaken the auric field.
10 activities that strengthen the aura and build stress resilience
From a stress management perspective, the steps to take would include:
Physical exercise, which also produces endorphins and a sense of wellbeing
As much fresh air as is possible – try to step out of the office during lunch time for a short walk or just go outside the office for a few minutes
Eat less food but more frequently
Make sure the diet contains green vegetables and fruits
Sunlight – the vitamins in the sunrays are good for activating your pituitary gland
Meditation – it helps to balance your mind and rid it of long lost clutter
Chanting or listening to music – no hard and fast rules here, do whichever one works for you. Keep in mind that the music should soothe you, not further aggravate you
Lighting incense sticks or using aroma oils – the best would be sage, lavender, gardenia or lemon grass
Proper breathing – Practice pranayam, which is essentially nostril breathing
Doing things in moderation
Additional Resources from The Karmic Ally Coaching Blog

I originally wrote this post way back in September 2011 when my blog was barely 3 months old! I've added this section to compile a few select resources that provide guidance on 3 doable areas that I outlined above. There are lots of other posts that can help with aura strengthening and stress management and I invite you to check them out as well.  
Meditation as a tool for Stress management

Stress Management with Chakra Balancing Exercises

I'm curious, have you ever dealt with emotional vampires? How do you take charge of the situation to prevent yourself from getting exhausted or experience an unknown mood change? I'd love to read about it in the comments box below.
Written by: Vatsala Shukla
Follow Me
Share with others!